April 30, 2004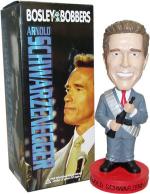 Counsel to Arnold Schwarzenegger sent a cease-and-desist letter threatening a lawsuit against the makers of a Schwarzenegger bobblehead doll. Seemingly oblivious to the fact that the Governor of California is a political public figure, the lawyers demand millions of dollars in compensatory and punitive damages for the "egregious and malicious" "use of Mr. Schwarzenegger's publicity rights."
Best of all, though is the letter's conclusion:
This is a confidential legal notice and may not be published, in whole or in part. Any republishing or dissemination of same, including but not limited to the posting of the contents hereof on the Internet, shall constitute copyright infringement and will subject the re-publisher(s) to civil liability for such actions.
You say infringement, I say fair use. Sorry, but I'm not
chilled
.
Thanks Jim!
Yes, it's a duplicate post, but you get a photo with this one!
Category:
IP Abuse
COMMENTS
There are no comments posted yet for this entry.
TRACKBACKS
TrackBack URL: http://www.corante.com/cgi-bin/mt/mt-tb.cgi/2450
Governor Schwarzenegger's crude attempt to intimidate Todd Bosley is blowing up in his face, as well it should. Here's a roundup of stories about Bobblegate...
[Read More]
Tracked on May 3, 2004 05:25 PM
Nearly three weeks ago a couple of posts on Copyfight noted that Governor Schwarzenegger's personal lawyers had sent a cease and desist letter to Bosley Bobbers, maker of fine bobble head dolls (including numerous political caricatures), for marketing ...
[Read More]
Tracked on May 18, 2004 09:39 AM
The San Francisco Chronicle reports that a bobblehead manufacturer has settled its free speech case with California Governor Schwarzenegger (Governor's bobblehead says farewell to arms). The company will be permitted to continue to make bobbleheads, sa...
[Read More]
Tracked on August 3, 2004 02:02 PM
RELATED ENTRIES