AUTHORS
About this weblog
Here we'll explore the nexus of legal rulings, Capitol Hill policy-making, technical standards development, and technological innovation that creates -- and will recreate -- the networked world as we know it. Among the topics we'll touch on: intellectual property conflicts, technical architecture and innovation, the evolution of copyright, private vs. public interests in Net policy-making, lobbying and the law, and more.
Disclaimer: the opinions expressed in this weblog are those of the authors and not of their respective institutions.

Monthly Archives
April 30, 2004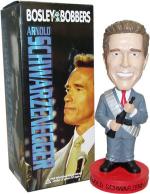 Counsel to Arnold Schwarzenegger sent a cease-and-desist letter threatening a lawsuit against the makers of a Schwarzenegger bobblehead doll. Seemingly oblivious to the fact that the Governor of California is a political public figure, the lawyers demand millions of dollars in compensatory and punitive damages for the "egregious and malicious" "use of Mr. Schwarzenegger's publicity rights."
Best of all, though is the letter's conclusion:
This is a confidential legal notice and may not be published, in whole or in part. Any republishing or dissemination of same, including but not limited to the posting of the contents hereof on the Internet, shall constitute copyright infringement and will subject the re-publisher(s) to civil liability for such actions.
You say infringement, I say fair use. Sorry, but I'm not
chilled
.
Thanks Jim!
Yes, it's a duplicate post, but you get a photo with this one!
Comments (0) + TrackBacks (0) | Category: IP Abuse
Bosley Bobbers is a maker of fine bobble head dolls. They maintain a number of political caricatures in their catalog, including such favorites as Tom Daschle, Laura Bush, Tom Delay (with opposition smashing hammer), a Dean, Kerry and Clark 3-some and the governator himself, Arnold Schwarzenegger.
Schwarzenegger's lawyer (Martin Singer of Lavely & Singer) has sent a cease and desist letter to Bosley Bobbers, claiming that the bobblehead caricatures violate Arnold's rights of publicity under California's extraordinarily broad rights of publicity law, California Civil Code Sec. 3344. The Smoking Gun has the C&D letter: Schwarzenegger Threatens Lawsuit over Bobblehead Doll. I'm no fan of the rights of publicity law, which I think gives Hollywood actors far too much control over their image, but this is ridiculous! Governor Schwarzenegger has a right not to be caricatured?!? Give me a break. He should apologize just for threatening such a lawsuit. But it gets worse.
In the last paragraph of the C&D, the governor's lawyer claims that:
This is a confidential legal notice and may not be published, in whole or in part. Any republishing or dissemination of same, including but not limited to the posting of the contents hereof on the Internet, shall constitute a copyright infringement and will subject the re-publisher(s) to civil liability for such actions.
Yeah, right. I dare them to take me to court for publishing that. Lawyers really tork me off sometimes. Thank god for websites like Chilling Effects.
Comments (9) + TrackBacks (0) | Category: IP Abuse
A few thoughts on the below-referenced U.S./Australia free-trade agreement, from the Australian student who cracked Apple iTunes 4.5:
"The recent announcement of the pending Australian-U.S. Free Trade Agreement (AUSFTA) has sent shivers down the spines of many Australians, in all levels and areas of society.
However, one niche outcome of the AUSFTA that has not been significantly discussed in the Australian press and other public forums, is that of changes to our intellectual property laws.
Along with things such as the unnecessary increase in Copyright durations, which was put on the table [in] the states after huge lobbying by the entertainment industry (specifically Disney), comes a very frightening change which will bring 'tighter controls on circumventing technological protection of copyright material.'
This is equivalent to the core portions of the [U.S.] DMCA.
[...]
Bringing such laws to Australia is not necessary. The laws have [proven] useless in stopping copyright violations, but rather, have been used as a device by the media giants to maintain and increase their monopolies."
Via Slashdot via Frank Field.
Comments (0) + TrackBacks (0) | Category: Laws and Regulations
As Kim Weatherall notes, Australia has been undergoing two separate but not entirely equal deliberations over its national copyright law at roughly the same time: a review of the 2000 Digital Agenda Act, and negotiations with the U.S. over a free-trade agreement (FTA) that predictably exports DMCA-style copyright restrictions.
The good news is that the Digital Agenda review process has yielded some remarkably sensible recommendations, including amending the anti-circumvention rules to 1.) permit fair dealing (Australia's version of "fair use"), 2.) allow for the non-infringing uses that are already okay under Australian copyright law, and 3.) let people who have legitimately acquired digital products to look under the hood.
The bad news is that the U.S./Australia FTA is poised to trump.
So where does Australia go from here?
Comments (0) + TrackBacks (0) | Category: Laws and Regulations
April 29, 2004
Jim Heid's Mac iLife 04 Site has an excellent review of the numerous changes in Apple's new version of iTunes 4.5 (iTunes 4.5: More to the store, new ways to play, and ripping without losing).
One of the major changes, he notes, is stricter DRM on the songs you buy from the iTunes Music Store:
In iTunes 4.5, you can authorize up to five Macs or Windows computers to play your purchased music -- up from three. But Apple giveth and Apple taketh away: you can now burn a playlist containing purchased music up to seven times (down from ten). And the old workaround of simply changing the playlist slightly does not work.
So after one year and 70 million songs, $0.99 now buys you less rather than more -- seven hard burns instead of ten soft ones. What will Apple "allow" us to do with the music we "buy" next year? three burns? one? zero?
And what about the songs you've already bought? Don't we get to keep the rights we had before the change?
Well, Apple has conveniently reserved its rights to make changes -- unilaterially -- to its DRM and your ability to make fair use via its Terms of Service and Terms of Sale pretty much anytime it pleases, without even having to give you notice:
Comments (8) + TrackBacks (0) | Category: IP Abuse
Okay, so the week isn't over yet. Neverthless, I'm making a plug for the following quote by Benjamin Kaplan in his 1967 book, An Unhurried View of Copyright, which I discovered @ copyfighter (PDF) Kim Weatherall's weblog:
"It is evident that as rights are strengthened, they need run, and can be endured, only for a correspondingly shorter period. So, if copyright proprietors are given really comprehensive rights to prevent uses of their works in computers, it will, I am sure, ultimately become plain to everyone that the copyright period must be cut very short."
Comments (2) + TrackBacks (0) | Category: Big Thoughts
April 28, 2004
Nearly two weeks ago Zeropaid reported that meta-filesharing software KCeasy, which supports several filesharing networks, received a cease and desist letter from Sharman Networks, providers of filesharing software KaZaA, because KCeasy interfaced with Sharman's FastTrack network (KCeasy leaves Fasttrack - v 0.12 Released). KaZaA, obviously, doesn't like the competition for a number of reasons.
As I noted in an earlier post (The Best Defense is a Good Offense), if the RIAA really wanted to put filesharing networks like KaZaA out of business, they should hit them where they are vulnerable.
The threat against KCeasy is an obvious example of where the RIAA can strike at KaZaA. The RIAA should be leading the way in reverse engineering KaZaA's interfaces and Sharman's FastTrack protocols and publishing them widely. The RIAA should also be providing legal support to the KCeasy's of the world.
Maybe the RIAA will win the Grokster lawsuit (hopefully not), but even if they do, the decision will only direct the next generation of filesharing software developers in how to program around the law. If the RIAA loses the Grokster lawsuit, then what?
They still go after Sharman by doing what Sharman doesn't like. For example, the RIAA could provide legal and technical assistance in developing KaZaA Lite (adware-free alternative KaZaA software). How many lawsuits can Sharman afford? How much competition can they really handle?
via /.
Comments (3) + TrackBacks (0) | Category: Big Thoughts
Martin Schwimmer's must-read Trademark Blog points out a very interesting video mash-up combining scenes from "The Apprentice" with footage of the president: Trump Fires Bush. Schwimmer also helpfully points to a very on point decision with regard to political parodies adopting commercial elements: MasterCard vs. Nader [PDF].
MasterCard sued perennial presidential candidate Ralph Nader for trademark violations when Nader's campaign parodied MasterCard's famous "priceless" advertising campaign. Rightly, the case was dismissed at summary judgement. Of course, the MasterCard decision was a trademark case. In "Trump Fires Bush" actual footage from "The Apprentice" is used, raising a number of copyright issues.
Although I think there is a clear fair use defense of parody ... I can imagine a judge declaring that the use of NBC's footage is actually satire, which doesn't get a fair use defense.
Comments (1) + TrackBacks (0) | Category: IP Use
Ed Felten continues his series on the recent Speed Bump conference at the Berkman Center with a discussion of some guidelines for designing effective stopgap security measures (Stopgap Security). His previous post on the conference (What is a Speedbump?) and my response (Defining Speedbumps).
In any case, Felten has three suggestions for stopgap designers:
[Y]ou should look carefully at the lifetime cost of each stopgap measure, compared to the value it will provide you.
[R]ecognize that when the adversary adapts to one stopgap, he may thereby render a whole family of potential stopgaps useless. So don't plan on rolling out an endless sequence of small variations on the same method.
[R]emember that the adversary will rarely attack a stopgap head-on. Instead, he will probably work around it, by finding a tactic that makes it irrelevant.
Well, my first thought based on these guidelines was that the RIAA was hosed. In the long run, attempting stopgap measure after stopgap measure is inevitably doomed. As Felten says, "there is no good solution" in the copyright owners' war on P2P infringement.
Read on...
Comments (1) + TrackBacks (0) | Category: Big Thoughts
April 26, 2004
I've said it before. I'll say it again. When it comes to information, it is all about the distribution.
Last week, Ed Felten pointed out a great point about the important nexus between copyright law and communications regulation (Copyright and Cultural Policy). Felten was referencing James Grimmelmann's excellent LawMeme write-up on Seton Hall Law School's recent symposium, Peer to Peer at the Crossroads [PDF] (Conference Report: Peer-to-Peer at the Crossroads). Read the whole report, but the presentation that struck Felten's fancy (and mine) was UVa's Tim Wu: Copyright's Communication Policy [PDF]:
This article suggests that the main challenge for 21st century copyright are not challenges of authorship policy, but rather new and harder problems for copyright's communications policy: copyright's poorly understood role in regulating competition among rival disseminators. [emphasis in original]
Read the whole thing. It is a rich look at an extremely valuable way of considering copyright law.
Wu calls them disseminators, I call them distributors, but we both recognize their importance to copyright law. If, as I argue, copyright is about distribution, then it really makes sense to view copyright as communications policy (which is also about distribution) (It's All About the Distribution, Stupid).
I go even further, however, and claim that important elements of the First Amendment are also about distribution (It's Freedom of the Press, Stupid and Freedom of Speech as Distribution is a Good Thing).
Bonus: Check out the figure on page 11 of Wu's paper. Reminiscent of a layered protocol, don't you think?
Comments (9) + TrackBacks (0) | Category: Big Thoughts
Ed Felten has the first report (unfortunately, I wasn't invited) that I've seen on the Berkman Center's Speed-Bumps conference (What is a Speedbump?). Apparently there was legitimate disagreement over what, exactly, a speed bump for digital distribution is. Felten rightly faults one vision of speed bumps, but I believe his alternative definition is also too broad. The faulty concept:
One vision of speedbump DRM tries to delay the leakage of DRM'ed content onto the darknet (i.e., onto open peer-to-peer systems where they're available to anybody). By delaying this leakage for long enough, say for three months, this vision tries to protect a time window in which a copyrighted work can sold at a premium price.
As Felten explains, this vision (usually associated with DRM) is unworkable. I've written more on why it makes little sense here (Speed Bumps on Your Car)
Read on...
Comments (0) + TrackBacks (0) | Category: Big Thoughts
April 23, 2004
When Brewster Kahle sees a problem -- preferably a big, hairy, audacious problem -- he's likely to ask, without blinking, "Where do we start?" That's the approach he's taken to his (and our) current task, providing "universal access to all human knowledge."
Where most of us would be overwhelmed by the sheer size of the task, Brewster sees a challenge to be categorized and attacked systematically: Why can't we as a society share with all of our members the learning we've produced? What does that mean? Well, let's say there are 26 million books in the Library of Congress; 2-3 million sound recordings; maybe 100,000-200,000 theatrical releases and as many more video ephemera; 50 million websites; 1000 channels of television. For each chunk, the Internet Archive has a project: The Internet Bookmobile and million book project; live music archive; moving image collections; and, of course, the Wayback machine.
In his closing keynote for CFP, Brewster asked three questions about this universal access to all human knowledge: "can we?" "may we?" and "will we?" He expressed little doubt on the first -- technology can get us there if we have the will. As for the "may we?", to Brewster's credit, he's not willing to let the law block his vision. So he starts with public domain and permission-granted works, and builds. Perhaps that takes us to the point where the archives speak for themselves, begging to be filled first with orphan works, then classics, then ... the sky's the limit.
May we all share Brewster's will.
Comments (7) + TrackBacks (0) | Category: Big Thoughts
Ernie breaks a great story about Jones Day suing the Oakland Tribune to take back the memos they wrote about Diebold's risky ventures in California over uncertified e-voting machines.
While Jones Day chose to use legal tools to restrain news reporting and Free Speech in this case, keep in mind that if we had Trusted Computing, Jones Day could have written the documents in a word processing application that required an attestation that the reader was authorized to access the documents before decrypting them.
If this was the case, the reporters at the Tribune would never have been able to read the documents even after they had acquired them because the application would not "trust" them to decrypt the contents. Unless, of course, they attempted to circumvent the attestation requirement and "hack" into the document, thereby invoking dangers under the DMCA.
When the Diebold email archive and memos were posted on the net by the Swarthmore students and others, Diebold sent DMCA take-down notices to shut down their speech. But there, the students were able to respond and repost the documents. They were able to claim fair use as a defense to the allegations that they infringed Diebold's copyrights in its internal memoranda and emails. With Trusted Computing and the DMCA, fair use is no defense. Under current law, circumvention of Trusted Computing and/or DRM is arguably a criminal and civil violation -- whether your purpose is to publish the Pentagon Papers or the Diebold Papers.
Comments (11) + TrackBacks (0) | Category: IP Abuse
An interesting issue has come up in the Gmail and privacy session @ CFP. If you send an email to someone at a corporation, e.g. jason@microsoft.com, there is an implicit understanding amongst most people that Microsoft could scan the email and read its contents. After all, Microsoft has a number of trade secrets to protect (as well as other interests) and since you are sending the email to one of its employees, it presumptively has the right to check it to make sure it isn't causing the corporation any harm. At the very least, it could argue that since the mail has been sent to its comptuer servers, it has a right to look at it if it wants.
So what about Gmail? Shouldn't people have the same low expectations of privacy if they send email to someone using a gmail.com email address? After all, the email is residing on Gmail's servers and there's no illusion that the email is residing on a private server.
The difference, I think, is one of perceived control and ownership. When I send email to microsoft.com, I understand that Microsoft has a right to police its email and servers because the person you are sending the mail to is an employee there -- someone who Microsoft has control and supervision over while they are at work.
With Gmail, however, Google doesn't have any control or supervision over its users. At least, that's our current perception. In return for seeing ads, users get a Gig of storage. That's the relationship. Google doesn't try to tell the user what to use to account for or try to control their behavior or supervise it. Therefore, when I send email to someone at a Gmail account, I assume the user is in control of the privacy of that email, not Google.
Comments (4) + TrackBacks (0) | Category: Privacy
C|Net News reported yesterday on a new study released by Jupiter Research finding that, "One thousand songs is just about the right size for a portable media player" (Jupiter: 1,000-song pocket about the right size). You see:
"Vendors such as Creative, Archos, Dell and Apple have all created hard drive music players that can hold up to and beyond 5,000 songs," the report states. "Hard drive players with such large capacity for content go above and beyond not only the music that most consumers want on their portable music player, but also beyond the digital music that they own."
In other news, Jupiter will apparently come out with reports concluding that, for computers, "640K of memory should be enough for anybody" and that, for transportation, "the human body was never meant to exceed travel at more than 30 miles an hour."
Comments (1) + TrackBacks (0) | Category: Misc.
April 22, 2004
While the FBI has had trouble tracking down Osama Bin Laden and other terrorists, they appear to have had no problem locating and raiding another group of alleged lawbreakers: public school childrencopyright infringers.
Federal agents in Phoenix and elsewhere in the country raided schools and other targets in a national crackdown on pirated music CDs and movies.
Agents poured through data and records at a computer command center for the Deer Valley School District in the northwest Valley and blocked the office from the public. It was among other places in Arizona and "quite a few other states" where sealed search warrants were served, the FBI said.
DOJ Press Release on the raids, which not surprisingly, doesn't mention that public schools children were amongst the targets.
Update: Alright, alright. I suppose my post was implying a bit too much. We don't know whether the target of the FBI raid was children or employees. But we do know that the FBI is expending significant tax dollars and public resources in these raids. While this isn't unusual in the context of commercial bootlegging, pre-release distribution and/or organized crime-related copyright infringement, it is unusual if the infringement is standard non-commercial community copying. It signifies quite a step up in scope of the FBIs efforts.
The real question is, what are the tradeoffs? Are there terrorist or other threats they could be investigating instead of busting warez pirates? What are the real costs of such a campaign?
Comments (8) + TrackBacks (0) | Category: IP Abuse
Comments (2) + TrackBacks (0) | Category: Events
April 21, 2004
Prof. Michael Froomkin (U of. Miami) has started a Wiki for people to post their good/bad experiences with copyright and academic presses:
So if you have ever published in a law review or a book with an academic press that does legal topics, please consider adding your copyright experience to this database.
I'm a huge fan of collecting experiences dealing with copyright, both as data to assess the pros and cons of current copyright policies and to provide useful negotiating tools.
Comments (0) + TrackBacks (0) | Category: IP Abuse
The blogging of the 2004 Computers, Freedom & Privacy conference has begun.
A quote to start off the day, via a blogger @ yesterday's Network Surveillance HOW-TO: "It might shock users to realize that there are no functional barriers to third-party monitoring on all network activity. It is only the programmed good behavior of systems to ignore data packets addressed to others and only view those addressed to them. Palmer put it simply, quoting a 19th century statesman, who, in response to a proposal to construct an NSA-like agency, said, 'Gentlemen do not read each other's mail.'"
Comments (1) + TrackBacks (0) | Category: Events
April 20, 2004
The Second Circuit Court of appeals today issued a ruling that republication on the Internet of quotes from an illegally acquired seminar manual can still be fair use, despite the fact that they were acquired in bad faith. The Court held that while good/bad faith does factor into the equation, the overall issue of transformation is what is most important to deciding what is fair and what isn't.
While the majority opinion will only hold interest for the true lawgeeks in the audience, I recommend reading Judge Dennis Jacob's concurring opinion which contains many spirited exhibitions on fair use, including this gem:
"Fair use is not a doctrine that exists by sufferance, or that is earned by good works and clean morals; it is a right--codified in § 107 and recognized since shortly after the Statute of Anne--that is "necessary to fulfill copyright's very purpose, '[t]o promote the Progress of science and the useful arts . . . .'"
Comments (6) + TrackBacks (0) | Category: IP Use
J.D. Lasica has written a vivid expose of the tragic story of Jed Horowitz, former owner of Video Pipeline and Willful Infringement documentarian:
"My mother was a children's librarian, and she imbued me with a world view that culture is a conversation, that you don't own stories, you share them," he tells me. "What has happened over the past few decades is that culture has become privatized to the point where we're now facing a crisis. We need to remember we can still quote and sample, we still have fair use. As a free culture, we're still allowed to do things without permission."
Comments (0) + TrackBacks (0) | Category: IP Abuse
April 19, 2004
Comments (2) | Category: IP Abuse
EFF today announced a new initiative that's been in the works for some time: The Patent Busting Project.
The media release contains a few words from two people familiar to Copyfight readers:
"'Patents traditionally only targeted large commercial companies,' said EFF Staff Attorney Jason Schultz. 'Now bad patents are threatening non-profits, small businesses, and even individuals who use software and Internet technology. These threats target non-commercial personal use, such as building a hobbyist website or streaming a wedding video to your friends.'
'More and more, people are using software and Internet technology to express themselves,' said EFF Staff Attorney Wendy Seltzer. 'Patent owners who threaten this expression are creating a chilling effect on free speech.'"
Comments (0) + TrackBacks (0) | Category: IP Abuse
Comments (1) + TrackBacks (0) | Category: Misc.
We just received the Court's Opinion and Order denying Bikram Choudhury's motion for judgment on the pleadings or summary judgment in the suit brought by Open Source Yoga Unity. The Court found that "on balance, on July 9, 2003, OSYU did represent its members and did provide the means by which they could express their collective views and protect their collective interests." The Court found that OSYU's members had reasonable apprehension of suit or reason to believe their ability to practice and teach yoga might be taken away as a result of Bikram suing someone else and establishing precedent. The Court rejected Bikram's "unclean hands" argument and the argument that his hundreds of licensees are necessary parties. She was also unpersuaded by the argument in a footnote that copyright misuse is not cognizable as an affirmative claim. We'll get to make some law here.
Comments (0) + TrackBacks (0) | Category: IP Abuse
Another excellent post I missed while otherwise engaged: James Grimmelmann's conference overview/wrap-up for Yale's recent "Digital Cops" conference.
My favorite part is the bit on Jonathan Zittrain's presentation:
"Jonathan Zittrain
Is an extraordinarily funny speaker."
Comments (3) + TrackBacks (0) | Category: Events
George Hotelling is batting around a number of ideas about how to jumpstart copyright activism:
"What we are missing are two things: a leader to organize the fight and a coherent movement to rally around. The Dean campaign had Joe Trippi managing a swarm of volunteers and creating an army from the ground up. We need a Joe Trippi to define our copyfight, to create something that people can say 'I support the copyfight' on their bumper-stickers or their lawns or to their coworkers."
I'll have more to say on this later; for now, check out Mr. Hotelling's post in its entirety, and feel free to share your thoughts.
Comments (1) + TrackBacks (0) | Category: Misc.
Erik Heels, noting that he'd been classified in Copyfight's blogroll(s) under "Linkable + Thinkable" rather than "Copyfighters," asks: "Can an attorney who makes his living practicing intellectual property law also be a copyfighter?"
He goes on to say that he believes that the goals of copyright law are "valid and good," but that the Copyright Act "has been tweaked and modified far too much." He classifies both the Sonny Bono Copyright Term Extension Act (CTEA) and Digital Millennium Copyright Act (DMCA) as bad law, and finds the trend toward more rights for corporations and fewer for individuals "troubling."
Concludes Heels:
"I don't always agree with other engineers, lawyers, or business people, especially if I feel they don't understand the 'how' of the technology, the 'why' of the law, or the 'so what' of business. And don't get me wrong, I like being called 'linkable and thinkable.' But if 'copyfighter' means 'one who fights against bad copyright laws (and for smarter business practices),' then I am a copyfighter."
I couldn't agree more. An excellent definition. Welcome to "Copyfighters," Erik.
Comments (3) + TrackBacks (0) | Category: Misc.
April 18, 2004


The New York Times runs a creative piece on Disney's aging mascot, Building a Better Mouse. As its writer tells Mickey's history, the Times has eight artists update the mouse's image for 2004: supermouse, hipster, and aging smoker among them. The article mentions the Sonny Bono copyright extension that keeps Mickey locked up beyond his 75th birthday, but doesn't discuss the copyright status of the illustrations -- fair use transformations or infringing/licensed derivatives? I'd go with the fair use, but would an independent artist or publisher without the backing of NYT-legal have similar confidence?
Comments (0) + TrackBacks (0) | Category: IP Use
There are two conferences right around the bend that I consider must-attend-if-at-all-possible: the Berkman Center's Internet Law Program and the venerable Computers, Freedom & Privacy conference.
The good news for those who may not be able to attend: both conferences will be well blogged.
CFP, which takes place T-F of next week, is providing blogspace for attendees who wish to blog sessions at the conference. Yep, I'll be there to blog a number of Copyfight-pertinent panels, as will fellow Copyfighters Wendy Seltzer and Jason Schultz (who are also panelists). We'll keep you posted on details.
Comments (4) | Category: Events
I've been working so hard getting the word out about matters pressing and urgent, I haven't had the time to truly listen. As a consequence, I've missed a lot of very fine thought and commentary entirely suited for highlighting @ Copyfight.
One such missed bit: fellow Copyfighter Wendy Seltzer's bloggish "review" of Larry Lessig's Free Culture. Succinct, near poetic, profound. A true pleasure to read.
"My father, a great litigator, taught me the value of analogies and stories to good lawyering: The right story creates a context in which your arguments make sense. For the past quarter century, copyright law has been dominated by a property story. Little surprise, because those telling the story -- the publishers, broadcasters, and entertainment companies to whom we've delegated the maintenance of culture -- use it to consolidate their control. In a property story, stopping 'theft' by any means necessary makes sense.
Lawrence Lessig gives us an alternative story, a story about Free Culture.
[...]
In the free culture story, copyright exists to promote culture, and culture benefits from sharing. When copyright's controls impinge on public discussion and subsequent creativity, copyright should be changed, not the public 'copying.' Copyright law didn't descend from the heavens fixed in stone. It came to American law from a group of founders who were deeply skeptical of monopoly control but saw cultural value in granting authors short-term, limited-scope protection from commercial appropriation. In the founders' tradition, we should reshape copyright so it continues to promote cultural progress; updated for today, that means giving copyright holders less control, not more."
Please, go.
Comments (0) + TrackBacks (0) | Category: Big Thoughts
Remember the RIAA's "Clean Slate" program -- the one that was supposed to demonstrate its good faith toward file sharers seeking to go legit, but actually made them more vulnerable to lawsuits for copyright infringement? Well, the RIAA has decided to cancel the program.
I've written a short post about its cancellation over @ EFF's Deep Links, discussing just how insincere the RIAA is about helping music fans come in from the cold. How so? The group announced it had discontinued "Clean Slate" in the middle of a court hearing over the program, in a transparent effort to make Ira Rothken's case against it moot -- while at the same time rejecting proposals like EFF's for Voluntary Collective Licensing, which would turn millions of file sharers into paying customers.
Comments (1) + TrackBacks (0) | Category: Misc.
April 17, 2004
As Ernie noted recently, the FCC has issued as Notice of Inquiry on the feasibility of mandating DRM for digital radio, starting a process to take us all kicking-and-screaming down the same road it did when it forced the Broadcast Flag on the future of digital televison.
Beyond skepticism regarding the necessity for such invasive regulation, the action has also raised suspicions about the origin of the action, since (unlike with the Broadcast Flag) there has been to date no mandate from Congress for such action, no record on the subject in the FCC docket, and no attempt by the RIAA to work out an industry solution.
Well, yesterday Public Knowledge, one of the key groups opposing the BFlag, raised a red flag of its own regarding the FCC's actions by filing a FOIA request to disclose all communications between the RIAA and the FCC on the issue of digital radio:
"There has to be a reason why the Commission was so drastically prepared to change course, and it didn't show up in the required public filings," said Gigi B. Sohn, president of Public Knowledge. Sohn also said she did not find credible the RIAA assertions that the group didn't know it had to disclose its contact with FCC commissioners and staff.
If the request turns up any previously undocumented communications, the RIAA will have vioalted the Ex Parte disclosure laws. The FCC has 20 days to respond to the request.
Comments (0) + TrackBacks (0) | Category: Laws and Regulations
April 16, 2004
LawLawLaw has been following what might have been a very interesting copyright story regarding whether one can copyright a fireworks performance in a such a way that it would be illegal to broadcast the performance from cameras placed in a public location (Zambelli gets copyright for Thunder script as TV war heats up). According to the Louisville, Kentucky Courier-Journal (Zambelli gets copyright for Thunder script as TV war heats up):
WAVE-TV paid the Kentucky Derby Festival $50,000 for exclusive broadcast rights to Thunder in a bidding process that three of the four major Louisville stations participated in.
But WHAS-TV, which had been the "official" Thunder station for several years, was outbid. It later announced it would broadcast the event without a contract, contending that Thunder is a news event on public property open for anyone to see, including its cameras.
The copyright issue raises many interesting questions, especially in an era where cameras are almost universal accessories. Of course, the case that seems most on point is not exactly a copyright case, but involved the right of publicity for a human cannonball perfomer. Zacchini v. Scripps-Howard, 433 U.S. 562 (1977).
However, The Louisville Channel subsequently reported that WHAS has since backed down from its claim that they would broadcast the show (Spat Over Thunder TV Rights Cools).
Comments (0) + TrackBacks (0) | Category: IP Abuse
April 15, 2004
Ed Felten has a typically insightful post on his Freedom to Tinker blog concerning the incoherency of universal, transparent digital rights management (A Perfectly Compatible Form of Incompatibility). After all, how can one have such a universal, transparent system when:
The whole point of DRM technology is to prevent people from moving music usefully from point A to point B, at least sometimes. To make DRM work, you have to ensure that not just anybody can build a music player -- otherwise people will build players that don't obey the DRM restrictions you want to connect to the content. DRM, in other words, strives to create incompatibility between the approved devices and uses, and the unapproved ones. Incompatibility isn't an unfortunate side-effect of deficient DRM systems -- it's the goal of DRM.
A perfectly compatible, perfectly transparent DRM system is a logical impossibility. [emphasis in original]
Read on...
Comments (4) + TrackBacks (0) | Category: Big Thoughts
Engagdet notes:
This has been around for awhile now in Britain, but AT&T Wireless is the first carrier in the US to offer Shazam's song identification service. If you hear a song you like (or don't like, as the case may be) but don't know who it's by, you can just dial #ID (or #43) on your cellphone, hold the phone near the speaker for at least 15 seconds, and then moments later you'll get a text message with the name of the song and recording artist. They say they've got a million songs in the database, and that for right now you can try it out for free, though later it'll cost 99 cents a pop.
I'd be curious to know if/how AT&T is handling the copyright issues for this service. Are they are instructing their customers to make digital retransmissions of copyrighted sound recordings? What about the "million songs" they have copied into their database? Is this infringement? Will the RIAA sue? Inquiring minds want to know...
Comments (3) + TrackBacks (0) | Category: IP Use
Salon.com has an article this morning about the controversial SCO v. Linux battles (Making The World Safe For Free Software). It's mostly an overview piece of the history behind the conflict, but it also includes a nice little analysis of how Groklaw, the legal blog dedicated to chronicling the fight, has provided a sort of "open source" approach to researching many of the legal and factual issues in the case, relying on its thousands of readers to examine the allegedly infringing code and perhaps saving defendants like IBM hundreds of thousands of dollars they would have otherwise spent on legal or consulting fees...
Comments (0) + TrackBacks (0) | Category: IP Use
April 14, 2004
Influential rock-and-roller David Bowie and car company Audi have teamed up to mash-up. Audi is running an ad featuring a mash-up of Bowie's classic "Rebel, Rebel" with his new "Never Grow Old".
Now they're holding a contest for the best fan-submitted mash-up of two Bowie songs, and giving an Audi TT to the winner (as vetted by visitors, judges, and Bowie himself). And the mainstreaming of remix culture continues...
Comments (1) + TrackBacks (0) | Category: IP Use
April 13, 2004
According to the RIAA, music sharing of thousands of songs is piracy. So why aren't they suing the troops?
From the NYTimes via BoingBoing:
At the Kirkush Military Training Base in the eastern Iraqi desert less than 15 miles from the frontier with Iran, an hour's wait for a helicopter was spent listening to Marilyn Manson, Eminem and Shania Twain before the Black Hawk fired up its turbines and somebody back in the barracks, as if on cue and with a dark sense of irony, cranked up Led Zeppelin's "Stairway to Heaven." The songs came from a European satellite music channel and a communal computer where 12.8 gigabites of tunes had been downloaded for sharing on MP3's. The rule was simple: Take some music, add some music. "Any time anybody on the team gets a new CD, they load it in, so we stay pretty current," said Sgt. Thomas R. Mena.
As the new CD from Tool blasted in the barracks, Sergeant Mena scrolled through the computerized music library, which ranged from Abba and AC/DC, through Limp Biskit and Metallica and on to Van Halen and ZZ Top. Emigres from West Africa who joined the Army for citizenship and career training arrived with the latest Nigerian pop CD's. Chinese-Americans hauled along hot Hong Kong video imports.
Comments (3) + TrackBacks (0) | Category: IP Use
Public Knowledge President Gigi Sohn has a great Op-Ed in CNet today (FCC is taking wrong turn on digital media). A must read:
Forty years ago, there was a scary TV show called "The Outer Limits."
The show started with the narrator's words: "We can reduce the focus to a soft blur, or sharpen it to crystal clarity. We will control the horizontal. We will control the vertical. For the next hour, sit quietly and we will control all that you see and hear."
Who knew that today the Federal Communications Commission would be trying to turn that sci-fi introduction into a regulatory reality? Not only is the commission considering rules that would result in the digital television picture from reaching its full, sparkling potential, but the FCC also is considering defining where, when and with what rights consumers can use digital media.
Comments (0) + TrackBacks (0) | Category: Laws and Regulations
The RIAA, MPAA and other copyright organizations frequently talk about how there needs to be more education about copyright in the schools. Unsurprisingly, their idea of "education" doesn't really include much about fair use and other limitations on copyright. Creative Commons shows how copyright education at schools should be done (School of Rock).
Comments (0) + TrackBacks (0) | Category: Events
April 12, 2004
Ed Felten on Freedom to Tinker hypothesizes a melding of several studies on file-sharing, creating A Grand Unified Theory of Filesharing. Copyfight noted the study here: Felten's Grand Unified Theory of File-Sharing. Felten divides the filesharing world into younger (15-24 years old) Free-riders (who fileshare and don't later purchase music) and older (25+ years old) Samplers (who fileshare to sample, but later purchase music).
However, while Felten's generational distinction is an important one, I'm not sure his theory fully explains what is going on. The main problem I see is that Eric Boorstin's thesis (Music Sales in the Age of File Sharing), which found that internet access correlates with increased music purchases for older people but decreased music purchases by younger people, isn't really about file sharing per se. The disconnect here is that there is no data for the correlation between filesharing and internet access.
Read on...
Comments (3) + TrackBacks (0) | Category: Counterpoint
Rick Prelinger of the Prelinger Archives has a quiet little letter to the editor in today's New York Times that deserves a bit of amplification.
Snippet: "File sharing and free downloading have increased the ubiquity and prominence of our collection and have given it ample publicity at very little cost, resulting in increased income.
Might there be a lesson here for the music industry?"
Comments (0) + TrackBacks (0) | Category: Big Thoughts
Illegal Art is hosting what sounds like a very interesting example of annotated art: Wizard People, Dear Reader. The work is an alternative audio track for the film version of Harry Potter and the Sorcerer's Stone:
To experience it, viewers need to get a copy of the first Harry Potter movie and watch it with the sound off, replacing Neely's narration with the original soundtrack.
Sounds easy, but you have to download (straight-up, no .torrent) about 140 MB of data, burn two standard CDs and then carefully start them to synch with the video. Why can't DVD players make such annotations easier? Oh, that's right, Hollywood doesn't like creative innovation they can't control.
In related news ... read on.
Comments (3) + TrackBacks (0) | Category: IP Use
Ed Felten has posted his attempt at synthesizing the supposedly contradictory studies on how file-sharing affects CD sales:
The Grand Unified Theory explains the study results by breaking down the users of filesharing into two subpopulations, which I will call Free-riders and Samplers.
Free-riders are generally young. They have few if any moral qualms about filesharing, and they tend to assume that others feel the same way. They use filesharing to accumulate libraries of music, as an alternative to buying CDs.
Samplers are generally older and more risk-averse. They are highly engaged with cultural products of all sorts. They are morally conflicted about filesharing, and use it mostly to download songs that either aren't for sale, or that they don't value enough to pay for. They buy music that they really like, and filesharing causes them to find more music they like, so it tends to increase their CD purchases.
Comments (1) + TrackBacks (0) | Category: IP Markets and Monopolies
After sending out a short feature on Google's Gmail in EFF's newsletter and then re-posting it at our new weblog, Deep Links, my automatic Google news search delivered to me the sincerest form of flattery.
It's nice to see the piece spreading to the four corners of the Net -- but admittedly a bit surreal to see it under an all-rights-reserved copyright: "Copyright © 2004 PBI Media, LLC. All rights reserved. Reproduction in whole or in part in any form or medium without express written permission of PBI Media, LLC is prohibited."
Comments (1) + TrackBacks (0) | Category: Misc.
April 9, 2004
via BoingBoing, Jack Layton, leader of the NDP, Canadian's left-wing New Democratic Party and Prime Ministerial Candidate:
"I'm a holder of a copyright myself. But it's a book on homelessness and I don't mind if anyone wants to copy it," he says with a grin. "I'm still not so sure how (file sharing) impacts sales -- some studies even say it enhances them. I don't think the dust has settled on this yet. When I was at university there was a great fear that photocopying was going to destroy the publishing industry and that hasn't happened. It's sometimes best to muddle along, take things one step at a time and see what happens. Society can have a way of sorting things out."
Comments (1) + TrackBacks (0) | Category: IP Use
I've mentioned Blackmask before. They're the great publisher of free ebooks who ported Lessig's Free Culture into a number of different formats within hours of its release - Free Culture - Now With Even More Free. Now, they've announced the online publication of five books by the great American author Dashiell Hammett: Night Shots, The Second Story Angel, Who Killed Bob Teal?, Zigzags of Treachery and The Road Home.
Of more interest here, though, is the copyright history they've dug up on Hammett and his early works (Jailed in '51):
Anyway, in '51, Dash came up on the wrong side of the House Un-American Activities Committee, went to jail for refusing to name names, and because of some IRS difficulties, couldn't collect on royalties for previous or new works.
1951 was roughly 28 years after Dash's stories first began publishing. Prior to passage of the '76 Copyright Act, 28 years was the standard renewal period. Guess who was too busy to renew? (And no, Ms. Hellman doesn't get involved until after Dash's death, nor Mr. Cowan... nor anybody else for the stories I'll be adding. Prior to his death, Dash took care of his own renewals on such works as Poisonville, The Maltese Falcon, Thin Man, etc.) [Links in original.]
via Teleread
Comments (0) + TrackBacks (0) | Category: IP Use
April 8, 2004
Comments (0) | Category: IP Abuse
Well, not in this universe, but in the alternative universe of science fiction/fantasy author and editor Eric Flint [warning: website has lots of annoying java].
I've written about Eric Flint before, on LawMeme (Melancholy About the Future of Copyright). Flint is one of the main forces behind the Baen Free Library, which makes many of publisher Baen's books available for reading online, "no conditions, no strings attached." If you like science fiction and fantasy, go now and enjoy.
But read on, when you get back ...
Comments (0) + TrackBacks (0) | Category: IP Use
April 6, 2004
Comments (0) + TrackBacks (0) | Category: IP Use
April 5, 2004
Increasingly, cable companies are getting into the business of Personal Video Recorders (PVR), integrating them into the cable set-top box. While in many ways convenient for the consumer (one less electronic component, potentially less expensive, never have to worry about recording the right channel), a worrisome potential for control over the viewing experience remains. If the cable company gives you the PVR, they will likely retain the ability to modify how you are permitted to use it. EE Times reports on one possible example of this with regard to integrated DVD recorders (Set-top boxes may put a lid on rewritable DVDs):
The current scheme under discussion is preventing disks made on a set-top burner from being played on any other system by linking the content to the serial number of the set-top using triple DES encryption.
As engadget notes (Coming soon: set-top boxes with crippled DVD burners),
essentially you'd be able to create an archive, but when your cable box dies on you or you move and switch to a different cable or satellite provider, your entire collection would be useless to you.
Comments (10) + TrackBacks (0) | Category: IP Markets and Monopolies
John Schwartz at the NYTimes has an interesting article this morning on the recent UNC/Harvard Study claiming P2P has almost null effect on CD sales. In particular, I thought the critique of the RIAA's "illegal activities" survey method was particularly good:
The industry has reacted with the kind of flustered consternation that the White House might display if Richard A. Clarke showed up at a Rose Garden tea party. Last week, the Recording Industry Association of America sent out three versions of a six-page response to the study.
The problem with the industry view, Professors Oberholzer-Gee and Strumpf say, is that it is not supported by solid evidence. Previous studies have failed because they tend to depend on surveys, and the authors contend that surveys of illegal activity are not trustworthy. "Those who agree to have their Internet behavior discussed or monitored are unlikely to be representative of all Internet users," the authors wrote.
...
"The single-bullet theory employed by the R.I.A.A. has always been considered by anyone with even a modicum of economic knowledge to be pretty ambitious as spin," said Joe Fleischer, the head of sales and marketing for BigChampagne, a company that tracks music downloads and is used by some record companies to measure the popularity of songs for marketing purposes.
Also check out Ed Felten's write up on the article here.
Comments (0) + TrackBacks (0) | Category: IP Markets and Monopolies
April 3, 2004
Rolling Stone covers the P2P leakage of Wilco's new album and the subsequent campaign amongst fans to show their appreciation through donations:
"How do I feel about the record leaking on the Internet?" he says. "Well, that's a little bit like asking me how I felt about the sun coming up today. It's an inevitable thing and not something we ever perceive as a problem. We were -- to be honest -- surprised it took as long as it did [about ten days]. Basically, once the first batch of promotional CDs began circulating at record companies and in the media, we knew it was just a matter of days. It's just something you plan for and assume at this point."
"The band and I think this idea is great because it just underscores something we believe very strongly: that real music fans are prepared, even anxious, to prove their loyalty and support their favorite artists," Margherita says. "They want to participate. These people are not the enemy . . . They're the backbone of what we all do. Plus, we get to support a charity that we think is very important, and I'm certain that a vast majority of the people who are downloading the record are going to want the real thing when it comes out in June."
Comments (4) | Category: IP Use
April 2, 2004
The Ninth Circuit denied the FCC's motion for rehearing en banc of its decision in the Brand X case concerning open access to cable Internet systems. In this case the court, invoking stare decisis, ruled that Internet service is a telecommunications service, not merely an "information service." Good news for consumers.

Comments (0) | Category: Laws and Regulations
Here @ BoingBoing, where Xeni Jardin has compiled a number of expert responses to the burning question of whether WiFi leads to Major League copyright infringement: "If I take my Powerbook to the ballpark and plug in my iSight Camera with it pointed towards the game, then isn't that an illegal broadcast of Major League Baseball?"
Comments (5) + TrackBacks (0) | Category: Laws and Regulations
Yesterday, Prof. Susan Crawford gave a talk to the Copyright Office (part of a program called The Copyright Office Comes To New York [PDF]), in which she critically discussed the broadcast flag, the DMCA, and state encroachments on copyright (Copyright Office talk). Read the whole thing. Being that yesterday was April Fools, let's hope the Copyright Office doesn't take her talk as a joke, as the Office has so often seemed to take other criticisms of copyright maximalism.
Comments (0) + TrackBacks (0) | Category: Big Thoughts
EFF, home to 3 of Copyfight's bloggers, has launched two new blogs: EFF Deep Links and EFF Mini Links. Deep Links is described as:
... a group weblog featuring pointers to news articles and weblog posts that spark the interest of EFF staff members. We aim to provide a bit of on-the-fly commentary to help contextualize issues, as well as links to useful background resources.
The topics we'll be exploring include intellectual property, privacy, free speech on the Net, technology and Internet architecture. The central questions driving these explorations: How does a particular development affect our rights? And how will it impact our future?
Mini Links is "a byte-sized companion to Deep Links."
Both have RSS feeds, of course, and there is already some quite good content on the sites, including this bit of history from Fred von Lohmann, The Wicked Player Piano, pointing out John Philip Sousa's misguided support for a copyright bill that would have given copyright owners monopoly power over player pianos and anything that reproduced sound.
Comments (0) + TrackBacks (0) | Category: Announcements
April 1, 2004
I'm a bit skeptical about Google's purported new 1GByte free email service that brings the power of Google to your email ("Gmail"). If it is a joke, it is brilliantly done with the knowing or unknowing assistance of the New York Times (reg. req.) among others (Google to Roll Out E-Mail Service). If it is a hoax, Google has even put out a diversionary April Fools message: Google Copernicus Center is hiring. Read the Gmail press release: Google Gets the Message, Launches Gmail. Read the Gmail about page: About Gmail.
This certainly looks real, and even if it isn't, the growing inexpense of storage means that it will be true eventually, probably sooner rather than later. I could say all sorts of things about what this means for the market and communications, but this is Copyfight, so let's talk about IP.
Comments (0) + TrackBacks (0) | Category: IP Markets and Monopolies
Yesterday, I noted (following Freedom to Tinker) the possibilities of our remixing culture's effects on conventional politics (Remix, Reuse and Vote). At the end of my post I wrote:
Bonus: Many such uses [of remixed culture] in a campaign would be classic examples of fair use both as political commentary and parody. Copyright law would have a hard time stopping such uses.
Apparently, former White House counterterrorism chief Richard Clarke doesn't read Copyfight, as this AP wirestory published an SFGate.com demonstrates (Clarke asks anti-Bush group to pull TV ads with his criticisms). Clarke isn't sure of his legal ground, but he wants everyone to know he is unhappy how his words are being used. Of course, CBS isn't too happy with Moveon.org "using CBS News copyrighted material without permission and to advocate a point of view." Too bad. Get used to it. Welcome to the world of Rip, Remix and Vote.
See also, LawMeme's take (IP Law: Bringing Clarke and Bush Together)
Comments (0) + TrackBacks (0) | Category: IP Abuse
ZDNet UK reports that Amazon.com has received a patent on "Use of browser cookies to store structured data." Amazon claims to have invented such use on February 2, 1999.
Understandably, this has angered a number of software/net activitists, including Richard Stallman, who is now threatening to call for a boycott of Amazon.com if they attempt to assert this patent as they did their infamous 1-Click patent:
"If Amazon begins attacking anyone over this, we will relaunch the boycott of Amazon," Stallman wrote in an email to ZDNet.
To read my quick-and-dirty analysis of its first Claim, click here.
Comments (0) + TrackBacks (0) | Category: IP Abuse