AUTHORS
About this weblog
Here we'll explore the nexus of legal rulings, Capitol Hill policy-making, technical standards development, and technological innovation that creates -- and will recreate -- the networked world as we know it. Among the topics we'll touch on: intellectual property conflicts, technical architecture and innovation, the evolution of copyright, private vs. public interests in Net policy-making, lobbying and the law, and more.
Disclaimer: the opinions expressed in this weblog are those of the authors and not of their respective institutions.

Monthly Archives
August 31, 2004
This just in:
Skylink has won its DMCA case on appeal. It's a lengthy and interesting unanimous opinion by Judge Gajarsa, with some real gems reining in some of the overbroad and much-abused language of Section 1201:
The DMCA does not create a new property right for copyright owners. Nor, for that matter, does it divest the public of the property rights that the Copyright Act has long granted to the public. The anticircumvention and anti-trafficking provisions of the DMCA create new grounds of liability. A copyright owner seeking to impose liability on an accused circumventor must demonstrate a reasonable relationship between the circumvention at issue and a use relating to a property right for which the Copyright Act permits the copyright owner to withhold authorization-as well as notice that authorization was withheld. A copyright owner seeking to impose liability on an accused trafficker must demonstrate that the trafficker's device enables either copyright infringement or a prohibited circumvention. Here, the District Court correctly ruled that Chamberlain pled no connection between unauthorized use of its copyrighted software and Skylink's accused transmitter. This connection is critical to sustaining a cause of action under the DMCA. We therefore affirm the District Court's summary judgment in favor of Skylink.
Comments (8) + TrackBacks (0) | Category: Laws and Regulations
I wrote a bit recently about the difficulty of "counting the bodies" in the copyfight -- e.g., quantifying the damage to our culture when access to all manner of "information goods" depends on whether you can pay the rental fee. Below are excerpts from two articles that underscore the difficulty of asserting the social value of activities that don't have a direct relationship to making money but are nevertheless extremely important: scholarship, research, and library stewardship/cultural preservation.
USA Today, quoting a letter from 25 Nobel Prize winners to Congress in support of open access to scientific research:


"Science is the measure of the human race's progress. As scientists and taxpayers, too, we therefore object to barriers that hinder, delay or block the spread of scientific knowledge supported by federal tax dollars -- including our own works."

Larry Lessig
, noting in the latest issue of Wired that while people who seek to "burden" the speech of pornographers have been defeated in the courts on First Amendment grounds, those who burden other kinds of speech in the name of copyright protection get off scott-free:

[Why] does the First Amendment speak so forcefully to protect pornographers yet barely whisper when librarians or film restorers complain that copyright regulates their speech, too? Both porn regulation and copyright law seek to promote important governmental ends (protecting kids; protecting artists and commerce). Both do so by restricting speech (speak no porn without verifying the age of the recipient; copy no creative work without securing a license from the copyright holder). Yet while the First Amendment demands that porn regulation reach no further than is absolutely necessary, it is oblivious to unnecessary burdens of copyright. Thus, regulation designed to protect kids has to jump mile-high hurdles, while regulation designed to protect Disney survives with the most idiotic justifications imaginable.

Comments (1) + TrackBacks (0) | Category:
Engadget has launched a weekly new feature: interviews with those who shape the world of gadgets conducted by journalist JD Lasica. The first interview is with the MPAA's retiring president Jack Valenti (The Engadget Interview: Jack Valenti).
What is really scary about this interview is the profound ignorance, or is it, perhaps, "willful blindness" Valenti demonstrates.
Unclear on How Cryptography Works
I have said, technology is what causes the problem, and technology will be the salvation of the problem. I really do believe we can stuff enough algorithms in a movie that only the dedicated hackers can spend the time and effort to try to plumb through those 1,000 algorithms to try to find a way to beat it. In time, we'll be able to do this, because I have great faith in the technological genius that's out there.
Has Never Heard of 17 USC 107
There is no fair use to take something that doesn't belong to you. That's not fair use. If you're a professor in a classroom, you show 'Singing in the Rain' to your class. You can fast forward it, and there's no performance fee for that. That's fair use. Now, fair use is not in the law. People are taking fair use and changing it to unfair use and claiming that it's fair use.
Doesn't Realize that the MPAA Opposed TiVo to Go
So there are no restrictions that Hollywood wants to place on what people can do with media on their computers?

Well, I can't tell you that. We have to see what the technology can provide.
Thinks Digital Things Last Forever
When you go to your department store and you buy 10 Cognac glasses and two weeks later you break two of them, the store doesn't give you two backup copies. Where did this backup copy thing come from? A digital thing lasts forever.
Read the whole interview.
There are some interesting comments on the Engadget site and Slashdot hosts a vigorous discussion (Jack Valenti: The Exit Interview). Techdirt wishes Lasica was a little harder on Valenti (Jack Valenti... Misunderstanding The Digital World Right Up Until The End).
UPDATED 0655PT, 0745PT
Comments (3) + TrackBacks (0) | Category: Interesting People
August 30, 2004
...as demonstrated by its editorial, which bemoans the Grokster decision [PDF] while showing how beneficial the precedent has been to copyright holders.
The opening line states that "a federal appeals court in California has given the green light to massive copyright violations facilitated by Grokster and other file-sharing services." The court gave a "green light," all right, but it wasn't to "massive copyright violations." It was to companies that create technologies capable of both infringing and non-infringing uses.
A bit further on, the piece asserts that "The [Grokster] judges contend that the remaining 10 percent [of uses] constitutes substantial legal use as defined in the Betamax decision. That is a stretch. VCRs are most commonly used either to time-shift TV programs or to play movies that are legally copied and provide billions of dollars in revenues to the movie industry."
Er, well, actually, the only reason why people are now using the VCR mostly to "play movies that are legally copied and provide billions of dollars in revenues to the movie industry" is that the Supreme Court gave the green light to a company (Sony) that created a technology (the Betamax VCR) capable of both infringing and non-infringing uses.
Comments (2) + TrackBacks (0) | Category: Laws and Regulations
We've discussed the definition of "copyfighter" before (IAAC - I Am A Copyfighter and Defining "Copyfighter"). Regardless of the details of the definition, I think we certainly have to add the New York Times Editorial Board to the copyfighter category. For example, here are a few recent editorials from the Times:
Grokster and the Information Exchange:
These are thorny issues indeed. Freedom of information is at the root of American democracy, and yet every day we see that freedom being compromised, controlled and limited. The Grokster decision is a ruling in favor of keeping our bets open about which technologies will turn out to serve our freedoms best.
A Digital Divide
:
It would be better for consumers if Apple began licensing its digital rights management software, only because the iTunes Music Store will not be able to lock up access to all the copyrighted music in the world. But RealNetworks' contention that Apple is stifling freedom of choice is self-serving. You can play music from any CD on an iPod, once it has been digitally copied, and the device works on PC's and Macs.
In-House Advice
:
That is not how Congress usually thinks about it. A good example is the so-called Induce Act, now under consideration, which would make it a crime to aid or induce copyright violations like illegal file-sharing.

But the bill is so loosely worded that it could threaten a host of legal information-sharing practices and technologies. That includes everything from the iPod to automatic online translation. Critics claim, with reason, that this overreaching bill would have deeply chilling effects on technological innovation.

Congress seems instinctively to side with those who instinctively want to put a chokehold on new technologies. It's always easier, after all, to try to protect what appears to be "an absolute, inviolable set of rights" than it is to find equitable new ground to stand on in the rapidly shifting debate over digital copyright.
Kudos to the NY Times Editorial Board for recognizing the importance of these issues and making their position clear.
Comments (4) + TrackBacks (0) | Category: Kudos
August 27, 2004
John Borland @ CNET: 'Plays for Sure' Means Microsoft's Inside: "Microsoft is planning a new branding campaign similar to 'Intel Inside' for its Windows Media audio and video technology, hoping to highlight the near-ubiquity of its multimedia technology, sources familiar with the plans say."
Derek Slater: With DRM and the DMCA, Nothing Plays for Sure: "With DRMed digital media, backed by the DMCA, nothing plays for sure. Please, somebody start THAT campaign, rather than playing these silly games. Your digital media is forever tethered to the DRM owners and relevant copyright holders. Your digital media plays the way they say it can be played, that's for sure. But you will never truly be able to use your digital media however you want on whatever device you want - we will never see true interoperability."
Comments (0) + TrackBacks (0) | Category: IP Markets and Monopolies
The very fine weblog writer & copyfighter Joe Gratz favors us with a clear, succinct executive summary of Chris Sprigman's Reform(al)izing Copyright [PDF], a forthcoming Stanford Law Review article that proposes to restore the traditional balance to copyright law by bringing back copyright formalities that have all but entirely disappeared. Interestingly enough, these formalities will be "voluntary" -- but if you don't participate, a default license kicks in.
According to Joe, this paper, along with the aforementioned article by Judge Posner and William Patry, "lays the foundation for a new battle in the copyfight, focusing not on the optimal length of the copyright term but on the optimal set of conditions a copyright system should demand of parties claiming exclsuive rights." We've only just begun to explore this particular avenue of post-Eldred strategy.
Snippet (emphasis, mine):


[These] formalities weren't just annoying ministerial requirements, traps for the unwary included for the sake of tradition. They were smart economics. They caused works to exit copyright's system of exclusive rights when the economic value of that exclusivity was exhausted.

So, Sprigman asks, what can we do now? The Berne Convention, to which the United States acceded soon after its elimination of formalities, prohibits formalities as a condition for copyright protection. We can't just reinstate formalities going forward. Sprigman sees renewal as the most obviously economically important formality; exclusive rights that are economically worthless to the rights-holder but potentially valuable to other parties are a dead-weight loss to society. Sprigman proposes a system of "new-style formalities" – voluntary notice, registration, deposit, and renewal. If a copyright holder decided to opt out of the system of voluntary formalities, their work would be subject to a "default license." The license fee, payable from the user to the copyright holder, would be set such that the full cost of compliance and the full cost of noncompliance are roughly equal.

Comments (0) + TrackBacks (0) | Category: Laws and Regulations
August 26, 2004
Well, it seems that someone has patented some new forms of punctuation: WIPO Patent Publication No. WO9219458:
Using two new punctuation marks, the question comma and the exclamation comma: and respectively, inquisitiveness and exclamation may be expressed within a written sentence structure, so that thoughts may be more easily and clearly conveyed to readers. The new punctuation marks are for use within a written sentence between words as a comma, but with more feeling or inquisitiveness.
Seems that this is sort of an addition to the faddish punctuation known as the
Interrobang
.
via I/P Updates
Comments (1) + TrackBacks (0) | Category: Misc.
August 25, 2004
In a conversation on the Cyberia-L email list, CIS Fellow Chris Sprigman argues that Judge Posner's suggested "fix" for the copyright term extension problem is flawed because it may not pass muster under the Berne Convention, and, by extension, the TRIPS accord. So in a forthcoming issue of the Stanford Law Review, Sprigman will propose his own solution: restoring to copyright law the sort of formalities that copyright holders like Ludlow Music, Inc. have occasionally messed up.
An advance copy of Sprigman's piece is available [PDF] @ the CIS weblog. I haven't read it yet, but something tells me Joe Gratz has. Perhaps he'd be kind enough to offer us an executive summary?
Comments (1) + TrackBacks (0) | Category: Laws and Regulations
August 24, 2004
Judge Posner, over at the Lessig blog, describes
a very worrisome problem concerning fair use. It has to do with a dichotomy long noted by legal thinkers between the law on the books and the law in action. They often diverge. And fair use is an example of this divergence. As I said in an earlier posting, fair use often benefits rather than harms the copyright holder. However, it doesn't always; moreover, even if a copyright holder is not going to lose, and is even going to gain, sales from a degree of unlicensed copying, if he thinks he can extract a license fee, he'll want to claim that the copying is not fair use; and finally, because the doctrine has vague contours, copyright owners are inclined to interpret it very narrowly, lest it expand by increments.

The result is a systematic overclaiming of copyright, resulting in a misunderstanding of copyright's breadth.
We at EFF and Chilling Effects have seen these copyright overreachings frequently too. Sometimes, though, we find a little guy who doesn't want to cave in the face of threats, doesn't want to remove the web posting or excise the portion claimed to "infringe," but wants to fight for his fair use and First Amendment rights.
In the case of OPG v. Diebold, when Diebold claimed that copyright in internal emails entitled it to demand that ISPs remove criticism of Diebold e-voting machines, we took OPG's case and sued Diebold for copyright misuse and DMCA misuse. The way misuse works, if you assert more copyright than the law gives you, you're barred from enforcing any copyright in the work until you stop overreaching. Like the owner of the golden-egg-laying goose, if you ask for too much, you get nothing at all.
Judge Posner recommends the doctrine of copyright misuse too -- and as a judge, he doesn't just blog about solutions, but suggested this one in his WIREdata opinion. Let's hope that more courts, and more lawyers for the little guys, can use this doctrine to keep copyright overreaching in check.
Comments (0) + TrackBacks (0) | Category: IP Abuse
Once again, the embargo is lifted and the multiple rumors are confirmed: not only has the JibJab case has been settled in favor of the animation parodists, but EFF research indicates that Woody Guthrie's "This Land Is Your Land" is actually part of the public domain.
"We believe that Guthrie's classic tune, 'This Land Is Your Land,' belongs to all of us now, just like Amazing Grace and Beethoven's symphonies," says Fred von Lohmann in the official press release. "The idea of copyright law is that, after a time, every work comes back into the hands of the public, where it can be reused, recycled, made part of new creativity without having to pay a fee or call in the lawyers. That's a great thing, the real genius of copyright."
Very cool.
Later: Fred von Lohmann @ Deep Links: "Come to think of it, now that 'This Land is Your Land' is in the public domain, can we make it our national anthem? That would be the most fitting ending of all."
Comments (1) + TrackBacks (0) | Category: IP Use
CNET reports that today marks the unveiling of the "Don't Induce Act" -- a proposal by SBC Communications, Verizon Communications, the Consumer Electronics Association (CEA) and others to narrow the proposed Induce Act to reduce the threat to the technology sector.
Unsurprisingly, the MPAA and RIAA are already attacking the proposal as dishonest and ineffective. I haven't seen it yet, but here's CNET's nutshell description:


The Don't Induce Act describes three requirements that would have to be met before a software distributor could be found liable: The "predominant" use of the program would have to be the mass, indiscriminate infringing redistribution of copyrighted works; the "commercial viability of the computer program" would have to be dependent on revenue derived from piracy; and the software distributor would have to have "undertaken conscious, recurring, persistent and deliberate acts" to encourage copyright infringement.

The proposal would also indemnify venture capital firms, payment services, financial services, Internet service providers, librarians and e-mail utilities. If the measure becomes law, anyone filing a "baseless lawsuit" under the Don't Induce Act could be heavily sanctioned with damages that are triple what would normally be levied.

Because the measure would only apply only to "commercial" activities, the proposal would not target free or open-source P2P clients.

Update: Ernie Miller has both
cover letter and Don't Induce Act text
. His take? "Frankly, my immediate reaction is that I am not so enamored of this proposal. It seems overly tailored to one particular use of technology. While I appreciate the narrowness of the drafting, I don't really like the special case it adds to copyright law."
Comments (0) + TrackBacks (0) | Category: Laws and Regulations
...has evidently been broken by two companies that make and sell DVD chips to companies that make products that (take a breath) have features that fail to hew to Hollywood's standards for copy "protection." So the MPAA is suing.
As John Borland points out, the suits have nothing to do with copyright law. To avoid the kind of lawsuits that destroy companies like 321 Studios, the chipmakers essentially 1.) asked Hollywood for permission to make the chips, 2.) agreed to make them in the Hollywood-approved way, and 3.) signed on the dotted line. It's a lot cleaner than squabbling over messy, intractable stuff like arguments for "personal" or "fair use" of digital media.
Later: Wendy Seltzer weighs in @ Legal Tags: "DVD-player manufacturers are in a Catch-22: Don't sign the DVDCCA's restrictive contract, and you're sued under DMCA; sign, and you're contractually bound not to listen to customers' feature requests. Don't let anyone tell you these cartels aren't clever (PDF)."
Comments (0) + TrackBacks (0) | Category: Misc.
August 23, 2004
From the oops-maybe-we-shouldn't-have-shut-down-SP2Torrent.com dep't, the Washington Post is carrying a story (Windows Upgrade Causing Campus Headaches) about numerous universities actively blocking SP2 updates because, among other things, they take up too much bandwidth to download directly from the Microsoft site:
Worried that the upgrade could conflict with other applications running on university networks, and a related concern that thousands of students attempting to download the software could bring campus computer networks to a standstill, technology administrators at some universities have taken steps to block an automatic service that downloads the software.

...

"Our primary concern is the impact this will have on our network and the length of time it would take to get from Microsoft directly," said Damon Palyka, a computer security technician at the school.
Comments (0) + TrackBacks (0) | Category: IP Abuse
Ernie Miller is interviewed over at O'Reilly and (no surprise) provides plenty of excellent answers to the question.
Here's just one:


Koman: So, assume that this was passed. How debilitating a hit would it be to technological innovation?

Miller: It's hard to overestimate it, to be honest. It would be incredibly debilitating to investment and innovation across the board, to anything having to do with the Internet, anything having to do with computers and the ability to copy. First of all, there's no clear boundary as to what is legal and what is not. There's no bright line defense. As long as they can provide some evidence that a reasonable person could think some technology was intended to induce infringement, then the lawsuit has to go all the way to the jury. You can't get it dismissed very easily. That's very expensive.

There's no limitation on who can be sued. Not only can the company making the device be sued, but under the Induce Act they can sue the company that invested in the company, they can sue the company that provides parts and supplies to the company, they can sue business partners, they can sue the advertising agencies. If you come up with something that's a really wonderful, neat new product but Hollywood won't like it, who's going to do business with you, who's going to invest in you? It's going to be incredibly difficult to do business, and that's going to dry up investment to no end. It's scary how far-reaching this is.

Comments (0) + TrackBacks (0) | Category: Laws and Regulations
I know Tim Wu blogs no more @ the Lessig Blog, but he did it so well, I'm forced to backpedal for a second look.
Who Cares About Innovation? is provocative yet perplexing. Wu appears to posit two tiers of innovation -- "useful" innovation, such as the kind that results in applications like email, and (presumably) less useful innovation, such as the kind that results in, say, VoIP over powerlines:


Measured in social value, surely some of the oldest applications, like email, relatively untouched by innovation, produce most of the network's present social value. Sure, I think VoIP over powerlines would be pretty cool (thanks Adam Thierer). But compared to finding old friends, staying in touch, and everything else that email does, there is no serious comparison. Logic like this suggests that faith in innovation is a faith out of touch with human ends. Perhaps making what is obviously useful – like email – reach more people is more important than constantly reinventing, redestroying, or finally writing the perfect debugger.

I think Wu know that we wouldn't have email at all if we didn't have an environment/circumstances that allowed the kind of people who reinvent, redestroy, and finally write the perfect debugger (a.k.a. geeks) to do just that sort of thing. He writes that email "was an invention, and required the right environment for it to come about." Yet he goes on to warn "innovationists" that supporting innovation should be about its connection to human ends, not only "the abstract beauty of new technologies."
If I'm interpreting Wu correctly, I see things a bit differently. If there is beauty to be cherished and preserved here, it's in obsessive debugger-types (a.k.a. geeks) being free to do what they want without focusing on anything but improving the technology. Why? Because that's how creativity works. You pursue something you're passionate about, and you don't let go -- even at 3:00 a.m. If the work is embraced and becomes "useful" to others, that's terrific. But often that embrace is a happy accident.
I suppose that in the context of public debate about innovation, it's important to talk about the "useful" fruits because that's what the public plucks from the tree. But the true "innovationists" are more like environmentalists than anything else -- they encourage a healthy diversity of crops, not just the ones we (ultimately) find broadly useful.
Later (August 24): Edward Felten weighs in: "Often, we seem to be drifting toward a rule in which new technologies are, by default, banned, unless some functionary can be convinced that they have merit. That's a dangerous rule, not least because we may never know which potentially world-changing technology was snuffed out at birth."
Comments (0) + TrackBacks (0) | Category: Big Thoughts
Hiawatha Bray of the Boston Globe today runs a sweet piece on "Where we go from here" after the Grokster decision (A Swan Song For The Music Industry):
For those of us who despise the file-swappers as larcenous hypocrites, it's not a happy verdict. But it's well nigh impossible to dispute it. The judges simply pointed to a crucial 1984 Supreme Court decision that protected the rights of Americans to own videotape recorders. The movie industry scowled that these devices would enable people to practice a lively trade in pirated movies. The court responded that VCRs could also enable a fellow working the night shift to watch "The Waltons" when he got home. And because the technology had "substantial noninfringing uses," VCRs could not be banned, even if they could also be used for illegal purposes.

The so-called "Betamax case" liberated technologists to create CD and DVD burners, portable MP3 music players, and music-ripping software, secure in the knowledge that they couldn't be sued for it.

Alas, it also provided running room for the Groksters and Kazaas of the world. The managers of these companies know full well that their products encourage music theft, but insist upon pretending, like Sergeant Schultz, that they know nothing.

Well, now it doesn't matter what they know. As long as their software has legitimate uses, as well as corrupt ones, it's legal.

Republican Senator Orrin Hatch of Utah must have seen this coming. Hatch went out on a limb a few months back, proposing a federal law that would ban products that sought to "induce" copyright violations. In this space, I defended Hatch against the scorn of outraged technologists, who insisted the new law would have stifled the invention of the Apple iPod and other tech goodies.

But I changed my mind when Marybeth Peters, the chief of the US Copyright Office, praised the Hatch bill because it would undermine the Betamax case. If that happened, the next generation of digital marvels would be buried in an avalanche of injunctions, depositions, and discovery motions. No thanks, Marybeth. We'd rather learn to live with digital thievery.

The Electronic Frontier Foundation, an Internet civil liberties group, plotted the file-swappers' victorious legal strategy. The foundation also has a plan for the future of recorded music, a plan that gives artists and producers a hope of collecting at least some money for their work.

It's simple, really. Everybody who uses peer-to-peer software would pay a nominal monthly fee into a fund owned by the music industry. The foundation figures $5 a month. After all, those who pay are now allowed to download all the music they want. And there'd be no restrictions on what they could do with the files. They could make as many copies as they wanted, and play them on any device. Meanwhile, a computer would keep track of which tunes were downloaded, and the money in the fund would be doled out in the right proportions to artists and publishers around the world.

It's not a particularly radical concept; it's how radio and TV stations pay royalties to the music companies. The foundation estimates that about 60 million Americans currently swap music files, and that most of them would gladly pay a measly $5 a month to become law-abiding citizens. That works out to around $3.6 billion a year, without the cost of producing physical CDs.

The music makers have sneered at this idea for years, but that was before the federal courts had their say. Right about now, the EFF plan might look pretty good.
Comments (1) + TrackBacks (0) | Category: Laws and Regulations
Digital Media Europe carries a story today wherein the Pixies denounce traditional record labels in favor of live CD sales from concerts, product licensing, and Internet distribution:
"Record companies, schmecord companies – who needs 'em? That's not where the money is. The business is with the real customers – the fans. That's who we're trying to connect with," band member Frank Black, AKA Black Francis, told the Associated Press this week.

"I never really was much of a believer in the album anyway," Black said. "Singles are what people relate to."

Apparently, the band doesn''t feel it needs a record label any more and, while their plans are still unformed at the moment, the idea generally is to combine selling live CDs made and then sold at concerts, producing music for movies and commercials and distributing singles via the internet.
Comments (0) + TrackBacks (0) | Category: IP Use
So suggests the Honorable Richard A. Posner of the U.S. Seventh Circuit Court of Appeals, now guest-blogging over at Lessig Blog.
Judge...Professor...Dick Posner suggests that those interested in learning more about him consult his home page at the University of Chicago, but there are a few other spots Copyfight readers might want to visit whilst making heads and/or tails of his (blog) opinions:



20 Questions with Richard Posner, where he names the Aimster opinion [PDF] as one of his all-time favorites

Grokster, Intent, and Cert, in which Derek Slater grapples with C.E. Petit over the important differences between the Napster, Aimster, and Grokster opinions, and, interestingly, argues that they don't amount to much -- and that as a consequence, the Supreme Court may refuse to grant cert in a Grokster appeal:



The narrow holding [in Aimster] is that, to meet the Sony standard, something more than mere speculation about non-infringing uses is required. That's fairly consistent with Grokster and Napster and overall not that big a deal. Looked at that way, there is no circuit split. Posner's broader interpretation of Sony was irrelevant to the Aimster case, and thus its conflict with Grokster may also be irrelevant.

Unfortunately, Posner
cannot discuss Grokster
. But there's a lot he can and does say about another important battle in the copyfight: the effort to undo the damage the CTEA and
Eldred decision
have done.
"Larry Lessig from time to time flagellates himself about losing the Eldred case in the Supreme Court. He shouldn't; it was unwinnable for a host of reasons," writes Posner. "All this said, the net effects of the Act and therefore of the Eldred decision are probably bad. But the worst of them should be remediable fairly easily."
Easily, you say? Pray tell, how?
Posner's -- Dick's -- answer comes in two parts (so far): Licensing and Fair Use and Fair Use and Licensing. In part one, he argues that the main problem with copyright-forever-less-a-day is that it raises the transaction costs for publishing old works. In part two, he suggests that a form of fair use codified could save the day:


[It] should be considered fair use to copy an old work if the copyright owner hasn't taken reasonable steps to provide notice of his continued rights, as by entering his name and address in a copyright registry...Then if an Eldred wanted to publish some old work, he would consult the registry or registries and if no owner was listed (which would usually be the case, because most old works have no commercial value and so their owners won't bother to try to keep them from falling into the public domain), he could publish it without a license.

An interesting alternative to the burden shift proposed by the
Public Domain Enhancement Act
, which (among other things) asks copyright holders to pay a very small fee after 50 years if they wish to retain copyright. I wonder what Larry made/makes of it?
Oops -- didn't see Ernie's previous post here @ Copyfight; do check it out, below.
Comments (1) + TrackBacks (0) | Category: Interesting People
Judge Richard Posner has gone on a blogging rampage while guest-blogging this week on Larry Lessig's blog. I have to say, I'm mighty disappointed that his favorite movie was Eight Heads in a Duffel Bag, I mean, please (The Changing of the Guard).
Anyway, he has been going after copyright issues with a vengeance. In one post he talks about a soon-to-be-published paper in which he advocates for a copyright registry to reduce the costs of extensive copyright terms (Fair Use and Licensing). The argument sounds similar to Lessig's that, after a certain point, copyright holders should have to pay a license fee to retain copyright. Posner is arguing that they merely have to register a work. It will be interesting to read the article when it is published. See also, these postings (Licensing and Fair Use and Eldred Revisited). Like one of the commentators, I would also be interested in knowing why "poor old Mickey Mouse would be even less free if anyone could employ him without compensation."
Unfortunately, we won't be likely to hear anything substantive from Posner directly related to the Grokster decision, for reasons he lays out here (When Judicial Lips Are Sealed).
In any case, Posner has proven himself as prolific a blogger as he is prolific in everything else he does - stay tuned over at Lessig's blog.
Comments (0) + TrackBacks (0) | Category: Big Thoughts
August 19, 2004
Ernie Miller has a comprehensive round-up on the decision, plus additional analysis of its possible impact on --you guessed it -- the push for the Induce Act.
Later: Fred von Lohmann has more @ Deep Links:


The Ninth Circuit's ruling in MGM v. Grokster today clarified four points of incredible importance to innovators of all stripes, including peer-to-peer developers:

The Court made clear that, for purposes of the "Betamax defense" announced by the Supreme Court in 1984, the important question is whether a technology is merely capable of a substantial noninfringing use, not the proportion of noninfringing to infringing uses. The opposite rule, urged by the entertainment industry, would kill off new technologies prematurely, as infringing uses tend to be common until the incumbent entertainment industries adjust their business models to take advantage of the new opportunities created by the new technology. (When there were no pre-recorded videocassettes, the VCR was doubtless used for more infringement than it was after there were Blockbusters on every corner.)

The Court also explained that, in order to trump the Betamax defense, a copyright owner must show that the technology developer had (1) knowledge of specific infringments (2) at a time when it could do something about those infringements. The entertainment industry, in contrast, had argued that it should be enough to simply deliver a pile of "infringement notices" to the technology developer after the fact. Such a rule would have imperilled all kinds of companies. (Imagine Xerox receiving a pile of infringement notices about photocopiers that it had sold the year before -- should it be liable for infringing activities at every Kinkos in America?)

The Court also clarified that copyright law does not require technology developers to design only the technologies that the entertainment industry would approve. The plaintiffs had argued that vicarious liability principles should be interpreted to require that all innovators design their technologies to minimize the possibility of infringing uses. Of course, short of inviting Hollywood lawyers into engineering meetings, such a rule would have left innovators subject to eternal legal harassment for "not doing enough."

Finally, and perhaps most important, the Court observed that, in the long run, a competive, unfettered market for innovation ends up helping copyright owners (even if it doesn't help today's entertainment industry oligopolists). In fact, today's ruling will likely be remembered as yet another example of the courts rescuing the entertainment industry from its own short-sightedness. In the words of the Court, "Further, as we have observed, we live in a quicksilver technological environment with courts ill-suited to fix the flow of internet innovation. The introduction of new technology is always disruptive to old markets, and particularly to those copyright owners whose works are sold through wellestablished distribution mechanisms. Yet, history has shown that time and market forces often provide equilibrium in balancing interests, whether the new technology be a player piano, a copier, a tape recorder, a video recorder, a personal computer, a karaoke machine, or an MP3 player."



Comments (4) + TrackBacks (0) | Category: Laws and Regulations
I've just finished reading the Ninth Circuit's decision (PDF). It's a beauty. Not only do they get the technology and the law right, but also the policy. Check out these choice comments at the end of the opinion:
The Copyright Owners urge a re-examination of the law in the light of what they believe to be proper public policy, expanding exponentially the reach of the doctrines of contributory and vicarious copyright infringement. Not only would such a renovation conflict with binding precedent, it would be unwise. Doubtless, taking that step would satisfy the Copyright Owners' immediate economic aims. However, it would also alter general copyright law in profound ways with unknown ultimate consequences outside the present context.

Further, as we have observed, we live in a quicksilver technological environment with courts ill-suited to fix the flow of internet innovation. AT&T Corp. v. City of Portland, 216 F.3d 871, 876 (9th Cir. 1999). The introduction of new technology is always disruptive to old markets, and particularly to those copyright owners whose works are sold through well established distribution mechanisms. Yet, history has shown that time and market forces often provide equilibrium in balancing interests, whether the new technology be a player piano, a copier, a tape recorder, a video recorder, a personal computer, a karaoke machine, or an MP3 player.Thus, it is prudent for courts to exercise caution before restructuring liability theories for the purpose of addressing specific market abuses, despite their apparent present magnitude.

Indeed, the Supreme Court has admonished us to leave such matters to Congress. In Sony-Betamax, the Court spoke quite clearly about the role of Congress in applying copyright law to new technologies. As the Supreme Court stated in that case, "The direction of Art. I is that Congress shall have the power to promote the progress of science and the useful arts. When, as here, the Constitution is permissive, the sign of how far Congress has chosen to go can come only from Congress." 464 U.S. at 456 (quoting Deepsouth Packing Co. v. Laitram Corp., 406 U.S. 518, 530 (1972)).
Comments (4) + TrackBacks (0) | Category: IP Use
The Ninth Circuit Court of Appeals just affirmed that Grokster and Morpheus P2P programs do not violate copyright law. Still reading the opinion, but thought I'd post it ASAP.
Comments (0) + TrackBacks (0) | Category: Events
RealNetworks put Fred von Lohmann criticizing Apple's FairPlay on its "Freedom of Music Choice" campaign website homepage. But something tells me it may decide to veto Fred von Lohmann criticizing Real's undistinguished record on promoting choice via interoperability.
Writes Fred:


If Real actually cared about "Freedom of Music Choice," it would be telling its customers to burn the downloaded music they purchase to CD, then rip to any DRM-free format they like (including MP3, WAV, or AAC, all of which play just fine on the iPod). That's a much better option than being dragged into a feud between Apple and Real.

Meanwhile, Real's record for promoting the "healthy, open competition" made possible by reverse engineering for interoperability is less than inspiring. Consider, for example:

In the RealNetworks v. Streambox case, Real was among the first litigants to invoke the DMCA to squash a competitor trying to interoperate with Real's proprietary streaming software.

Real's own end-user licenses expressly forbid reverse engineering, even where that activity would be lawful as a fair use.

Real has been conspicuously silent when it comes to legislative reforms, like H.R. 107, that have been introduced to reform the DMCA to permit legitimate reverse engineering.



Comments (0) + TrackBacks (0) | Category: IP Markets and Monopolies
August 18, 2004
Tim Wu has yet another excellent post over at the Lessig Blog, this time on the "Loser's Paradox" -- e.g., the affinity the U.S. government has for ailing business sectors.
"[T]here's not much a conceptual difference between something like the Induce Act on the one hand, and the farm subsidies for corn on the other," writes Wu. "Each case features an industry that desparately wants to slow the arrival of more competitive rivals. And each are in truth, slowly dying industries whose ongoing decay poisons our economy."
Equally excellent and apropos: Wu's Digital Audio and the Copyright Gap and Copyfight co-author Ernie Miller's Senators Put Copyright Office in Charge of Finding INDUCE Act (IICA) 'Consensus' by Sep 7. Don't miss them.
Comments (2) + TrackBacks (0) | Category: IP Markets and Monopolies
David Israelite, chairman of the US Dept. of Justice's Intellectual Property Task Force, has been out and about discussing how the DoJ will be taking a much more active role in intellectual property enforcement. From an AP story published in the Williamson County Review Appeal, the agenda of the task force is clear (Federal government takes aim at music piracy):
The federal government plans to more aggressively attack intellectual property theft, a near "epidemic" that has hit the music industry harder than any other, a federal official said Monday.

"The music industry deserves special attention from the Department of Justice because as an industry you have done more to help yourself more than any other industry that is experiencing theft of property right now," David Israelite, chairman of the U.S. Justice Department's Intellectual Property Task Force, told a group of songwriters at Belmont University.

The industry has battled music piracy, or illegal downloading of music on the Internet, through lawsuits, advertising and "any means necessary," Israelite said.
Except, perhaps, changing their business model like other industries do when faced when changing economic circumstances. Heck, even Israelite acknowledges that the music industry was slow to permit legitimate downloading, according to an article in the
Tennessean
(
Ashcroft aide attacks copyright infringement
):
Israelite was also somewhat critical of the music industry, saying the industry should have offered legal downloading more quickly.
You think?
Of course, getting back to the task force, which is supposed to make suggestions to Ashcroft come October, they may be looking at getting local law enforcement involved:
Part of the problem with enforcement is that copyright violations are a federal crime only, so the states and local law enforcement are not involved, he [Israelite] said.

"That makes it very difficult to go after mass copyright theft," he said. "If you had shoplifting at the rate you had digital theft from copyright violations, you'd have about 800,000 total police helping you."
Like local police have the resources and expertise to handle copyright infringement cases. Great.
via I/P Updates
Comments (2) + TrackBacks (0) | Category: Laws and Regulations
Greplaw has yet another terrific interview, this time with EFF co-founder John Gilmore.
There's quite a bit of discussion about the difficulty of retaining your civil liberties while traveling by air, but we're also treated to John's perspective on copyright in the digital era:


Greplaw: You are not a great fan of copy protection. But how shall intellectual property holders commercially survive in an environment where perfect copies are a part of everyday life?

John Gilmore: I thought I knew that answer in 1989, but I wasn't sure, so I started a business to see if I was right. Cygnus Support, later named Cygnus Solutions, got paid by its customers for writing free software and giving it away for unlimited free perfect distribution.

[...]

The way I found to make money from unlimited cheap/free distribution of perfect copies was to go with the flow rather than fighting it. Encourage the world to distribute your work to every person on earth; then every person on earth becomes your potential customer. Build a commercial relationship with people who depend on your work; they won't care if the rest of the world can have it, as long as they get your attention so it meets THEIR needs. Charge people for the act of creation BEFORE you create it (the same way concert tickets work); then you don't have to limit where the created work goes AFTERWARD. For a fee, alleviate the troubles that come from too much information, too poorly understood, too poorly coordinated, too poorly documented: provide rapid, correct answers to customer questions.

[...]

I'm sure the Cygnus business model isn't the only way to make money from unrestricted distribution of perfect copies. I was content to find one. It made dozens of millionaires from the ranks of the employees. It made me far more money than I made from working at Sun.

Now, tell me how *musicians* can make a living in an environment where oligopoly distributors steal their creative work as a "work for hire," pay them by the hour for creating it, regardless of how well it sells, lock them in by contract for their next six works, and even then cheat them on the accounting.

Then tell me how *programmers* can make a living under the same conditions (minus the cheating and the oligopoly). If we eliminated the cheating and the oligopoly, would musicians have about the same deal as programmers? I suspect that it's roughly so.

Comments (0) + TrackBacks (0) | Category: Interesting People
August 17, 2004
Just before Tim Wu resumed his excellent blogsitting at the Lessig Blog, Rep. Rick Boucher asked a simple question that sparked many a complex response: "In thinking about the future of my information availability in our society, am I right to be concerned about the emergence of pay per use as the norm?"
The question brings to mind a central difficulty with explaining why the copyfight matters the larger sense -- e.g., why society as a whole should care about whether the Internet becomes "pay-per-use." The major problem is that it's tough to quantify cultural damage. The recording industry has plenty of numbers to quantify its guestimated loss. But how do you explain what is lost from our culture when access to "information goods" is determined by whether you can pay the rental fee?
EFF is preparing comments in a government proceeding about the future design of Regulations.gov and an online federal docket management system (EPA Docket No. OEI-2004-0002). Government documents are quite specifically "for the people" -- U.S. copyright law bars the government from copyrighting its original works. Nevertheless, there are countless ways that these documents are "reserved" for people/companies/organizations with the time and money to gain timely (and therefore useful) access to them.
It's costly to track the Federal Register and individual dockets for occasional references to topics of interest. Those who can afford to hire law firms to monitor regulatory activity are able to keep on top of important events and to make their voices heard. Those who cannot, often do not. EFF is proposing a number of technical fixes, including building in automated notification, RSS feeds, and bulk data retrieval.
So even in the absence of copyright, it remains an enromous challenge to keep forms of "pay-per-use" at bay. And again, how do you quantify damage? It's hardly possible to count actions not taken, no matter how harmful the end result.
Comments (2) + TrackBacks (0) | Category: Big Thoughts
The New York Times has a wonderful Op-Ed on copyright this morning (In-House Advice) praising the recent Congressional Budget Office report on Digital Copyright for its even-handedness and slamming Congress for kowtowing to the RIAA on the INDUCE Act:
Last week the Congressional Budget Office released a new report called "Copyright Issues in Digital Media." It should be essential reading on the Hill. The report upholds exactly the kind of evenhandedness that has been missing in much copyright legislation so far.

"Revisions to copyright law," the report argues, "should be made without regard to the vested interests of particular business and consumer groups."

The real test should be the economic efficiency of the marketplace - finding a way to balance the social benefits of a technology, like videocassettes, against the fears of copyright-owning movie studios.

The best way to accomplish that is to remember that copyright is an instrument "for allocating creative resources," not "an absolute, inviolable set of rights to which either creators or consumers are entitled."

That is not how Congress usually thinks about it. A good example is the so-called Induce Act, now under consideration, which would make it a crime to aid or induce copyright violations like illegal file-sharing.

But the bill is so loosely worded that it could threaten a host of legal information-sharing practices and technologies. That includes everything from the iPod to automatic online translation. Critics claim, with reason, that this overreaching bill would have deeply chilling effects on technological innovation.
Comments (3) + TrackBacks (0) | Category: Laws and Regulations
NYT: "RealNetworks plans to announce on Tuesday that it is putting its digital music offerings on sale at half price as part of an aggressive strategy to force its way onto Apple Computer's popular iPod digital music player.
[...]
Mr. Glaser acknowledged the company would not benefit directly from selling music at a loss, but he said that he believed that it would help force Apple to change its policy about licensing the iPod to play music from competitors."
Later: Engadget: "Hoping to get a little people power on their side in their battle to try and get Apple to open up the iPod to downloads from their online music stores, RealNetworks launched a 'Hey Apple, Don't Break My iPod' online petition which quickly turned against them and filled up with such witty anti-Real chestnuts as, 'REAL CRAP. rob you are a loser!' and 'If you guys dare to touch my iPod!! Oh Boy…! Im so going to rip out your....' They ended up removing the link from their site and put up another one which only lists people's names and nothing else."
Later #2:Fred von Lohmann: "In the latest development in the ongoing spat between
RealNetworks and Apple over the iPod, RealNetworks has launched its 'Freedom of Music Choice' campaign. 'Consumers are getting a raw deal with the status quo in digital music, which limits healthy, open competition that drives down prices and encourages innovation,' trumpets the campaign website.
Lovely sentiment. We couldn't agree more. But it's not as if Real is doing anything to change that status quo. After all, Real keeps its customers in DRM shackles that look pretty similar to Apple's FairPlay. In fact, Real's beef with Apple is really about keeping those shackles on its customers when the move songs to the iPod."
Comments (4) + TrackBacks (0) | Category: IP Markets and Monopolies
August 16, 2004
Somehow I missed this earlier, but better late than never, here is the FMC's August 4 letter to the Senate about the INDUCE act. FMC points out that musicians are stakeholders in the decision how to respond to infringement and arguable fair uses of copyrighted recordings, and the RIAA does not speak for all recording artists. Recording artists have varying perspectives on peer-to-peer, but even those who feel they lose sales from file sharing do not necessarily support the INDUCE act or the RIAA's tactics, such as "blacklisting" companies that do business with peer-to-peer services. Many are concerned that the INDUCE act overreacts to the reality of file sharing and could, in the process preventing the development of innovative business models for music distribution that could help many recording arts. The letter highlights the amazing growth and diversity of legal digital music distribution services and expresses optimism about the future of music. This is familiar ground, but senators need reminding that the major labels and recording artists have distinct and often opposing interests and that the artists are often closer allied with the consumers who listen to their work.
Comments (1) + TrackBacks (0) | Category:

Seth Finkelstein points out the remarkable similarities between the Business Software Alliance's new weasel mascot and Disney's criminal Beagle Boys (BSA Weasel == "Beagle Boys"!).
Boing Boing has even more ironical goodness (BSA mascot shares DNA with Disney "Beagle Boys"?).
Comments (0) + TrackBacks (0) | Category: Misc.
August 13, 2004
Last week, over on The Importance Of..., I annotated a letter from 46 state attorneys general to various P2P companies (State AGs Warn Filesharing Companies: Your Technology Too Dangerous!). Now, EFF has taken the letter to its logical conclusion and applied the basic arguments to the internet as a whole (No, Mr. Gore, I Expect the Internet to Die.):
Dear Mr. Gore:

We are writing to encourage you to take concrete and meaningful steps to address the serious risks posed to the consumers of our States by your invention of the Internet, including but not limited to email and web browsing. By addressing such problems as the use of email and the Web to disseminate pornography, invade privacy, and infringe copyrights, the Internet may one day realize its potential as a means for facilitating a wide range of collaborative project management, business planning, and academic/educational activities. At present, the Internet has too many times been hijacked by those who use it for illegal purposes to which the vast majority of our consumers do not wish to be exposed.
Good stuff.
Comments (7) + TrackBacks (0) | Category: Laws and Regulations
August 12, 2004
It's always interesting when guests blogsit for Larry, and Rep. Rick Boucher is no exception. Check out the lively discussion of compulsory license schemes in the comments over on Lessig Blog.
Comments (0) + TrackBacks (0) | Category: IP Markets and Monopolies
August 11, 2004
CNET has this story about the Congressional Budget Office's report on copyright legislation regulating new digital technologies. As described, the report seems pretty wishy-washy. DRM could impose costs on consumers, continued "piracy" might reduce incentives for artists, and compulsory license schemes might cut transaction costs but also could reduce supply or demand. It sounds like there's something for everyone in there, but is this kind of report really useful to Congresspersons trying to decide what do to, or merely to give them something to quote to support a position they've already chosen?
Postscript: Having now read the report itself in addition to just the CNET description, I'm sorry I used the term wishy-washy. Possibly, as an advocate, I am so used to taking a position I expect every piece of writing to do so. The report is really quite a good overview of the copyright debate, which points out the complexity that many persuasive writings on the subject try to avoid. This certainly shows hill types that there's a lot more to copyright issues than can be captured in 2 page letters ranting about piracy. That said, the report is, intentionally, limited to economic perspectives. There's no discussion of the effects, for example, of labelling millions of children criminals, and very little about upsetting consumers' reasonable expectations about what they can do with media they possess.
Comments (1) + TrackBacks (0) | Category: Laws and Regulations
I'll be on vacation from now until Monday, so my posts will be minimal to zero for a bit. See you next week!
Comments (0) + TrackBacks (0) | Category: Misc.
August 9, 2004
Ok/Cancel is a great blog/webtoon about HCI and UI issues. This week, they hit the nail on the head about how web companies overreact to actual competition in their space -- with threats of litigation vs. inspiration to innovate and actually beat out others in the marketplace.
Comments (4) + TrackBacks (0) | Category: IP Abuse
Comments (2) + TrackBacks (0) | Category: Misc.
August 7, 2004
Tim Wu says that copyright is the FCC's Vietnam, and that it "should be looking for a graceful exit strategy."
I couldn't have said it better myself (literally). Thank you, Tim.
Later: Ernie Miller takes issue with Wu's assertion that the FCC wants out of copyright: "The biggest flaw with Wu's argument...is that he doesn't explain why the FCC approved the broadcast flag in the first place less than a year ago. The broadcast flag ruling was, to borrow a court term, well-briefed on both sides. It isn't as if the FCC didn't realize what they were doing. Has anything changed in the last year to make the FCC regret their rash judgement?"
Comments (2) + TrackBacks (0) | Category: Laws and Regulations
August 6, 2004
Via Boing Boing, Cathy Guthrie, Woody's granddaughter, says she loves the JibJab parody of her grandfather's song.
I can speak for myself and my immediate family including my Dad, that we all love it! We've all seen it and passed it along to our friends and family. It's incredibly clever, funny and a nice break from the heavy tones of politics going on right now.... That parody was made for you and me.
Arlo Guthrie
has said
he likes the parody too.
Copyright being what it is, however, what Arlo and Cathy think doesn't matter. Nor even what Woody would think were he still alive. Once an author has transferred copyright, barring a termination of transfer, the author's wishes are irrelevant. Woody Guthrie, like many authors publishing commercially, had probably transferred what rights he had to his publisher for contractual royalites, but leaving his heirs no say in the uses allowed of his works.
The alienability of rights may be better than the European droit d'auteur, from which an author can't escape even if he or she wants to, but it probably wasn't foremost in the minds of the Congress that passed the Sonny Bono Copyright Term Extension Act 'for the children.' It's worth remembering, again, that artists and copyright holders aren't always the same people.
Comments (3) + TrackBacks (0) | Category: Laws and Regulations
Paging through the FCC comments on the RIAA's proposal to hobble next-generation digital radio, Fred von Lohmann stumbled upon a telling bit of text revealing that Disney has even bigger plans for future technology mandates.
Writes Disney in its comments (PDF):


[To] the extent the Commission considers such a content protection mechanism, it should also consider whether to extend that mechanism to all music distribution platforms, including satellite digital audio radio service, the Internet and broadcast radio service.

It seems I wasn't far off the mark when I
suggested
that in a future dis-topia, tech mandates would be the new copyright, and the FCC would institute a "broadcast flag" for every single device capable of making a digital copy.
Comments (1) + TrackBacks (0) | Category: Laws and Regulations
Could the Induce Act become, Swan-like, balanced and beneficial copyright legislation? Two copyright scholars have donned the scrubs:
Ernie Miller's nip: "In any case, the problem cited that the INDUCE Act is meant to solve is not the making of copies, or of derivative works, but of the distribution of these works. If you have 100 copies of a work at home, what is the harm? The real problem is when those copies are distributed. Thus, the first change narrows the INDUCE Act to target the wrong-doers, and not someone who might suggest making mashups at home.
The second change addresses what the proponents of the INDUCE Act claim is the purpose of the Act. They claim that they wish to address the commercial inducers, those who are making 'millions of dollars while attempting to avoid any personal risk of the severe civil and criminal penalties for copyright infringement'....By including a 'financial benefit' clause, only commercial inducers will be targeted."
Tim Wu's tuck: "The point of the Act is make it as clear as possible to innovators what they can do to steer clear of copyright liability. It strikes a balance: persons and companies may not serve as intentional accomplices to infringement, but are otherwise free to design legitimate, neutral devices and services without undue liability concerns."

Comments (0) + TrackBacks (0) | Category: Laws and Regulations
HP and Philips, suggesting that the primary selling point of their Video Content Protection System (VCPS) is that it allows viewers to enjoy the benefits of FCC-mandated copy-controls without even knowing it:
VCPS provides a transparent solution for consumers -- there is no change in how the customer records and views their favorite TV program -- while automatically adhering to [FCC] regulations. [...]

"The result is VCPS, which is a win-win solution for the consumer, content providers and manufacturers."

So in the era of the tech mandate, the tech talent will stop with this "improving the product so the customer will buy it" nonsense. Instead, it will work on new and innovative ways to ensure that the viewing experience stays roughly the same, and that people don't notice the flexibility and features they've lost.
Comments (2) + TrackBacks (0) | Category: Laws and Regulations
August 5, 2004
Ernie Miller has a marvelously sarcastic -- and marvelous because sarcastic -- response to the news yesterday that the FCC approved 13 new technologies, including TiVo, as compliant with the broadcast flag:


Oh, heavenly joy! Oh, fortunate day! Our wonderful technological masters, those geniuses of centralized planning, have deigned to bestow on the public the ability to move video files between 10 separate devices with the use of a registered dongle. What visionaries! What prophets, who can see what is appropriate use of technology and what is not!

If only we had had the FCC's sage advice when Sony developed the Betamax. The Supreme Court, in its ignorance, allowed the technology to develop unhindered. What a mistake! Could they not see that there must be regulation to channel and guide the foolish technologists who don't understand how markets function? How dare they create without approval? We must only permit innovation that has been properly considered by government regulators, without which markets would not function efficiently.

Fred von Lohmann
calls
the FCC dispensation "a disaster." In order for these "lucky" 13 products to survive, the manufacturers had to agree to hobbled functionality. TiVo made it to market and then under the wire -- but only because it decided early on to compromise functionality. If the
RIAA
gets its way, the companies creating TiVo for radio won't even have the choice. Next-generation digital radio will be regulated well before it reaches the market.
Ah -- but why stop at digital television and radio? As the copyright professors suggest, tech mandates could be the new copyright. The FCC could institute a "broadcast flag" for every single device capable of making a digital copy.
As I wrote over at Deep Links, this is what the entertainment industries told us they wanted in 2002 when they backed the Hollings Bill. That legislation would have forced every new digital media technology, at its birth, to comply with some kind of "content protection" design mandate imposed by an inter-industry group and administered by the FCC.
Thankfully, the Hollings bill was defeated. But defeating the broadcast flag(s) will be harder -- especially when people are fooled into believing that TiVo scraping crumbs from the carpet is victory.

Comments (1) + TrackBacks (0) | Category: Laws and Regulations
August 4, 2004



That's where I am today. If you're in the San Francisco area, come to the Yerba Buena Gardens from 5-8 p.m. for an outdoor concert to celebrate the "F-word" -- freedom.
Comments (0) + TrackBacks (0) | Category: Events
Comments (2) + TrackBacks (0) | Category: Announcements
Teleread reports on public domain price gouging (Public domain classics priced to make Jack Valenti smile). Apparently, eReader.com will provide you 250 public domain ebooks for the low, low, low price of $995. Act now and for $1,495 you can get 500 titles (aka the "Gold" edition)! Purchase the Educational Classics Collection CD now! Operators are standing by:
In a move designed to give schools an affordable way to use eBook technology, eReader.com and Lightning Source Inc. developed The Classics Collection CD, a comprehensive collection of 500 titles that includes "The Red Badge of Courage," by Stephen Crane, "Little Women," by Louisa May Alcott, "Night and Day," by Virginia Woolf, the works of William Shakespeare, and other books commonly found on middle and high school reading lists.

This collection provides schools with a cost-effective way to easily distribute eBooks to students. The eBooks cannot be lost, stolen, or damaged, and the license entitles the school to internally distribute as many copies of the eBooks as it wants, as many times as it wants.
Or, you could download the works via
Project Gutenberg
for free or, for a very modest fee, get a CD from
Blackmask Online
.
And don't forget to proof a page or two, okay?
Comments (2) + TrackBacks (0) | Category: IP Abuse
August 3, 2004
My co-worker Annalee Newitz has new piece arguing that the complicated court decision in the Perfect 10 case has potentially created (yet another) way for businesses to misuse the Digital Millennium Copyright Act to crush the competition:


[In] the process of clarifying [DMCA safe harbor] provisions, Judge Baird also made some dangerous assumptions about the safe harbors that have created a veritable roadmap for litigation-happy copyright owners who want to use the DMCA to harass people right off the Internet.

The ruling explains that, to qualify for safe harbors, a company must terminate its relationship with a user or customer if they receive "repeat notifications of copyright infringement." "Repeat notifications" means multiple takedown notices.

Why is this a problem? Think of it this way: If a large adult website wants to put its smaller competitors out of business, one way they could do it would be to send several takedown notices to the small company's age verification and bill processing service providers, claiming that a few images posted on a few webpages are infringing. To avoid the risk of liability, these service providers will sever ties with the small website's owner, who will now have no way of processing credit cards to do business on any of its websites.

Shockingly, this can all happen without any of the parties being found liable of copyright infringement in a court of law. Mere takedown notices -- which are only allegations, not court judgments -- can literally leave owners of adult websites stranded without any way to make money.

Comments (1) + TrackBacks (0) | Category: Laws and Regulations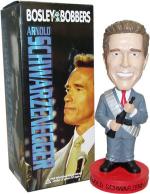 The San Francisco Chronicle reports that a bobblehead manufacturer has settled its free speech case with California Governor Schwarzenegger (Governor's bobblehead says farewell to arms). The company will be permitted to continue to make bobbleheads, sans the rifle and bandolier as pictured to the left. The Smoking Gun has the documents (Bobblehead Detente).
I understand why the company had to settle, a lawsuit would have been very expensive with no guarantee that they would win. However, it is sad that such a case can be brought. I guess that Schwarzenegger is the only one who can lampoon himself with references to his prior profession? He is permitted to call opposing legislators "girlie men," in homage to his previous career as a weight-lifting champion, but heaven forbid someone parodies that in bobblehead form. If someone sells a bobblehead of John Kerry as Vietnam vet, John Edwards as an ambulance chaser, or George Bush as a Texas oilman, I guess they should have the right to sue too?
Previous Copyfight coverage here: Schwarzenegger Threatens to Sue Over Bobblehead Doll, Free Speech? Not on the Gubernator's Watch, and Lawsuit Launched Over Schwarzenegger Bobbleheads.
via How Appealing
Comments (1) + TrackBacks (0) | Category: IP Abuse
August 2, 2004
Rob Pegoraro, in a Washington Post article indicating that the public is finally waking up and smelling the broadcast flag: "Left on its own, the market could give TiVo's system its appropriate reward. Except we don't have a free market in digital television -- the FCC guaranteed that by approving the broadcast flag.
The MPAA and the NFL phrase their objections as reasonable attempts to err on the side of caution. 'We're asking them to just wait awhile, let's think it out more thoroughly,' Attaway said.
But if a programmer or an engineer with a bright idea has to go to Washington, hat in hand and lawyers in tow, to request permission to sell a better product -- and is then told 'just wait awhile' -- we are on our way to suffocating innovation in this country."
Richard Harpel, director of federal relations for the National Association of State Universities and Land-Grant Colleges, in a Texas Online article on universities finally waking up (PDF) and smelling the Induce Act: "Our main concern of the bill is not so much a specific problem that we could put a finger on, but instead general concern of a global nature in some of the terminology present in it. It could be interpreted by some court as a violation the way the language reads now -- at the very least, it could be a mischievous opportunity for people to make false claims."
Ernest Miller, in an Importance Of... post on the Bush and/or Kerry camp (not) waking up and smelling the copyfight: "Leftist copyfighters are unlikely to switch votes because Bush promises to stick it to Hollywood, and conservative copyfighters are unlikely to switch if Kerry turns on his Hollywood money donation machine. In such a situation, why should a politician stake out a clear position? Kerry will likely talk about protecting and promoting innovation, while protecting the rights of copyright holders and creative artists.
These are important issues, of course, but that doesn't mean they will be treated as important. Certainly, the copyfight won't be treated as important this election cycle. But that doesn't mean we should stop talking about these issues and pressing the campaigns on them."
Comments (3) + TrackBacks (0) | Category: Misc.
The LA Times publishes the (a?) farewell from recently retired head of the MPAA, Jack Valenti (A Movie Czar Prepares to Roll the Credits):
What was my role amid all this change? Every day I worked to make sure the American movie could move freely and competitively, unrestricted and protected throughout the world. I believe I had some modest success doing just that....What's left to do? The highest priority is to corner and fight the dragon of movie thievery. It's a battle we will win — new, secure technology, plus changes in public attitudes and more enforcement of copyright laws, will bring moral serenity to the marketplace soon.
Too bad American technology didn't have nearly the competitive freedom, thanks in significant part to Valenti. In any case, let us hope that his prediction here is accurate:
Which of my accomplishments will last? Probably the 36-year-old (come November) movie-rating system, which not only frees filmmakers from arbitrary rules but, more important, helps parents guide their moviegoing children.
So perhaps Jack Valenti acknowledges that laws like the DMCA and Sonny Bono Copyright Term Extension Act won't last.
The link to Jack's bio page on the MPAA's website is no longer there, but the somewhat-broken page is still up (A Look at Jack Valenti). Is the MPAA getting ready to put up a tribute page?
Comments (0) + TrackBacks (0) | Category: Misc.
August 1, 2004
...and the numerous reports are now confirmed: "In light of the July 30 deadline that Ludlow had set down in its threat letters to JibJab and its upstream hosting providers, we [EFF] felt we had little choice but to file suit to defend JibJab's fair use and free speech rights.
Both sides continue to exchange correspondence, and JibJab hopes this dispute can be resolved without further litigation. For the reasons discussed in our July 28 letter (PDF) to Ludlow, we continue to believe that 'This Land' is a fair use, especially in light of the fact that Woody himself borrowed the melody from an earlier song."
I can't say more than that about the JibJab case, but here are a few apropos links for those of you following the ongoing conversation about parody v. satire, fair use, free speech, and democracy:



Copyrighting the President: "Many are concerned about the ever-expanding reach of copyright law. More are concerned about the ever-increasing concentration of the media. Greenwald's dilemma highlights how the two trends are linked: As media becomes more concentrated, competition to curry favor with politicians only increases. This intensifies during an election cycle. Networks able to signal that they will be 'friendly' - for example, by ensuring that embarrassing moments from interviews won't be made available to others - are more likely to attract candidates for interviews and so on, than networks that don't. Concentration tied to copyright thus gives networks both the motive and the means to protect favored guests" [Lawrence Lessig @ Wired Magazine].

Some Troubling Implications about the Jibjab Case: "The social environment right now is politically riven; we are in the midst of the Democratic National Convention and at the heels of the Republic National Convention, with only a few months left before the election. Each side is tossing claims back and forth, promising to be the party that unites the nation. If the EFF successfully argues that Guthrie's song is about national unity, then Jibjab's release in the context of the surrounding sociopolitical climate can most definitely be argued as a parodic gesture. It just makes sense.

By the same argument, though, Ludlow Music could propel the idea that the animation is a satire on the political campaign. How, then, can a proper decision be reached in the case?" [Free Culture].


This Land Is Not the Land We Thought It Was: "Guthrie was a radical in many ways. 'Mean Talking Blues,' a Guthrie song, is unabashedly pro-union, going so far as to portray the capitalist businessman in the persona of the Devil incarnate. We all sang as school kids this apparently very patriotic song extolling the virtues of 'This Land.' But when the mysteriously missing three stanzas are added, it becomes clear that 'This Land' is itself a parody, a takeoff on the happy-go-lucky optimism of a man who sees only good in his country while he overlooks glaring problems and inequalities.

Face it, by our standards, the man was a radical.

Anyway, I'm no expert, but when I saw the JibJab piece, my first thought was, ol' Woody woulda liked this one" [Dead Parrot Society].


Copyright: Blawg Channel Gets the Joke: "Now, before you dismiss the fact that I saw the parody clearly merely because I practice copyright and trademark law and do this stuff all day, please note that as early as eighth grade, Mrs. Jacobson, our English teacher, lauded my ability to spot metaphors and the like in the assigned reading (a comparative advantage accruing to me by being the only person wonky enough to do the reading).

Be that as it may, as the Nader/Priceless court says, perceiving the parody clearly (or readily) is not the critical factor - parody can be subtle" [Marty Schwimmer @ The Blawg Channel].

Comments (0) + TrackBacks (0) | Category: IP Abuse