« Notable + Quotable | Main | Perfect 10 Ruling Rates a 2 »
August 3, 2004
Bobblehead Manufacturer Settles with Schwarzenegger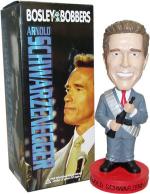 The San Francisco Chronicle reports that a bobblehead manufacturer has settled its free speech case with California Governor Schwarzenegger (Governor's bobblehead says farewell to arms). The company will be permitted to continue to make bobbleheads, sans the rifle and bandolier as pictured to the left. The Smoking Gun has the documents (Bobblehead Detente).
I understand why the company had to settle, a lawsuit would have been very expensive with no guarantee that they would win. However, it is sad that such a case can be brought. I guess that Schwarzenegger is the only one who can lampoon himself with references to his prior profession? He is permitted to call opposing legislators "girlie men," in homage to his previous career as a weight-lifting champion, but heaven forbid someone parodies that in bobblehead form. If someone sells a bobblehead of John Kerry as Vietnam vet, John Edwards as an ambulance chaser, or George Bush as a Texas oilman, I guess they should have the right to sue too?
Previous Copyfight coverage here: Schwarzenegger Threatens to Sue Over Bobblehead Doll, Free Speech? Not on the Gubernator's Watch, and Lawsuit Launched Over Schwarzenegger Bobbleheads.
via How Appealing
Comments (1) + TrackBacks (0) | Category: IP Abuse