AUTHORS
About this weblog
Here we'll explore the nexus of legal rulings, Capitol Hill policy-making, technical standards development, and technological innovation that creates -- and will recreate -- the networked world as we know it. Among the topics we'll touch on: intellectual property conflicts, technical architecture and innovation, the evolution of copyright, private vs. public interests in Net policy-making, lobbying and the law, and more.
Disclaimer: the opinions expressed in this weblog are those of the authors and not of their respective institutions.

Monthly Archives
October 31, 2005
Blink ›
Yale Conference: Regulating Search, December 3
Blink ›
If It Quacks Like Malware...
Mark Russinovich has discovered a rootkit on his computer that he believes is part of a DRM scheme for a Sony CD. Like your average malware, it's hidden, poorly written, difficult to get rid of. And according to Russinovich, the EULA says not a peep about it, meaning Sony didn't even bother with the usual pretense of giving people fair warning: "While I believe in the media industry's right to use copy protection mechanisms to prevent illegal copying, I don't think that we've found the right balance of fair use and copy protection, yet. This is a clear case of Sony taking DRM too far."
Laura Quilter has the (still-developing) scoop on how a future Supreme Court Justice Samuel Alito might handle the tricky copyright, First Amendment, and "cyberlaw" policy issues that will impact the future of Internet communications. An intriguing snippet for those of us concerned about anti-consumer EULAs, box-wrap/click-wrap licensing, and the future of reverse-engineering:


Alito signed an unpublished copyright licensing opinion in Operating Systems Support v. Wang. I'll have to read it very closely, but a quick glance, it looks like a business-to-business software licensing agreement. Looks mostly like a close contractual reading of the terms of the various licensing agreements, without much analysis of the Copyright Act. Ideoblog looked at Alito's contract cases, and said that



Alito has displayed a marked tendency to enforce contracts as written, specifically including choice of law/forum and arbitration provisions that are intended to mitigate litigation costs.



That could bode ill for any shrinkwrap cases that make it to the Supreme Court, including anti-reverse engineering clauses, anti-resale/First Sale clauses, or other consumer-unfriendly clauses.

Update:
William Patry weighs in
: "Copyright lawyers should cheer the appointment of Judge Samuel Alito to the Supreme Court. In 2004, Judge Alito was the author of the en banc opinion in Southco, Inc. v. Kanebridge Corp., 390 F.3d 276. He was also the author of a panel opinion in the same case three years earlier, 258 F.3d 148. Both opinions are thoughtful looks at basic questions of originality. In addition to his extremely impressive legal skills, Judge Alito is a wonderful human being, the opposite of the 'Scalito' nick name bandied about."
Comments (3) + TrackBacks (0) | Category: Interesting People
Tim O' Reilly has excellent one-stop shopping for this weekend's debate about Google Print library on Dave Farber's IP list. Here, a snippet that's helpful for explaining what the Authors Guild and publishers are asking for in the name of copyright (hyperlink, mine):


Google is making it possible for us to find books we want to buy (or borrow from the library, which isn't a crime just yet). Google is not letting us read books for free. Not even close. Does anyone really think that someone who wanted to read Angle of Repose would instead use Google Print and decide that the snippet of Stegner was sufficient?

So what are the Authors Guild and the publishers complaining about? They're complaining that Google hasn't offered to share the profits that might accrue thanks to ads Google may someday display, or that are attributable to the marginal increase in general Google traffic. But on what basis do they claim entitlement to that brand new revenue stream? The money is not based on the public copying the book -- which is what copyright protects against -- it's based on the public FINDING the book in the first instance.

Now I suppose that the Authors Guild folks want to claim that they should get a share of any way of making money related to locating their works. That's an interesting argument, but it's not a copyright claim. If copyright owners approached libraries and demanded a share of library funds because of the existence of the card catalog it would be difficult to stifle the giggles. Yet isn't the same thing going on here? Stealing an analogy from law Prof Tim Wu, we have never given real property owners the right to "opt out" of any mechanism that helps people find their property -- maps. That's just not in the bundle of rights you get when you buy a home and preventing location tools is also not in the bundle of rights that come with copyright.

Two previous relevant Copyfight posts:
A Copy Is As a Copy Does
and
Speaking Volumes
. Also see
Google's Tough Call
-- Larry Lessig's .02, now available online.
Comments (3) + TrackBacks (0) | Category: IP Use
October 30, 2005
Comments (1) + TrackBacks (0) | Category: IP Use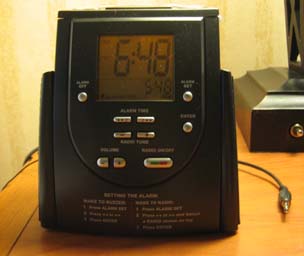 This is a picture of interoperability. It was on the nightstand when I checked into a hotel recently: a clock-radio with a headphone plug and a button on top labeled "MP3." Simple, but clever. Travelers can plug into their own music players or computers and hear music through the radio's speakers; they can set the clock to wake to tunes from their iPods.
Open standards mean they can do this without telling the hotel in advance all the brands of music devices they might be bringing. Standardization and uncontrolled outputs let any music player interoperate with any pair of headphones -- including a clock-radio plug shaped like a pair of headphones -- with only an adapter to make them fit.
This is one face of what technology mandates like the broadcast flag will kill.
While I can bring my music collection to any pair of headphones or speakers, a broadcast flag would prevent me from doing the same with my collection of recorded television. Why shouldn't the hotel's HDTV have a similar universally interoperable plug on the front? Because instead of one open standard, there will be multiple proprietary and non-interoperable standards for HDTV under a broadcast flag. It won't stop the pirates, but it's bound to frustrate lawful users.
Welcome to the Hotel FCC, home to the latest in HDTV. Of course you'd like to watch your recorded programs.

Did your digital video recorder produce WMV files? I'm sorry, our only TV capable of displaying that is in room 1201, which is already occupied.

TiVo-to-go? Sorry again, the gentleman last staying in room 512 reported that TV broken but we haven't been able to get a certified technician in to repair it.

Yes, you're welcome to down-rez your videos, room 230, but I'm afraid guests have reported that the pixellation just doesn't meet their quality expectations. We do have some old movies on pay-per-view...
Support open standards and interoperability. Tell your congressional representatives not to bring back the broadcast flag.
Comments (1) + TrackBacks (0) | Category: Tech
October 29, 2005
Kurt Opsahl, the EFF attorney fighting Apple to protect bloggers' right to keep their sources confidential, has published Attack of the Printing Press! -- a stone cold brilliant parody of the Forbes cover story, Attack of the Blogs.
Here's Forbes:


Web logs are the prized platform of an online lynch mob spouting liberty but spewing lies, libel and invective. Their potent allies in this pursuit include Google and Yahoo.

Gregory Halpern knows how to hype. Shares of his publicly held company, Circle Group Holdings, quadrupled in price early last year amid reports that its new fat substitute, Z-Trim, was being tested by Nestlé. As the stock spurted from $2 to $8.50, Halpern's 35% stake in the company he founded rose to $90 million. He put out 56 press releases last year.

Then the bloggers attacked. A supposed crusading journalist launched an online campaign long on invective and wobbly on facts, posting articles on his Web log (blog) calling Halpern "deceitful,""unethical,""incredibly stupid" and "a pathological liar" who had misled investors. The author claimed to be Nick Tracy, a London writer who started his one-man "watchdog" Web site, our-street.com, to expose corporate fraud.He put out press releases saying he had filed complaints against Circle with the Securities & Exchange Commission.

Here's Kurt:

Printing presses are the prized platform of a public lynch mob spouting liberty but spewing lies, libel and invective. Their potent allies in this pursuit include Ben Franklin and John Hancock.

Take the tea tax. Revenue was coming, providing much needed funding to help with his Majesty's benevolent aims in the colonies.

Then the pamphleteers attacked. A supposed crusading journalist launched a broadsheet long on invective and wobbly on facts, posting articles with his printing press calling your King "deceitful,""unethical,""incredibly stupid" and "a pathological liar" who had misled the colonists. The author claimed to be "Silence Dogood," a middle-aged widow who started a one-woman "watchdog" pamphlet, to expose alleged regal excess.

Exxcellent. But it only gets better.
Read the whole thing
.
Comments (0) + TrackBacks (1) | Category: Speech
October 28, 2005
Back in July, I wrote about John Dvorak's utter misinterpretation of Creative Commons, observing that the upside to people writing badly misinformed articles is that the fisking process can often be educational in ways you don't anticipate (The Upside of Misunderstanding).
Turns out I was right. As a recent "This Week In Tech" podcast shows, it was an education for Dvorak himself. The man who called Creative Commons "eye rolling dumb" has now recanted, saying he's changed his attitude ever since he learned how difficult it is for an author simply to give work away. Why is it difficult? Because ever since 1976, copyright with "all rights reserved" is the automatic default setting for creative work. Before 1976, you had to be proactive about securing copyright protection. Today, the opposite is true: you've got to take very specific steps to ensure that others are legally free to use your work. Creative Commons aims to make that process easier, giving creators more flexibility in asserting their rights -- something Dvorak now understands has value.
So will Dvorak write another column admitting that he was wrong? Not so fast. Explains Dvorak:


My column was never wrong, my column was questioning...I was saying, "I don't get it, will somebody explain it to me, please?" Yeah, [Larry Lessig] explained it. I finally got my explanation. Sometimes you've got to go public with bafflement, which I do...He's doing fine. You don't need my help.

One misconception down, one more to go. In fact, Creative Commons
does need help
. Despite the enormous popularity of CC licenses, Creative Commons is a nonprofit with all the challenges that the status brings.
Explains Larry
:

Today, Creative Commons launches a fund raising campaign. The trigger is some bizarrely complicated requirement of the IRS that nonprofits demonstrate not just support from some large, wise, foundations, but also "public support." So we've got an (urgent) need to demonstrate that support, through, well, support.

According to the CC site, there are now over 50 million "objects" on the Web that link back to CC licenses. But how many people who use the licenses have taken a minute or two to join Creative Commons? If you're an artist, writer, musician, or scientist who "gets it," help throw the switch on the default by
joining CC today
.
Comments (1) + TrackBacks (2) | Category: IP Use
October 27, 2005
Proving the (uncopyrighted) adage that everything turns into a copyright issue if you look at it long enough, the NYT reports that 2 Science Groups Say Kansas Can't Use Their Evolution Papers -- and they're using copyright to stop it.
Two leading science organizations have denied the Kansas board of education permission to use their copyrighted materials in the state's proposed new science standards because of the standards' critical approach to evolution.

The National Academy of Sciences and the National Science Teachers Association said the much-disputed new standards "will put the students of Kansas at a competitive disadvantage as they take their place in the world."
Apparently, the Kansas standards document quoted extensively from NAS and NSTA reports in the process of singling out evolution as a controversial theory. The organizations denied permission, but (and I haven't seen the Kansas report myself) unless the use was so extensive as to misappropriate the organizations' reports, it could still have been a fair use. (To be fair, the fault lies as much with the Kansas board of education for thinking it needed permission, if its uses were fair.)
Even though my politics are more flying spaghetti monster than "intelligent design," I don't think this is a proper use for copyright. Copyright is not about endorsement or agreement, and it's not a right to stop criticism, even ill-considered criticism. Quotation can be fair use even in a context the original author abhors -- that's precisely when we need fair use most, we on all sides of a political debate.
The organizations are free to broadcast their loud disapproval of the uses to which their publications are being put, and free to sue for misrepresentation if false statements or positions are put into their mouths, but asserting copyright rights seems a heavy-handed way to win a battle of ideas.
Comments (11) + TrackBacks (0) | Category: Big Thoughts
Blink ›
What She Said
Laura Quilter: "The point of people's support for Google Print is not that we support Google, love Google, or want Google to control our access to information. The point is that Google, and any other entity who wants to do it, should be able to add value to information. Google should not be THE ONE; Google should be ONE OF MANY."
A friend pointed me to a story in last week's NYTimes on the FBI's latest move to extend its reach (maybe it was feeling outdone by the Cartel?). The current scheme is to force libraries, universities, wireless providers in airports and ISPs to do expensive upgrades. Why? So that the FBI can tap your communications better, of course. Universities are threatening to band together in a lawsuit over what they say is the USD7 billion pricetag for this upgrade.
Pushing CALEA out still farther isn't likely to do anything more to catch crooks and terrorists, but since when has efficient use of time and resources been a requirement at DoJ. The ultimate payees, of course, will be the citizens, since the costs of these forced upgrades are inevitably going to be passed on to consumers in the form of higher tuition, additional fees, increased access charges and the like.
Comments (0) + TrackBacks (0) | Category: Laws and Regulations
Blink ›
RIM Delay Denied
Continuing my long string of flat-wrong predictions, I was apparently wrong again in the RIM/NTP case. SCOTUS has denied RIM's request for a stay while the appeal is considered. Since the appellate court has already denied RIM's request it's entirely possible that an injunction against RIM sales could be enforced in the near future. I've no idea what effect this would have on continuation of service to existing customers. An injunction against that would have tremendous impact and would probably be tantamount to forcing RIM to settle.
October 26, 2005
William Patry: "If [a] defendant's 'fixation' is evanscent, as in buffering or caching, why, for infringement purposes, should it be deemed a 'copy'? Such copying is not being done for its own value, but rather to facilitate a non-infringing use, such as a licensed public performance. Might not the same be true for intermediate copying and other copying technologically necessary for non-infringing activity (like limited searching of books)?"
On that note, here's a snippet from a forthcoming Wired Magazine piece by Larry Lessig, courtesy of the Pho list (sorry there's no link; the article's evidently not online yet) :


Google creates value -- a lot of it -- by indexing existing content. But when it comes to books, the content owners want a slice of that value -- and who wouldn't? No publisher ever said, "I'll lose money on book sales, but I'll make it up from Internet searches." They therefore intone "grave misgivings" about copyright in order to demand a piece of the action: money. It's an old technique (the Motion Picture Association of America famously tried it against Sony Betamax). But the inspiration is not copyright, it's Tony Soprano.

Google wants to index content. Never in the history of copyright law would anyone have thought that you needed permission from a publisher to index a book's content. Imagine if a library needed consent to create a card catalog. But Google indexes by "copying." And since 1909, US copyright law has given copyright holders the exclusive right to control copies of their works. "Bingo!" say the content owners.

But the Congress that altered the copyright statutes in 1909 didn't have Google Print in mind. By copy, Congress meant the sort of act that would be in competition with the incentives that copyright law was (fittingly) meant to establish for authors. Nothing in what Google wants to do affects those incentives to creativity.

Much, much, much more discussion going on out there. Alas, I can't linger. Here, a set of links for following the ongoing blogalogue among those who can:
Siva Vaidhyanathan
,
Derek Slater
, and
Michael Madison
:


Siva: "Google can and should do what's best for its shareholders. The rest of us should worry about what's best for the culture, democracy, and the Internet."

Derek: "[The] potential injury to copyright holders is minute, the potential benefit to them is significant, and the potential public benefit is even greater. Can the market satisfy all our public policy concerns? No. But Google can be a private company and still fufill public policy objectives."

Michael: "It's right to be perplexed by the idealization of Google, but it's wrong, I think, to use that skepticism as a reason to reject Google Print."

Bonus:
Paula Hane's blog notes
from last night's
Google-brary debate
.
Update (Oct. 27): Providing balance to the more academic/theoretical musings, IP attorney/uber-blawger Denise Howell offers a typically sharp, street-savvy analysis of the challenges ahead for both sides in the legal battle(s) over the Google Print library project.
Comments (4) + TrackBacks (0) | Category: IP Use
October 25, 2005
Blink ›
53MB of Copyright Violations
Earlier this month, the CAFC rejected RIM's request for an en banc hearing of its appeal. As I noted back in August, a CAFC panel held against RIM, upholding most of the patent infringement claims. RIM is asking for a stay while it appeals to SCOTUS. RIM's jurisdictional theory has already been rejected at district and appellate levels. My guess is that SCOTUS will refuse to take the case and RIM will finally have to get into serious settlement talks with NTP. They'll pay something, but Blackberry will continue to function.
Comments (0) + TrackBacks (0) | Category: Laws and Regulations
Blink ›
Word of the Day: Coulrophobia
Blink ›
Metatags or Meta-DRM?
Mark Gibbs has a nice piece in Network World discussing the proposal for ID3 tags for music files. The gist is that ID3 tags could be added to any digital encoding format (ogg, MP3, etc) and that these tags could contain information such as table-of-contents. Thus, you could rip a whole album to one file and yet retain the ability to skip around to various tracks within the larger file, using a player that read the ID3 information. In theory, Version 2 of the ID3 tag proposal permits any sort of tag, including very long ones. Given that freedom, it's easy to see that DRMistas and others will have many uses for them, including encrypted watermarks, hidden alternative encodings, and I'm sure you can all think of other amusing nastiness.
October 24, 2005
Blink ›
Why "DRM" Are the Most-Hated Letters
Noted tech pundit Walter Mossberg lays it on the line for the intelligentsia, in a column titled "Media Companies Go Too Far in Curbing Consumers' Activities." Mossberg is no copyfighter, but he is very tech savvy and understands just how much DRM can damage existing and emerging technologies. Let's hope that the right people read this column and "get it," too.
Blink ›
The Broadcast Flag for Dummies
Spoke too soon; can't resist pointing you to Cory's new 3-minute elevator speech on what the broadcast flag is and why it matters -- because you know as well as I do that despite recent setbacks, the prospect of unprecedented veto power over new technologies is far too attractive for the entertainment mega-corporations to stop pushing for it. So plans A, B, and C didn't work. Get ready for plan D.
I've got a few pressing personal matters to attend to, and may not be able to return to Copyfight for another few days. In the meantime, here are a few highlights from the discussion surrounding (what else but) Google's "bet-the-Internet" battle to make books easier to find -- and keep fair use alive in the digital era.
Danny Sullivan, underscoring the difference between indexing and reprinting: "Here's the thing. Google is NOT, repeat NOT, republishing copies of books that it scans out of libraries. This is a fundamental mistake that many people seem to be making. Google is scanning books into an index, just as it spiders web pages and adds them to its index...Want the actual book? Google Print won't give it to you. Instead, you have to go someplace and buy it or find it in a library. Google Print merely tells you the book may be what you're looking for."
Dan Thies, responding: "In the case of web pages, a cached copy is usually kept, but Google Print isn't offering that. If you search for some words with Google Print, they'll tell you which books the words occured in, and give you a very small snippet of context, which is about as close a fit to 'fair use' as you'll find… I just quoted a far more substantive piece of Danny's intellectual property than Google Print ever would, and I'm well within the bounds of reasonable fair use."
Kevin Drum in The Washington Monthly: "I sometimes feel that if the increasingly expansive view of copyright asserted today had been around a couple of centuries ago, the Supreme Court would have ruled that lending libraries were illegal. But just as circulating libraries have a social value that far outweighs the minimal intrusion they produce in an author's ability to control the distribution of her work, the same is true of Google's project."
Authors Guild President Nick Taylor: "Now that the Authors Guild has objected, in the form of a lawsuit, to Google's appropriation of our books, we're getting heat for standing in the way of progress, again for thoughtlessly wanting to be paid. It's been tradition in this country to believe in property rights. When did we decide that socialism was the way to run the Internet?"
Peter Suber, responding: "Nick Taylor's piece shows that he's as clueless as I feared. First, he doesn't understand what socialism is. Second and more important, he complains that the Google project will deprive him of revenue but doesn't offer a single reason to think so...If he thinks that Google's snippets are too large, then either he should scale back his lawsuit to the demand that they fall within fair use or he should forthrightly call for the repeal of fair use."
Meghann Marco, the author whose publisher won't allow her book to be included in Google Print: "I'd asked for my book to be included, because gosh it's so hard to get people to read a book [but Simon & Schuster refused.]...Kinda sucks for me, because not that many people know about my book and this might help them find out about it...In case you guys haven't noticed, books don't have marketing like TV and Movies do."
Brother Blankenhorn, on what he describes as "monetizing fair use": "Lining up for money before the risk is proven is like the pig, the duck, and the dog lining up at the Little Red Hen's oven, waiting for bread, when she hasn't yet sown the seed. If publishers offered their help to Google, instead of their lawsuits, they might have some moral right to the bread coming out of Google's virtual ovens."
Tim Lee: "If there had been an Association of Web Site Publishers in 1995, they could have made precisely the same argument about AltaVista. Had they prevailed, it's hard to predict how things would have evolved, but it seems unlikely they would have gone as well...The most comprehensive search engines might have required users to subscribe, as LexisNexis and Factiva do....If Google Print is copyright infringement, then so is Google itself. I hope it's obvious to everyone that declaring Google illegal would be a bad idea."
(Via Peter Suber's always useful Open Access News.)
Update (Oct. 25): Derek Slater: " When I look at the Google Print case, I say 'game on' - I see a chance for a legitimate defendant to take a real shot at making some good law. There's broad and even unexpected support for what Google's doing. A strategy of just patiently waiting on the sidelines, to try to hold Congress off, seems potentially very damaging."
Update #2: Charles Bailey presents The Google Print Controversy: A Bibliography: "This bibliography presents selected electronic works about Google Print that are freely available on the Internet. It has a special focus on the legal issues associated with this project."
Comments (0) + TrackBacks (0) | Category: IP Use
October 19, 2005
Blink ›
Publishers Pile On
Sad, sad, sad: "The Association of American Publishers filed suit against Google Wednesday, charging the search giant with copyright infringement for its plan to scan and digitize books for its Google Print online library program." Courtesy of Xeni Jardin and Jason Schultz, the actual complaint (PDF). Update: A post containing links to previous Copyfight coverage on the library project is here.
Blink ›
DVD Jon Gets A Real Job
According to WIRED, he's moving to go to work for a start-up in San Diego. No idea what on, though it purportedly involves reverse-engineering. Which, in turn, leads me to note that San Diego is within both US and California legal jurisdictions. And, really, not all that far from Cupertino, either.
Blink ›
Content Communists
Jason Schultz @ LawGeek, in a post explaining why IP maximalists can't plausibly claim to be champions of a "free market" approach to copyright issues: "If they want to mandate and veto the pace of innovation in the tech market for the next 20 years, they should just come out and say that and own up to its criticisms. But to accuse others of being anti-market is cowardly and most importantly, wrong."
October 18, 2005
It looks like Barney is back for a second round in the fair use fight, but in the past four years, the ground rules have changed a bit.


Barney's lawyers at the New York firm of Gibney, Anthony and Flaherty sent stiff warning letters last week to Web sites displaying less-than-flattering images of the plump saurian.

"Your Web site depicts a plush Barney toy in a violent manner or position," Matthew Carlin wrote Tuesday on behalf of Lyons Partnership, which owns the Barney trademark. "We are writing to request that you remove this violent content toward Barney on your Web site." [...]

The Electronic Frontier Foundation, a San Francisco civil liberties group providing legal representation to Frankel, dismisses the legal threats as nonsense. "I think that Barney is unfortunately looking like he's becoming a recidivist in phony copyright claims," said Cindy Cohn, EFF's legal director.

In 2001, EFF took on Barney's lawyers after they sent out similar cease-and-desist letters. At the time, Cohn wrote back saying that anti-Barney screeds were protected by the First Amendment rights to publish parodies, and Barney's owners never pursued the matter further.

Since then, the EFF managed to break new legal ground by forcing voting machine maker Diebold to write a check to settle allegations of copyright misuse. "We were very happy to cash that check for $125,000 from Diebold when they made phony copyright claims," Cohn said. "I'd be happy to cash one from Barney."

The Diebold reference is
explained here
; Wil Wheaton reference
here
.
These photos
ought to give Barney a few more reasons to be shaking in his boots, eh?
Update: Welcome, Fark readers. I see I've puzzled a few of you. To clarify: besides portraying Wesley Crusher on Star Trek and becoming an A-list blogger, Wil Wheaton is a champion for free speech on the Net. He's also a friend of EFF, an organization that's spent the last 15 years fighting for free speech online. Which is why, back in the day, Wil literally kicked Barney's butt in a mock duel to benefit EFF and criticize the Barney lawyers, who keep trying to silence people with cease-and-desist nastygrams. Now it looks like Barney's angling for a rematch.
Hope that helps.
Comments (11) + TrackBacks (0) | Category: IP Abuse
October 17, 2005
Blink ›
Redefining "Copy" in the Digital Era
William Patry, in a post tracking the evolution of the legal definition of a "copy": "We may be at the end of the road conceptually and semantically when 'copy' can be impressed into banning all sampling and imposing liability for buffering and caching no matter the end purpose."
Blink ›
Leggo My Ego
Don't miss Tim Wu @ Slate on the Google Print library project:


And as an individual property owner, you might want more control over how your property appears on a map, and whether it appears at all, as well as the right to demand payment.

But the law would be stupid to give property owners that right. Imagine how terrible maps would be if you had to negotiate with every landowner in the United States to publish the Rand McNally Road Atlas. Maps might still exist, but they'd be expensive and incomplete. Property owners might think they'd individually benefit, but collectively they would lose out—a classic collective action problem. There just wouldn't really be maps in the sense we think of today.

Update:
Siva Vaidhyanathan has posted a transcript
of his NPR "On the Media" talk about the Google Print library project; Seth Finkelstein
responds
.
I've been complaining about Blizzard using its Terms of Service (TOS) to justify spying on gamers (I Spy With My Little EULA), but sometimes companies don't offer even the illusion of choice. Your printer could be ratting you out right now, and you wouldn't have the faintest clue.
Yes, I said printer. You see, a couple months ago we learned that at the request of the Secret Service, some printer manufacturers are secretly encoding information in color print-outs that can be used to identify where the document came from. The information appears as little yellow dots that you can see only if you use a blue light and a magnifying glass or microscope. No, really.
Today, EFF announced that it has cracked the code. The results should be of great interest to attorneys in discovery proceedings. Why? Those little yellow dots will tell anyone who can decipher them the date and time your document was printed, as well as the serial number of the printer. That makes a paper document more like email -- it reveals much more nuanced, and potentially signifcant, information about a particular communication than its "content."
Okay. So maybe you're not worried about what your videogame and printer may be revealing about you. But everyone should be worried about living in a world filled with innocuous-seeming devices that enable unprecedented, pervasive, routine surveillance. Lee Tien says it best: "[Printer surveillance] shows how the government and private industry make backroom deals to weaken our privacy by compromising everyday equipment like printers. The logical next question is: what other deals have been or are being made to ensure that our technology rats on us?"
Update: Jonathan Zittrain @ TechNewsWorld: "Counterfeiting is a serious problem, and there ought to be some way to prevent its undue exacerbation through color printing technologies without compromising the anonymity of every single document the printer might ever be asked to print."
Comments (2) + TrackBacks (0) | Category: Privacy
Over the past year, James Boyle has been fighting to expose the truth about how intellectual property law and policy is crafted: in the dark, with the only light provided by the glimmer of faith. There are no statistical economists running comparative studies to show how various levels of protection impact our social and economic well being. Instead, as Boyle points out in the Guardian Unlimited, we have law and policy based on "anecdotes, just-so stories, and celebrity testimony." If Jack Valenti or Cliff Richard says it, who are we to disbelieve?
Now Boyle has struck another blow against faith-based initiatives. He's gathered a group of artists, scientists, lawyers, politicians, economists, academics, and business experts to form the Adelphi Charter. This posse, which includes Gilberto Gil and Nobel Laureate Sir John Sulston, has developed a set of principles for vetting proposals for new copyrights and patents, and urges governments around the world to apply a new public interest test. The group also advocates what it calls a "new, fair, user-friendly and efficient way of handing out intellectual property rights in the 21st century." It hearkens back to the days of Thomas Jefferson, when, Boyle observes, "even the proponents of intellectual property saw it as a necessary evil, something to be limited to the narrowest scope and time necessary."
Quite the contrast to today's mad scramble to force through, oh, say, 50 years of fresh exclusive rights on top of existing copyrights with zero public discussion, debate, or scrutiny. Forget about statistical economists providing evidence that these new rights are necessary. We don't even get Jack or Cliff.
The charter is itself excellent reading, but there is also coverage at The Economist. Here's an excerpt that serves both as an introduction to the issues in the charter and an overiew of developments in the copyfight over the past few months:


[As] technologies like computers and the internet make the exchange of information easier than ever—and inventions become more conceptual—huge stress is being placed on today's intellectual-property laws, which trace their foundations to the birth of the printing industry and mechanical industrialisation.

Industries that rely on copyright and patent protection are increasingly turning to the law to protect their businesses. For example, music firms are suing thousands of people for swapping songs online and trying to stem the tide of counterfeit CDs. Google has also recently been sued by a trade association of authors to prevent it from placing book excerpts online. And Microsoft has recently reiterated its intention to patent a basic format for storing files—a move that could let the firm collect money from the IT industry for things that have been done cost-free for years. Meanwhile, the World Intellectual Property Organisation, a United Nations body, is pushing ahead with treaty negotiations that will create a new layer of rights for broadcasters, including on the web.

At the same time, new approaches aim to work around overly-restrictive rights, such as the open-source software movement and an effort called the Creative Commons, which makes it easy for creators to give away some of their copyrights under licence while retaining others to control how their works are reused.

The Adelphi Charter is clearly far from a complete answer to the dilemmas posed by intellectual-property rights in an era shaped by digital technology and the desire for as much innovation as possible. But it does aim at the right target by promoting the idea that—as Mr Boyle puts it—"good policy does not just consist of 'more rights', it consists of maintaining a balance between the realm of property and the realm of the public domain".

Update:
The BBC also has coverage
.
Comments (0) + TrackBacks (0) | Category: IP Use
October 15, 2005
Comments (0) + TrackBacks (0) | Category: Culture
October 14, 2005
Blink ›
iTunes 6.0: If I Can't Crack It, I Don't Want It
Bradley Rhodes, a.k.a. "DocBug," bemoaning the fact that Hymn can't strip the DRM from iTunes 6.0 purchases :"If I'm going to give my hard-earned money for music, it'll be a form where I can play it where I want, loan it to a friend or sell it to a used record store when I'm tired of it." Amen.
You may recall that Blizzard is the videogame company that sued three software programmers for creating BnetD, a free, open source program that allowed gamers to play games they purchased with others on the platform of their choice. Blizzard claimed that the programmers violated several parts of the company's End User Licensing Agreement (EULA), including a provision on reverse-engineering. But it turns out that's not all that Blizzard's lawyers have inserted in the fine print. As Bruce Schneier reports, the company is also using its Terms of Use agreements to justify spying on gamers' computers.
Writes Greg Hoglund, co-author of Exploiting Software, How to Break Code:


I watched the [software] warden sniff down the email addresses of people I was communicating with on MSN, the URL of several websites that I had open at the time, and the names of all my running programs, including those that were minimized or in the toolbar. These strings can easily contain social security numbers or credit card numbers, for example, if I have Microsoft Excel or Quickbooks open w/ my personal finances at the time. ...[The scanning] certainly will result in warden reporting you as a cheater. I really believe that reading these window titles violates privacy, considering window titles contain alot of personal data. But, we already know Blizzard Entertainment is fierce from a legal perspective. Look at what they have done to people who tried to make BNetD, freecraft, or third party WoW servers.

As Schneier
says
, this is truly scary stuff. Yet even a few of the security-savvy readers at Schneier's weblog are
downplaying
its significance. Why?
Annalee Newitz
has a theory
that rings true to me: people think of routine spying as normal.

Do you realize the government would have to have a warrant to get the kind of information Blizzard claims it has the right to suck out of your computer to stop cheaters? Doesn't that seem a wee bit wrong?

In a normal world, a sane world, people would be boycotting Blizzard for having the nerve to look through their kids' hard drives. They'd stop playing Blizzard games online and stick to LAN parties, where a bunch of people network their computers together for a group game that circumvents the Internet.

I think fans are still flocking to Battle.net for two basic reasons. One, most probably don't realize Warden is spying on them (it's hard to blame them for not reading all the way through the stultifying terms-of-use page). And two, they've convinced themselves that surveillance is normal. Sure, games are supposed to be entertainment, but in reality they're just compressed, contained reflections of our everyday lives. It should be no surprise that, in an era when Americans submit to having their bags searched on the subway to get to work, they are willing to let corporations riffle through the entire contents of their personal computers so they can have a little fun.

If word gets out about this, it will no doubt register with more people that they need to
read their EULAs
, but the problem is much bigger than that. How many more of our rights will courts
allow
companies to click-wrap away? And how do we stop digital era privacy norms developing that let people accept things like the government
demanding
that ISPs and VoIP providers make Internet surveillance (even) easier, while claiming it has the right to
turn
our cell phones into location-tracking devices?
Comments (10) + TrackBacks (2) | Category: Privacy
October 13, 2005
Tim Lee, who scolded Patrick Ross for equating DRM with a contract, now concedes that while DRM is not a contract, it's contract-like in ways that can be beneficial to consumers (say, by enabling a limited-time online rental of a movie). But he goes on to argue that the DMCA is not necessary to yield these benefits -- and further, that allowing the proliferation of circumvention tools may be necessary to stop DRM schemes from harming consumers:


In practice, most consumers don't want to engage in piracy. To the extent that DRM schemes prevent piracy at all, they do so by putting up "speed bumps" to discourage generally law-abiding folks from casual sharing of copyrighted material. But those "speed bumps" would be just as effective in a world where circumvention is legal. Downloading cracking tools will always be a somewhat seedy and inconvenient process, and so most law-abiding consumers won't do it even if it's legal. On the other hand, in cases where the DRM scheme becomes a major impediment to a lawful activity (say someone decides to switch from an iPod to a Dell MP3 player) the availability of "circumvention tools" (such as, say, a Dell-provided software tool that converts iTunes songs to a format suitable for use on Dell's MP3 player) provides an important safety valve to prevent the DRM scheme from placing unreasonable restrictions on consumers.

Comments (0) + TrackBacks (0) | Category: IP Markets and Monopolies
Earlier this week I wrote about how, despite claims to the contrary, DRM Is Not a Contract in which you "agree" to give up all of your fair use rights for the dubious privilege of becoming a hapless pawn in the digital media wars. Now Derek Slater has a thoughtful follow-up explaining that Hacking Is Not Fair Use -- or, to be more precise, that if you oppose reforming the DMCA to allow people to circumvent DRM to make lawful uses of digital media, you can't pretend you're doing anything but opposing lawful uses.
Writes Derek:


[Patrick Ross's article] reveals why many DMCA supporters truly laud the law - not because it prevents widespread infringing file-sharing (it doesn't), but rather because it drastically shrinks fair use. ...Here's the key passage from Patrick's article:



"But if HR-1201 becomes law, every consumer could legally hack any TPM by claiming fair use, and as fair use isn't codified, there would be as many definitions of it as there are consumers. Consumers would be legally sanctioned to break their contracts with the content provider." (emphasis added)



Of course, fair use is codified. It's just not a set of bright line rules, and that's probably for the best. That's how we get innovation like time-shifting or Google Print - who could have predicted such uses ahead of time, distinguished them from related but unlawful uses, and clearly protected them in the statute?

Regardless, just because fair use is unclear doesn't mean that it permits everything. HR1201 only permits circumvention for lawful uses; if a claim of fair use were unfounded, consumers would still be liable.

In other words, HR1201 is about permitting fair use, not "hacking," piracy, or anything else.
So why should Ross and other DMCA supporters want to restrict lawful uses? Because restricting lawful use can be rewarding. You can't sell back fair uses of digital media unless you first take them away.
Derek has more, including a link to previous post that subtly encourages DMCA supporters to come clean. Rational people can agree that the DMCA is a failure [PDF] at preventing mass copyright infringement on the Internet -- its ostensible purpose. So what is it "good" for? And is it possible to have an honest discussion about that?
Comments (1) + TrackBacks (0) | Category: Laws and Regulations
October 11, 2005
The Delaware Supreme Court last week gave strong protection to online anonymity in Cahill v. Doe. The court protected "Proud Citizen's" anonymity against a City Councilman's attempt to identify the poster in a defamation suit. The decision, the first of its type from a state supreme court, required the plaintiff to meet a summary judgment standard before obtaining anonymous speakers' identities, not just provide the perfunctory complaint of notice pleading.
The court further decided, as a matter of law, that Cahill's complaint failed the summary judgment standard. Its analysis, based in part on the context of the posting, is one that may annoy some bloggers:
[C]ertain factual and contextual issues relevant to chat rooms and blogs are particularly important in analyzing the defamation claim itself... chat rooms and blogs are generally not as reliable as the Wall Street Journal Online. Blogs and chat rooms tend to be vehicles for the expression of opinions; by their nature, they are not a source of facts or data upon which a reasonable person would rely.
Based on the context of "Proud Citizen"s post, in a chatroom filled with invective and personal opinion, the court found that "a reasonable person would not interpret Doe's statements as stating facts about Cahill. The statements are, therefore, incapable of a defamatory meaning."
I anticipate some bloggers will object to this characterization: Blogs can be just as important for the dissemination of facts as newspaper sites; newspapers can be wrong. This is of course true. The Cahill decision is not denigrating blogs and chatrooms -- they are entitled to First Amendment protections as strong as those of a newspaper -- but rather recognizing the discernment ability of their readers.
The standard empowers a wide range of bloggers' speech. Because readers can use context to help them differentiate opinions from statements of fact, bloggers are freer to publish their choice of opinionated gossip or citizen journalism. And thanks to courts like Cahill and Dendrite, they can do so using pseudonyms or their real names.
Comments (2) + TrackBacks (0) | Category: Speech
October 10, 2005
Blink ›
Anthropologie Sues Wal-Mart for Stealing Boho Chic
David Bollier on the news that Anthropologie and its parent company, Urban Outfitters, are suing Wal-Mart over allegedly copying the design of two skirts: "In its complaint, Anthropologie claims that Wal-Mart 'has embarked upon a conscious strategy of copying the designs of others as part of its effort to build its "cheap chic" line.' It cites the fact that Wal-Mart opened a 'trend office' in New York's garment district to track of the latest fashion trends. Pretty alarming, eh?"
Wal-Mart, selling cheap knock-offs of trendy, high-end clothing. The nerve.
Tim Lee offers counterintuitive advice for the record labels when they re-up their licensing agreements with Apple for iTunes: they should demand that Apple strip the DRM from the tunes.
How come? Because DRM isn't helping the labels sell music. It's helping a company (Apple) become the music industry's single gateway to the people who want to pay for music online.
Thanks to DRM, a song downloaded at the iTunes Music Store will only play on iTunes or an iPod. That means that if a customer wants to start using different jukebox software or another MP3 player, he'll need to rebuild his music collection from scratch.

As Apple's share of the overall music market grows, it will be more and more difficult for you to walk away from the table during contract negotiations. Jobs will hold all the cards, because his customers--who form an ever-growing share of the music market--will be locked into his products. Like Bill Gates in the PC world, Steve Jobs will become the gatekeeper to tens of millions of music fans, and you will have to pay his price for admission.

How does ditching DRM help? If Apple's songs were distributed without copy protection, your customers would be able to switch to another program at any time. You could threaten to cut a deal with any of the other companies now clamoring for your business--Real, Napster, Sony, Microsoft, etc--and Jobs would know that his customers had the option of leaving his platform.

I know what you're thinking: what about piracy? The reality is that DRM does next to nothing to reduce piracy. Virtually every song ever recorded is already available on peer-to-peer networks. It's easy to "rip" a song from a CD (which has no protection at all), and Apple's DRM scheme has been repeatedly cracked. So people who don't respect the law aren't going to buy songs from the iTunes Music Store in the first place. DRM won't do a thing to stop them!

On the other hand, DRM systems treat your most honest customers like criminals. People who purchase music from the iTunes Music Store know perfectly well that they could get the same song for free via a peer-to-peer network. They choose to purchase from iTunes for one of two reasons: they value convenience or they respect the law. Either way, you don't need DRM to keep them honest. If they were inclined to engage in piracy, they wouldn't have bought the song in the first place.

Comments (3) + TrackBacks (0) | Category: IP Markets and Monopolies
Danny O'Brien has another update on the relentless Capitol Hill machinations to force through the Broadcast Flag. It helpfully unravels two mysteries:
Question #1: Why did 20 representatives send an open letter pledging their allegiance to the Flag? Hint: it wasn't due to an overwhelming groundswell of support from their constituents.
Question #2: Why did PFF's Patrick Ross suddenly take it upon himself to argue, unconvincingly, that the DMCA is somehow about ...the freedom to contract? Hint: it wasn't because he just, you know, wanted to express himself.
Answer #1: Why did those 20 reps send an open letter? Because the Broadcast Flag isn't a slam dunk. As Danny points out, the entertainment industry lobbyists are tallying their support, but they haven't yet convinced everyone they need to convince:


The letter is short, with a single substantive talking point. If Congress doesn't deliver a Broadcast Flag pronto, warns the letter, content producers will abandon free, over-the-air broadcast TV.

To pound home this dire threat, the phrase "free, over-the-air television" is repeated no fewer than eight times -- with four repetitions in four consecutive sentences. It's a little like the local racketeer rustling up extra protection money by emphasizing over and over how beautiful your precious Ming vase is, and what a tragedy it would be if anything were to happen to it.

But no matter how many times this threat is repeated, it's not even close to credible. The corporations that make up the MPAA have been threatening to boycott digital TV for years, without ever actually managing to stop broadcasting. Of course, Mr. Upton doesn't really need convincing, anyway. He's already gone on record as supporting the Broadcast Flag.

So why are 20 House representatives writing him a public letter? Because Mr. Upton is the one who needs a show of support.

You see, it appears that the MPAA and RIAA may have a problem with the House of Representatives.

Which brings us to
Answer #2
: Why did Patrick Ross suddenly write a piece passionately defending the DMCA? Because the "problem" is Congressman Joe Barton:

The driver of digital TV legislation in the House is Joe Barton, Chairman of the Commerce Committee. And if what we hear through beltway back channels is true, Barton wants a deal. He believes that if the MPAA wants the Broadcast Flag in his bill so badly, it should be willing to compromise.

Specifically, in exchange for movement on the Broadcast Flag, Congressman Barton may be asking for movement on
HR 1201
-- a bill that seeks to protect people who are excercising their fair-use rights from liability under the DMCA.
In other words, if government-mandated DRM + the DMCA remove your rights, Congressman Barton wants a way for you to take them back. Which Patrick Ross tells us is bad because it infringes upon...the freedom of corporations to impose a unilateral "contract." Which would clearly harm consumers, because they would otherwise benefit from continued "innovation" in the booming removing-consumer-choice sector.
Comments (0) + TrackBacks (0) | Category: Laws and Regulations
October 7, 2005
Via Edward Felten's Dashblog, Tim Lee's post debunking PFF VP Patrick Ross's "incredibly confused" defense of the DMCA:


The folks at PFF desperately want to portray the DMCA as a "free market" approach to copyright problems. But the shoe just doesn't fit. TPM systems are not contracts, and circumventing them, as such, is not theft.

On that note, a pair of quotes to ponder:
Mr. Ross, in the article referenced above: "No sane business operator enters a contract in which one party has the right to disregard its terms at will, but that's what HR-1201 permits."
Cory Doctorow @ BoingBoing: "DRM ass-kissers talk a lot about how DRM is a 'contract' -- someone offers you content in exchange for you waiving your rights to record, or time-shift, or format shift, or archive, or use on your Mac, or whatever.
But it's a funny kind of contract that is renegotiated at the whim of one side, who can unilaterally change the deal whenever he feels like it, and which you can't get out of if you decide that the new deal isn't one that you like."
Comments (0) + TrackBacks (0) | Category: IP Markets and Monopolies
Blink ›
Why Your Mom Keeps Telling You to Wash Your Hands
Via Cory, NTK's description of the pestilence that is Europe's coming Broadcast Flag: "[This] variant seems a lot nastier: tweaked by Hollywood lawyers to determine at a much finer grain what Europeans get to record off their TVs, where you get to save it, what constitutes a 'family,' and who exactly in open source will be buggered this time."
Reports Copyfight reader Terry Frazier:


Today I got a surprise telephone call - I mean a real surprise - from Heather Riley in Senator Saxby Chambliss' office. On Wednesday I sent an e-mail to my Congressman and both Senators regarding the Broadcast Flag issue I saw on Copy Fight...Heather called to tell me that Senator Chambliss received my e-mail, that they are aware of the Broadcast Flag amendment in a reconciliation bill coming up for consideration, and that the Senator will try to have the amendment removed when they take up the bill after recess. According to Heather the Senator agrees with consumers - this bill needs to be debated on its own merit, not slipped in under the radar attached to some unrelated matter.

Thank you Senator Chambliss. I routinely complain about my representatives voting for big business and against consumers. It's nice to be surprised.

Do you agree that the Broadcast Flag ought to be considered on its own merits, rather than
rammed through
as part of another piece of legislation with no hearings or debate? Here are two spots where you can say so:
Comments (1) + TrackBacks (0) | Category: Laws and Regulations
Blink ›
Google Goes to Washington
Alex Macgillivray Andrew McLaughlin has the scoop in a post that explains why Alan Davidson, the former associate director of CDT, joined Google: "Our mission in Washington boils down to this: Defend the Internet as a free and open platform for information, communication and innovation."
Blink ›
Lessons from Oz
Michael Geist has an excellent post on the "take-away" lessons for Canada from the Australian High Court's decision in Stevens v. Sony. Among them: Like Australia, Canada doesn't have to set up a legal regime identical to the one in the US in order to carry out its obligations under WIPO agreements. It can refuse to let copyright holders turn a limited monopoly over copyrighted works into an unlimited right to control what technologists and consumers do with legitimately purchased products -- preserving innovation, free competition, consumer rights, and traditional balance in copyright law.
October 6, 2005
Blink ›
Is _That_ What This Is All About?
While Australia ably fends off copyright maximalism, the Finnish Parliament succumbs:


Parliament passed a bill to amend Finnish copyright legislation on Wednesday. The measure was approved by an overwhelming 121 votes to 34...The most controversial aspect of the law is that it makes it illegal to make any copies of a recording with copy protection, even for home use.

Comments (0) + TrackBacks (0) | Category: Laws and Regulations
The Australian High Court today brings us refreshing copyright sanity.
It ruled for the mod-chippers in Stevens v. Sony, the case in which Sony was suing under Australia's anti-circumvention laws to stop people from modifying the Sony PlayStation to play cheaper overseas versions of games. Specifically, it found that:


[The] true construction of the definition of "technological protection measure" must be one which catches devices which prevent infringement. The Sony device does not prevent infringement. Nor do many of the devices falling within the definition advanced by Sony. The Sony device and devices like it prevent access only after any infringement has taken place...[In] construing a definition which focuses on a device designed to prevent or inhibit the infringement of copyright, it is important to avoid an overbroad construction which would extend the copyright monopoly rather than match it.

If I'm interpreting correctly (and that's a big "if"), the Court has essentially said, "If you're not using a technological protection measure to stop copyright infringement, you don't deserve protection under copyright law. We will not uphold your 'right' to use technological protection measures to protect anything but copyright."
In other words, the Court refuses to turn an appropriately limited monopoly right (copyright) into an unlimited "ubercopyright."
Australian copyright expert Kim Weatherall has extensive analysis, explaining:


[Measures] like those used by Sony are about controlling use of and access to Sony PlayStation consoles. Sony controls all kinds of things about the way people use Sony consoles. For example: they control whether people can:




play legitimately purchased games sold in overseas markets;

play games created by someone other than Sony on the Sony console (something that cannot be done on a non-chipped console owing to the absence of an access code).



So while Sony can argue that it wanted to prevent piracy (it clearly did), and that the measures acted in part to deter piracy (they clearly could), Sony's own approach to the measures muddies the waters. It doesn't just act to prevent infringement, and that point is taken notice of by the Court here. One can't help but suspect the legal reasoning would look different, in this case, if Sony only used its power over the console to actually prevent use of 'pirated' disks.

Very encouraging.
Comments (0) + TrackBacks (0) | Category: Laws and Regulations
Want to time-shift your satellite radio? Forget about it, according to the RIAA -- they want to make such practices illegal. As I previously suggested, the real agenda of the RIAA is not just P2P, but Me2Me technologies that allow you to move music from one format to another. Check out the Reuters article (Record labels, satellite radio seen in showdown):
The record industry may next aim its legal guns at satellite radio due to a dispute involving new portable players which let listeners record and store songs, an analyst and industry sources said on Wednesday.

The record industry, led by major labels, such as Vivendi Universal' (EAUG.PA),> Warner Music Group Corp (NYSE:WMG - news), EMI Group Plc (EMI.L) and Sony BMG, believe the recording capability is a clear copyright violation and could take revenue away from paid download music services.

...

JP Morgan analyst Barton Crockett in a report suggested there might be more conflict in store.

"Based on recent talks with execs at record labels and the
Recording Industry Association of America (RIAA), we see potential spats ahead. RIAA may file a lawsuit this fall to stop a new feature for upcoming wearable satellite radios," he wrote.
Yet one more freedom we currently enjoy that the RIAA wants to take away as technology evolves.
Comments (1) + TrackBacks (0) | Category: IP Abuse
October 5, 2005
Blink ›
Amen
Jamie Love of the Consumer Project on Technology, in the group's statement on this year's WIPO General Assembly: "The United States government and the European Commission should abandon efforts to use WIPO as an instrument of uncritically expanding intellectual property protection and the protection of their export industries."
Blink ›
Danke Schoen
Siva Vaidhyanathan's Culture As Open Source; Open Source As Culture is available for download from the "Open Source Jahrbuch 2005" (that's "Open Source Yearbook 2005" for English speakers). According to Siva, the open-source "revolution" isn't really revolutionary, but, rather, about "recapturing and revalorizing the basic human communicative and cultural processes that have generated many good things."
Public Knowledge has a fresh all-points-bulletin and action alert on the Broadcast Flag, which as Cory pointed out earlier this week, will have to be killed a dozen more times before our representatives finally understand that copyright cartel-crafted/government-mandated DRM is a terrible idea.
Here's PK's sample letter to the members of the two committees that will consider Broadcast Flag legislation:


I write to you today to ask you to oppose any "broadcast flag" or "radio protection" legislation offered in response to the recent U.S. Appeals Court decision striking down the Flag Order issued by the Federal Communication Commission (FCC). These protection schemes will hurt me as a consumer: not just by harming how I like to use my consumer electronics and computers, but harming my choice of new and affordable products in the market place.

As a consumer, I want you to be aware of the following points:

* This Legislation is Broad: There is no "narrow" way to implement the broadcast flag scheme because it necessarily puts the FCC in the role of gatekeeper, having to approve and certify every technology that might carry DTV - computers, cellphones, gameboys, etc. Drafts of the language is broad so as to give the FCC permission to do both the broadcast flag and radio protection. As proof of the broad scope of the flag, when petitioned to exempt lawful uses of digital television, the FCC declined saying "practical and legal difficulties of determining which types of broadcast content merit protection from indiscriminate redistribution and which do not."

* Causes Consumer Confusion, Will Slow DTV Transition, and Probably Halt Digital Radio Rollout: At a time when Congress is concerned about making television sets obsolete at the end of the DTV transition, the flag would similarly render obsolete much consumer equipment because commonly used devices will not work together unless all use the same copy protection technology. The broadcast flag will not help the transition to DTV, and indeed might harm it because it makes consumers' TVs less functional than before. Digital radio protection is aimed at being intrusive and restraining inside a consumers own home.

* Limits Fair Use: As the May 11, 2005 Congressional Research Service report noted, the flag will prevent important fair uses, like the ability of teachers to engage in distance learning and the ability of individuals to email fair use portions of works to themselves and others. Making excerpts for public criticism of television media is critical, yet it will be severely limited as a result of this legislation.

Lastly, the flag will also hinder educational use of copyrighted content, and will stifle the design, operation, and further development of innovative consumer electronics. To me, this legislation is a bad idea, especially if Congress were to pass it with zero public debate. I urge you to oppose any broadcast flag legislation.

One more point for open-source programmers and enthusiasts: government technology mandates are especially bad news for open source. Your software is "non-robust," in Broadcast Flag terminology. It won't take orders from the top. That means it could turn out to be more useful and attractive to the market than the "consensus" devices everyone else is agreeing to hobble. That ruins the Broadcast Flag's "well-mannered marketplace." Which means your software is going down.
As PK says, you know the drill. Two minutes out of your day can make a real difference. If you don't think so, read this post. And please, send your letter today.
Comments (1) + TrackBacks (0) | Category: Laws and Regulations
October 3, 2005
What's another word for "Cartel?" How about "racket?" How about "organized criminal conspiracy?"
That's the charge made by Tanya Andersen, the latest addition to the anti-RIAA supermoms club. Ms. Andersen, a disabled single mom, decided not to roll over and play dead when the Cartel came knocking. Instead, she's gone on the offensive, filing a counter-suit charging the RIAA and the recording industry with Oregon RICO violations, fraud, invasion of privacy, abuse of process, electronic trespass, violation of the Computer Fraud and Abuse Act, negligent misrepresentation, the tort of "outrage", and deceptive business practices.
I don't know where Ms Andersen will get the legal muscle to pursue this raft of charges (she's currently being represented by Lory Lybeck of Lybeck Murphy in Oregon) but if she can make even one of them stick it could be a significant victory against the Cartel's anti-consumer jihad. What she's claiming is that the Cartel is (ab)using the legal system to get peoples' personal information, purely for the purpose of turning this information over to its collection center. She's further claiming that the Cartel's collection agency (err... "Settlement Center") admits to mistakes but won't halt collections even in cases of error. She's claiming that the Cartel intruded on her computer in violation of the law. She's claiming her innocence and asserting that because the Cartel continued its collection activities in the absence of any evidence of wrongdoing that its behavior is "coercive and deceptive."
There's much more detail over on the P2Pnet site. My guess is that the Cartel will do its damnedest to prevent this ever getting in front of a judge and jury. If Andersen can somehow survive long enough and the judge appears unfriendly, the Cartel will offer a settlement and may even promise to reform some of is more egregious abuses. As long as it's not backed up by an actual court judgement they'll feel free to ignore any such promised reforms.
Note to RIAA: quit picking on moms. They're way tougher than you are.
Comments (3) + TrackBacks (0) | Category: Laws and Regulations
A story in the Reg shows just how muddled up the thinking is around downloaded music and pricing.
Apparently, the standard (ie iTunes) price for a single in the UK is 79p. Out of this, performers get 4.5p. Now the Music Managers Forum, a trade body of artists' representatives, are upset. Why are they upset? Let's see.
This rate is half what artists were getting from CD singles (physical). Has anyone informed these people that the Cartel has been working to kill off the CD single since... oh, 1997 or so? I wouldn't be the first to suggest that the death of this format was a major spur to the upswing in music trading that happened around that time. So if you're making less money now than on a dead format that is iTunes' problem precisely how?
Also, "an artist needs to sell in excess of 1.5m units before they can show a profit." Well, let's see. Who was it put the artists into this forced indentiture where they have to pay up front for production time, tour costs, etc? That would once again be the Cartel. Last time I looked, iTunes wasn't dictating the terms of artists' contracts.
Jazz Summers, MMF chairman further complains that recording companies had been "caught with their pants down" by the legal download services. Hello? What universe do you live in? Caught with their pants down, five years after Napster blew their business model to smithereens? Three years after miserable failures on the part of various Cartel-sponsored and -approved download services? If anyone was caught with his pants down in that situation he's incompetent and should join Michael Brown on the unemployment line for clueless gits.
Comments (5) + TrackBacks (0) | Category: IP Markets and Monopolies
Blink ›
Metoo!
Yahoo has announced that it's working with the Internet Archive, the University of California, the University of Toronto, the National Archive in England, and others on a project to scan books in archives around the world and make them searchable via the Web (NYT coverage). The difference between this new "Open Content Alliance" and the Google Print library project: the Alliance will scan only public domain and freely licensed works, so that the entire collection can not only be searched but also downloaded for free. In addition, you'll be able to search for the books using any search engine -- including Google's.
Yahoo is finally earning its exclamation point.
Blink ›
Peter Suber: Does Google Library Violate Copyright?
The indefatigable Peter Suber provides what your newspaper can't and won't: in-depth coverage of the debate so far among the experts who usually only get a sentence or two in the Google article du jour, plus links to additional materials and original sources so you can see what's happening sans spin. The bonus: Peter's personal assessment of the situation, which includes the following gem: "On the merits, it's an important question to settle. But I admit that I'm not very comfortable having any important copyright question settled in today's legal climate of piracy hysteria and maximalist protection -- a new world order getting old fast."
October 2, 2005
Thanks to Declan McCullagh's latest CNET piece on the current push for the deeply unpopular Broadcast Flag, here's a list of 20 policymakers who want to give the FCC the power to issue mandatory design blueprints for any device capable of receiving free over-the-air high-definition TV signals, regardless of the impact on consumer rights and technological innovation:


Charles Pickering, R-Miss.
Edolphus Towns, D-N.Y.
John Shimkus, R-Ill.
George Radanovich, R-Calif.
Mike Ferguson, R-N.J.
Marsha Blackburn, R-Tenn.
Bart Gordon, D-Tenn.
Mary Bono, R-Calif.
Lee Terry, R-Neb.
Ed Whitfield, R-Kt.
Bobby Rush, D-N.J.
Vito Fossella, R-N.Y.
John Shadegg, R-Ariz.
Eliot Engel, D-N.Y.
Albert Wynn, D-Md.
Michael Doyle, D-Penn.
Charles Gonzalez, D-Tex.
Charles Bass, R-N.H.
John Sullivan, R-Okla.
Frank Pallone, D-N.J.

Is your representative on the list? If so,
here's where you can send a letter
speaking your mind about his or her decision to support the Broadcast Flag.
Comments (5) + TrackBacks (0) | Category: Laws and Regulations
If you haven't been following the discussion over @ The Patry Copyright Blog about authors and publishers complaining about Amazon.com selling used books alongside new ones, you're missing out. Here, William Patry argues that Amazon is rescuing the market for "non-Blockbuster" authors and publishers, and that suggesting that used-book sales rob from full-price sales is as foolish as arguing that every pirated copy equals a lost full-price sale:


Literary authors haven't pointed to any evidence that there has been any diminishment in sales of the brand new books due to amazon.com's program, and it seems logically impossible since every resale is off of the sale of that brand new book. Indeed, amazon.com provides the most amazing publicity imaginable for literary authors: the ability to find and buy their books. I work in New York City which used to have great bookstroes. Now they are all Barnes & Noble and those stores are fast approaching blockbuster Video quality. (This isn't true for Barnes and Noble online, and its same day delivery service in Manhattan is awesome). It is, I submit, only online shoppoing that saves the rest of us and non-blockbuster type authors. But it is just like copyright owners to bit the hand that feeds them, and that is what led to my posting: frustration from someone who is an ideal customer.

While the used book issue is of much greater scope because of the lack of any geographic limitation, literary authors seem peeved about the sale of "new" books at less than list price. On that point too bad.

The overall economic thrust of Rob's comments remind me a bit of copyright owner's claims that every pirated copy overseas represents a lost sale: baloney; many represent copies that would never have been sales becasue the price is way too high. So too to some extent with new books: if the book is priced reasonably, more people might buy it; if it isn't any used copies are available then I will either not buy or buy a used copy.

Meanwhile, over on the Pho and
A2K
lists,
Gordon Mohr
points to a "more economically literate discussion of the interaction between the used and new book markets" than the WSJ
piece
to which Professor Patry refers -- economics professor
Hal Varian
's NYT piece that's long been making the rounds in IP blog discussions,
Reading Between the Lines of Used Book Sales
. Summarizes Mohr:

Specifically [the article argues]:

- the existence of a strong used book market also
makes people more willing to buy new books, at full
price, because of confidence in their resale value

- offering affordable used books can attract more
customers to a bookseller, and result in more
books, new and old, being purchased overall

- a recent academic study suggests used book sales
only slightly substitute for new book sales

- the same study calculates the net social impact
of used book sales as strongly positive, after
weighing the benefits to consumers and sellers
like Amazon against the potential losses to
publishers and authors

Previous Copyfight coverage:
In Praise of First Sale
Comments (1) + TrackBacks (0) | Category: IP Markets and Monopolies
October 1, 2005
Thanks to commenter Walter Oaknight I was led to a nice layman-language analysis of the current state of the fight over Eolas' Web patent. The unbylined column in ClientServerNews notes a couple of new things, not least of which is that some of the language in the '906 patent review may give Microsoft an out. That is, the patent language may in fact be valid (novel, not covered by prior art, etc.) but may cover things different from what Eolas says it covers.
However, even if this particular patent is evaded, the column points to another broader patent portfolio that may cover the core technology of displaying inline active content. I'm also concerned that one or more of these patents might be close enough to torpedo AJAX, which I think is the most interesting new tech paradigm to emerge on the Web in some time.
Comments (0) + TrackBacks (0) | Category: Laws and Regulations
EFF has just published a half-time report from the WIPO meetings in Geneva, including a summary and analysis of the developments we've been puzzling over here @ Copyfight:

EFF returned to Geneva this week for the WIPO General Assembly, a two-week marathon meeting where last year's progress is reviewed and future plans are hatched laid. While there are dozens of items on the agenda, we're tracking two very closely: the future of WIPO's work vis-a-vis the developing world (a.k.a. the Development Agenda) and a proposal to turn broadcasters into a new class of copyright holders (a.k.a. the WIPO Broadcasting Treaty). Both are currently moving in the right direction.
Comments (0) + TrackBacks (0) | Category: Laws and Regulations