« The Million TM-infringement homepage? | Main | Because, You Know, Movie Piracy is WRONG »
January 19, 2006
Austen making a publishing comeback (from the public domain)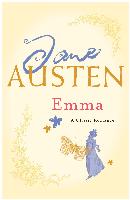 The NYT reports that Headline publishers (an outfit nearly impossible to Google) will be re-issuing Jane Austen classics as "Classic Romances."
Don't look for her anytime soon on Oprah, but Jane Austen, dead since 1817, is about to get a jolt of 21st-century image-making. When it is finished, Austen, the clergyman's daughter whose novels include "Sense and Sensibility," "Pride and Prejudice" and "Emma," will reemerge among the royalty of romance. In May, Headline publishers will issue her six novels as "Classic Romances," with glossy pastel covers depicting dashing dandies and bonneted Regency beauties, Reuters reported yesterday from London.
Yup, even though Austen's books are all in the public domain, so Headline gets no copyright exclusivity in their publication, the publisher still thinks it can make them profitable with clever packaging and marketing. That's probably right. Just as filmmakers could attract audiences to the remakes of Pride and Prejudice or the update to Emma in Clueless, so book publishers can find new audiences who wouldn't want to (or think to) retrieve the dry ascii from Project Gutenberg.
As Headline's search page describes:
All six of Jane Austen's novels are being packaged so they appeal to the fiction-buying public, rather than as either dusty academic texts or film tie-ins. A HUGE untapped market \n
More power to them. It is a truth universally acknowledged, that a publisher in possession of a good audience, must be in want of a text. (with apologies to Jane Austen)
Comments (3) + TrackBacks (0) | Category: IP Markets and Monopolies
POST A COMMENT