AUTHORS
About this weblog
Here we'll explore the nexus of legal rulings, Capitol Hill policy-making, technical standards development, and technological innovation that creates -- and will recreate -- the networked world as we know it. Among the topics we'll touch on: intellectual property conflicts, technical architecture and innovation, the evolution of copyright, private vs. public interests in Net policy-making, lobbying and the law, and more.
Disclaimer: the opinions expressed in this weblog are those of the authors and not of their respective institutions.

Monthly Archives
March 31, 2006
It appears that Chevy has linked up its gas-guzzling Tahoe vehicle with the pop culture sycophant phenomenon called The Apprentice. And is asking people to make promotional videos/commercials for the vehicle. Which, yanno, is a good way to.. um, let some of that good ole 'creative expression' loose
My guess is that this link won't survive much longer, particuarly not once Chevy figures out what it is.
EDIT: as of Friday afternoon either the video is gone or the site is slashdotted - in either event the video doesn't seem to be available at that URL any longer. Here's hoping the author publishes it on another URL.
Comments (5) + TrackBacks (0) | Category: Humor
Ebay and MercExchange got their day at SCOTUS this week and much coverage seems to be along the lines of Jessica Holzer's jibe in Forbes at companies like Merc as being "patent trolls." The gist of this argument - advanced by large tech companies - is that lower court judges ought to have lots of latitude in dealing with situations where patents are found to be infringed. In particular, automatic injunctions are a scary proposition for these big tech companies.
This theory holds (as was originally judged in the Merc vs Ebay case) that if the patent holder isn't actually using the patent, or being harmed by its use, then the proper remedy is some kind of compensation while the infringer continues on about his business. Deep pockets companies like this - they can pay. However, it weakens the positions of patent holders who can no longer use a threatened shutdown to extract the best possible terms. So far so good.
However, the 800 lb gorilla in the room is not really the tech industry, which is riddled with crappy patents. The gorilla, which is pretty damned proud of its patent quality, is bio-pharma. These companies, particularly the drug companies and biotech research houses, see patents as their absolute protection. They base entire company strategies on the principles of exclusive license to market and produce. Permitting an infringer to pay to make copies of a new drug or genetic product would potentially be devastating.
In my book this is still more evidence that computer software and processes need a new and different form of intellectual property protection. Neither copyright nor patent seems right and working (in the sense of 'producing results we want').
Comments (1) + TrackBacks (0) | Category: Laws and Regulations
March 30, 2006
Enter MC Lars' world and Download This Song. The song, available for free on Limewire and elsewhere, takes straight aim at the Cartel. The lyrics chastise the record industry for living off its back catalog, treating artists like slave labor, and fighting the download movement rather than working with it. OK, so what?
Well, if the financial numbers are right, this indie hit was produced on a shoestring budget using equipment and capabilities available to anyone. If they're that available, then what's stopping this form from taking off? What's to stop it rendering the entire music production system obsolete? In theory, nothing. There's nothing here that's really new except that this kid from Stanford has somehow made it work. He's getting airplay and touring and he doesn't owe the Cartel a dime.
One man doth not a movement make, but you have to take something like this seriously.
Comments (2) + TrackBacks (0) | Category: IP Markets and Monopolies
March 21, 2006
When organizations all around the political spectrum can agree a law is broken, you'd think that would lead to quick passage of the bill to fix it. Unless that law is the DMCA's anticircumvention.
The Libertarian Cato Institute has released a terrific report (PDF link) documenting ways the Digital Millennium Copyright Act hinders innovation.
Why won't iTunes play on Rio MP3 players? Why are viewers forced to sit through previews on some DVDs when they could have fast-forwarded through them on video? Why is it impossible to cut and paste text on Adobe eBook? In a just released study for the Cato Institute, Tim Lee, a policy analyst at the Show-Me Institute, answers these questions and more.

The new legislation's most profound effects will be on the evolution of digital media technologies. We have grown accustomed to, and benefit from, a high-tech world that is freewheeling, open-ended, and fiercely competitive. Silicon Valley is a place where upstarts like Apple, Netscape, and Google have gone from two-man operations to billion-dollar trendsetters seemingly overnight. The DMCA threatens to undermine that competitive spirit by giving industry incumbents a powerful legal weapon against new entrants.
Sound copyright policy has obvious attractions for advocates of small-government and deregulation. Copyright has become more regulatory, and more market-crippling, as it expands, and the DMCA is a case in point. As Lee describes, the DMCA has been (ab)used to prevent competitive development of audio and video players, cable boxes, and even, for a time, printer cartridges. Instead of a free-market rush toward the best technology to meet public demand, we get a trickle of major-label "approved" devices that must be bug-compatible: region-coded DVD players and can't-record cable boxes.
I don't agree with Cato on everything, but this report is spot-on. Let's hope it inspires more in Congress to join Reps. Boucher, Doolittle, and Barton in support of the DMCRA.
Comments (2) + TrackBacks (1) | Category: IP Markets and Monopolies | Kudos
March 20, 2006
Trademarking common words and phrases is sometimes done and never popular. The reason that the phrases are popular is because they're commonly recognized descriptivves. Forcing people to use other terms leads to language oddities and confusion. For example, did you know that Marvel and DC comics jointly claim trademark in the term "super hero"? Me neither. However, a friend pointed me to Newsarama's story on "Super Hero Happy Hour" being forced to change its name
The Happy Hour comic series features heroes (can't call them super) on their off hours, visiting pubs and relaxing. Its publisher, GeekPunk, apparently received a recent cease-and-desist from the Big Two, though the comic was first published in 2003.
Comments (3) + TrackBacks (0) | Category: IP Abuse
March 16, 2006
Blink ›
Publishers Impose Page Limits on Amazon Browsing
Fellow copyfighter Joe Windish had an unpleasant run-in with Amazon's "Search Inside" feature, and blogged about it here. Essentially, he discovered that the publishers have gotten Amazon to put secret limits on peoples' online browsing.
The University of Michigan Press is looking for a few good tech-bytes -- to include in a book of the year's best technology writing. They've launched an open call for nominations, inviting suggestions for the best articles, essays, and blog posts of 2005. These are clueful publishers -- instead of suing Google, they're working to enhance the visibility of their authors on-line and off-.
Here's a chance to pull together the explanations of technology and its celebrations and criticisms; pieces that sparked an "Aha!" or a good laugh. Since it's planned for both print and online publication, it's also a chance to bring the blog-world to those who read only dead trees. I'll be helping to read the nominated pieces, so I hope you'll help by suggesting some good ones.
Taking a cue from the open-source movement, we're asking readers to nominate their favorite tech-oriented articles, essays, and blog posts from the previous year. The competition is open to any and every technology topic--biotech, information technology, gadgetry, tech policy, Silicon Valley, and software engineering are all fair game. But the pieces that have the best chances of inclusion in the anthology will conform to these three simple guidelines:

They'll be engagingly written for a mass audience; if the article requires a doctorate to appreciate, it's probably not up our alley. Preference will be given to narrative features and profiles, "Big Think" op-eds that make sense, investigative journalism, sharp art and design criticism, intelligent policy analysis, and heartfelt personal essays.
They'll be no longer than 5,000 words.
They'll explore how technological progress is reshaping our world.
If you have a favorite, head over to digitalculture.org to send your suggestions.
Comments (0) + TrackBacks (0) | Category: Announcements
Back in December, I urged Copyfight readers to go participate in the effort by author Diane Duane to connect her desire to write a particular novel with the audience that wanted to see that novel come into being. Today I got a very pleasant letter from Ms. Duane indicating that many of you did go and vote and that the project is moving forward. Here's a bit more news.
The project has grown its own Web site (http://www.the-big-meow.com) so that the original Blogspot log can be used to discuss how the project is going, in best blog-introspective tradition. The novel itself is also taking shape, with Chapter 1 appearing a couple days ago. If you'd like to keep track of this as it goes along you can email the-whisperer@youngwizards.com (put SUBSCRIBE in upper case in the Subject) to get onto a notification list.
I'm glad to see the project is getting started and it hope it turns out well for both the author and the readers. Like any new experiment there's always a significant risk of failure but without such experimentation we'll never get anywhere. Certainly the large publishing houses and the music Cartel aren't going to drive this bus.
Comments (0) + TrackBacks (0) | Category: IP Use
March 15, 2006
Duke Law School's Center for the Study of the Public Domain has createded Bound by Law?, a comic book on copyright and creativity specifically as it applies to documentary film. It is being published today (March 15) under a Creative Commons License. The comic, by Keith Aoki, James Boyle and Jennifer Jenkins explores the benefits of copyright in a digital age, but also the threats to cultural history posed by a "permissions culture," and the erosion of fair use and the public domain. You can read or download the whole thing for free at http://www.law.duke.edu/cspd/comics/ and hard copies are on sale at Amazon
The book is non-profit, with any proceeds going towards recovering the costs of publication and funding more academic work in the field.
Comments (0) + TrackBacks (0) | Category: Announcements
Copyfight friend Branko Collin pointed me to an entry in the blog of Adam Curry, which reports on a copyright victory for Curry. The self-described "local media celebrity" had published photos on Flickr of himself and children on vacation. The photos carried a CC "Attribution-Noncommercial-Sharealike license" but were taken and reprinted by a Dutch gossip magazine. Curry sued and the judge in the Amsterdam District Court upheld the validity of the Creative Commons license, forbidding the magazine from using such photos without permission.
Comments (0) + TrackBacks (1) | Category: Laws and Regulations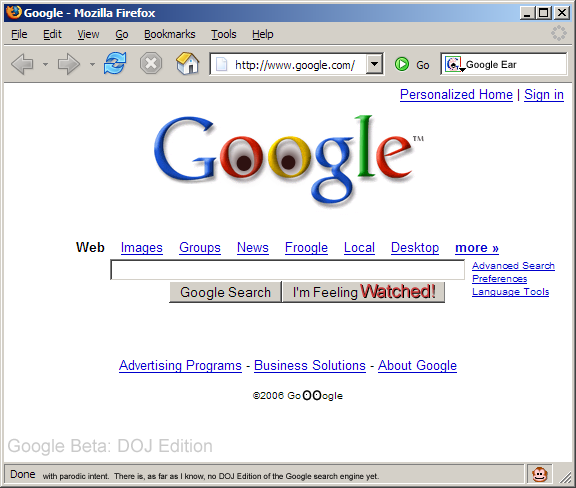 Newswires and other media were buzzing yesterday over the Justice Department's subpoena to Google for search terms and URLs. The buzz got louder when Judge Ware indicated in court that he was likely to order Google to respond, at least in part. (Londoners might have seen me interviewed on the BBC news.)
The story converged the public's interest in everything Google with concern about government spying and the erosion of privacy online -- even if little of that privacy was ever directly at issue here. The government asked for search terms and a selection of URLs, not the IP addresses that could most directly link terms to the users who searched for them; its stated purpose was not to investigate individuals but to gather pieces that would help DOJ defend the Child Online Protection Act, a prohibition on showing material "harmful to minors" that has been on constitutional hold since its enactment in 1998. Google opposed the request, saying it called for trade secrets, was unduly burdensome, and further, that it might chill some of the search engine's users.
Even more than an actual privacy violation, the subpoena raised the preception of a privacy breach. News of the subpoena started many people thinking about how much of their personal lives they turn over to search engines -- and how little they know about what happens with that information next. With a government intent on listening to communications without warrants, could this subpoena be the first step toward a broader sweep of search engine records for other purposes? Our current privacy laws don't do a great job of protecting the information we turn over to third parties, such as search engines. Google could help protect privacy by keeping less data, but its business interests won't always align with its users' privacy wishes. The interest in the DOJ-Google subpoena shows we need to do better.
When a newspaper obtained records of then-Judge Bork's video rentals duringn 1987 hearings on his nomination for the Supreme Court, the public and members of Congress were similarly shocked that these records were so easily available. In response, Congress passed the Video Privacy Protection Act, prohibiting disclosure of video tape rental records without a warrant or court order. Though limited to sale or rental of "prerecorded video cassette tapes or similar audio visual materials," the VPPA stands out as one of our strongest privacy protection laws.
The DOJ's subpoenas for search records should be web searches' "Bork moment." Search engines, and our comfort in using them unobserved, are a key part of the Internet's vitality. If no current law protects us against government Googling our Google records, it's time to draft a law that does.
Comments (3) + TrackBacks (0) | Category: Privacy
A Copyfight reader pointed me to a Slate story on digital thespians. Epstein talks about two kinds of digital creations: wholly new 'synthespians' as well as digitized representations of actual actors (Tom Hanks for Polar Express; Sean Connery for the From Russia with Love game). Although the technical hurdles to such captures remain quite large - especially if your goal is true-to-life, fool-an-audience reproduction - the reader's question was different.
To wit: what rights do you purchase/license/contract for in creating such a reproduction of a real person? Rights to the "likeness?" Performance rights? Do either of these cover things the actor never physically did or said? Is there an exclusivity clause? There are clearly some issues around the ownership of a character, if that character has appeared before (e.g. Connery's Bond) but usually the character rights reside with the studio. But if you want the Connery Bond instead of a generic James Bond you also have to incude Connery in the deal, as well as whatever studio or estate has the Bond character rights.
IANAL, but I'm hoping some of my readers are or can point me to resources from people who've actually worked in this area.
Comments (0) + TrackBacks (0) | Category: IP Use
March 14, 2006
Following its strategy of smashing torrent-linking sites, the MPAA has filed suits against three companies that provide searches for Usenet content including illegally copied movie files. All three of the current targets have the air of shadiness about them, being essentially anonymous registered shells. However, as Bray points out in his Boston Globe story, success here will likely embolden the Cartel to tackle more well-known Usenet index sites like Newzbin.com and Nfonews.com. And sitting at the far end of that road is Google, which owns a huge database of old Usenet postings and whose index likely contains more than a few files the MPAA wouldn't approve of.
Comments (2) + TrackBacks (0) | Category: IP Markets and Monopolies
March 8, 2006
Blink ›
Determining Ownership in Digital Urban Lore
Comments (1) + TrackBacks (0) | Category: Humor