My father sent me a pointer to
Robert Darnton's review in the NY Times titled "A Republic of Letters"
. The review discusses the new book by
Lewis Hyde
(see also
http://www.lewishyde.com/
) called Common as Air: Revolution, Art, and Ownership.
As you can guess from the title and my interest, the topic of the book includes ownership of things that have come to be called intellectual property. In particular, Hyde's book is portrayed as a plea to protect our "cultural patrimony" (*cough*sexistmuch?*cough*) from "appropriation by commercial interests."
I'm sorry, guys, but that ship sailed a long time ago. I don't know whether you want to mark the passage of the Mickey Mouse Protection Act, the enactment of the DMCA, or MGM v Grokster as the important milestone - or even something else. The point is still that we've moved from the realm of public sharing of common heritage into a realm where everyone thinks it's natural for big corporate interests to own our genomes, our family histories, and every bloody other thing they can lay their hands upon.
From an academic perspective it's nice that Hyde can go as far back as the Middle Ages, and tie a belief in a thriving public sphere to the American founding fathers. But practically speaking? Who cares. The Cartel are not patriots - the only use they have for nations is as enforcement arms for their control regimes. Appeals to the lofty principles of dead intellectuals is just chaff in the wind.
If we're going to make arguments from history, which I think we should, then it's essential to point out the historical pragmatics - what did it mean for intellectual property to be shared as it was then, and what are we losing by locking it up now?
I suppose it's worth noting that I left academia for roughly these reasons, many years ago. I like good research and the challenge of connecting the dots within the vast streams of knowledge and discovery of the as-yet-unknown. But I also want to see those dots connected to practice, pragmatics, and with a clear relationship to today's reality.
August 20, 2010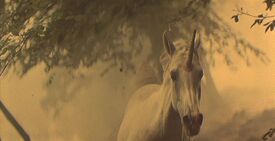 Xeni Jardin at Boingboing pointed at
an experimental film by François Vautier
that is a great example of the way digital technology is enabling
new forms of (derivative) art
.
For this project, Vautier took every frame of the film Blade Runner and laid them out on a vast plane. He then made his own short film by moving a virtual camera over this plane of images so you can see certain frames of the film, but mostly get abstract color and movement impressions. The film has a soundtrack taken from Blade Runner's score and dialog but I found that it had much more of the feel of 2001.
The work is labeled a tribute but of course it's also a derivative work and probably a massive copyright violation as it uses the images and sounds of the original. But trust me, nobody's going to mistake this for a rip-off of Blade Runner.
Comments (0) + TrackBacks (0) | Category: IP Use
August 9, 2010
Blink ›
This is Remix Culture Courtesy of Sunday Girl
As part of my music listening I came across Sunday Girl, covering the old Laura Branigan song "Self Control." And there on her MySpace page is an open invitation - want to remix? Here, have a free download of the a capella version. Like so many other artists out there, her biggest problem isn't worry that someone will do something bad with her music; it's worrying that nobody will notice her music in the first place. If you want to get noticed in music today, get yourself remixed.
August 5, 2010
A story in the New York Times from earlier this week examines the challenges of defining and educating around plagiarism for remix-culture youth. Trip Gabriel's story notes that what we might call inadvertent plagiarism is on the rise - students copy material that has no obvious author and don't feel they've done anything wrong.
An interesting point about this is that it's not another "copying is bad" story; it's a hint that we as a society may be moving to a different social model of authorship. The vast majority of plagiarism still is done by people who know it's wrong and who ought to know better, and to have been trained better. But there's also the sense, put forward in this story by ethnographer Susan Blum of Notre Dame, that some people are copying in texts in much the same way as they mash up, or in the way that songs and television shows reference each other. The standards for ownership and credit may be seen differently and students may not feel that what they're quoting is attributable material. After all, who is the author of a Wikipedia article?
Comments (0) + TrackBacks (0) | Category: IP Use
August 3, 2010
Blink ›
The Revolution Will Have Permission