I've been reading a bunch of things lately written by and about people who do creative work for a living (I blame Gaiman's long silence). Here are a couple of articles I think Copyfight readers will enjoy:
First up, The Independent had a feature earlier this month on Steph Swainston, titled "I need to return to reality'. The story covers Ms. Swainston's decision to give up a job as a published fantasy-novel author and start teaching chemistry in school.
That's sort of the reverse path of a lot of authors who work at traditional jobs while they write part time or after hours in the hope that one day they'll make enough from publishing to be able to give up their "day jobs". In reality, of course, you exchange one day job for another. One thing you see repeatedly in authors' blogs is the clear statements that writing is a job, a job you work at a lot during standard work hours, and it's hard work. It seems to be this latter that has motivated Swainston to bail halfway through a two-book deal.

There's just too much stress on authors [...] The business model seems to be that publishers want a book a year. I wanted to spend time on my novels, but that isn't economically viable.
In this vein let me also commend to your attention
a blog entry from John Scalzi on the pace and page-count of releases
. Both Scalzi and Swainston are making the point that writing - even though it's a job - still requires a potentially long and certainly unpredictable amount of time to go from signed contract to publishable state. And while almost every editor and publishing house I know is very flexible and frankly expects authors to miss deadlines the related point in Swainston's interview is that missing a deadline also means no checks getting deposited in the bank. Bill collectors tend to be a lot less forgiving than publishing houses when one is missing their deadlines.
Swainston's other point is complex and potentially more touchy - writers, she argues, end up writing inside a bubble. Divorced from other contact with the world writing can not only be a solitary and lonely activity but this lack of contact can leave an author feeling a loss of meaning in her life. Swainston's decision to teach chemistry is no accident - she finds it "feeds that sense of wonder" that all authors need.
The second artistic item is musical: Bob Ostertag writes in the August issue of The Wire (available early online) about his experiences going from a standard CD/catalog-sales musician to giving away all his music for free online, an act he called "professional suicide."
His article titled "Collateral Damage" is about where he is in this experiment. Five years ago he reckoned his sales at a mere 1-2k per CD. Many were released on small labels and when those labels went away the CDs became a form of orphaned work. Most importantly for Ostertag's calculations, he wasn't getting any money for them.
Compare that, then, with the experience of giving his music away for free download online. He reports that downloads are now 10-30x what sales numbers were, but on the downside people are not using his site's mechanics to donate money voluntarily in recompense for what they choose to download. Ostertag notes that this feeds his soul and motivates him - just as Swainston was seeking her own motivation. But also like Swainston, Ostertag has real bills to pay. And like Swainston, Ostertag pays those bills with a teaching gig.
Ostertag's column goes on to discuss structures and changes. Echoing points I noted last May, Ostertag agrees that music listeners never had it so good. Compared to five years ago, tens of thousands more albums are being released, millions of band pages are going up on MySpace, and (I would add) thriving efforts such as blogs run by DJs, musicians, composers, and bands reaching out directly to their fans and potential fans.
The question that remains unanswered, sadly, is whether something that is this good for music lovers must remain not so good for music makers. And really, how do we want to compensate people who are making all this music?
July 14, 2011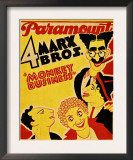 Having discovered
how the porn industry is like the Cartel
, we now visit the equally vital question of why a news organization would claim copyright in images taken by monkeys. No, I'm not making this up. I can't make up stuff this good.
The real participants in this affair are the blog Techdirt, the award-winning nature photographer David Slater, and Caters News which claims to be the authorized syndicator for Mr. Slater's photographic work. However, the work in question here is a set of pictures that were taken by monkeys, who happened upon a camera that Slater had accidentally left in their reach.
Techdirt initially asked the question of who might own copyright in these photographs, and published a couple of the images about a week ago. It's a cute and funny story, and nobody thinks much more of it apparently. That is, until the day before yesterday, when Techdirt receives (and publishes) a letter from Caters in which it claims to be the syndicator, claims that Techdirt is using photographs to which it doesn't hold copyright, and demands that they be taken down. But what about fair use, counters the blog?
It would seem - and the blog entry is pretty lengthy and extensive on this point - that Caters either has never heard of the concept or doesn't want to admit that it exists. Techdirt seems to be of the opinion that no copyright exists, which I think is wrong for reasons I'll explain in a moment, but they also have gone to a pretty decent length to check with lawyers and are on solid ground for using the images. In fact, a couple of the images can be seen with Caters' ghosting on it, so it's not like TD are claiming originality in these images. They're just pointing at them and saying "hey, here's an interesting story."
Now, the place where I disagree with them is whether or not a copyright exists and if so whose copyright is it. Let's start with an agreement that the monkeys that took the original photographs don't own any copyright, by virtue of copyright being granted to persons. I don't even want to touch on the question of what "moral rights" they might have in Europe - let's stick to US/Berne-style laws.
The problem is that the image presented on the Web isn't the image taken by the monkeys. It's a derivative work. As someone who spends way-too-many-goddamned-hours in Photoshop I can tell you that the process of turning a RAW into the PNG or whatever format gets published involves both mechanical and creative processes. Color correction, light balance, and image cropping are easy examples of places where a photographer applies creativity, skill, and knowledge to get a final output. I'm still no lawyer, but as I understand copyright if I take non-copyrighted source material and apply creative processes to get a new derivative work, I can own copyright in the result.
I don't think there's much debate about "West Side Story" being a retelling of "Romeo and Juliet", nor do I think there's a lot of debate about whether or not WSS is a copyrighted work. I think the exact same logic applies to these photos. Calling them "pictures taken by monkeys" makes for an amusing headline or two but it doesn't match up with reality.
Comments (0) + TrackBacks (0) | Category: IP Abuse
July 11, 2011
Since
I took Greg Sandoval to task earlier this year for failing to do good reporting research
, I think it's only fair that I point out when he's done an excellent job. Case in point,
his piece this past weekend for CNET, "What's driving rise in music sales?"
The hook for the story is the for the first time in the digital music age (since 2004) album sales are up. Admittedly it's only 1%, but when you reverse a seven-year trend even for a moment that's kind of news. So of course one wants to answer the question of how this happened.
To his credit, Sandoval doesn't just take the easy answer - oh, they shut down LimeWire - though he does touch on that point. Instead he delves into a variety of factors and possible explanations, looking at local phenomena such as the sudden rise of Adele, a Brit-pop star, and the recent release of a popular Gaga album. In addition, he notes that there has been some potentially disruptive pricing going on with Amazon selling an entire digital album at 99 cents, and standard catalog CDs selling for USD 4-8.
Remember the days when CDs cost more than DVDs? Yeah that was back in 2004-5, which is when the album business was last growing in profit. Those days are long gone, and I suspect the days when disruptive pricing can have a significant impact are numbered already, too. The impact of social networking on music sharing is only beginning to be felt - here's a Mashable by Ben Parr on how to use social media for sharing, for example.
In addition, as Sandoval's co-writer on CNET Lance Whitney wrote just a couple weeks ago, there's a huge rush on to move people to 'cloud' music services. Each service has its own spin on rights, uploading, and permissions but all depend on the notion that people no longer want to "own" music so much as they want to listen to it wherever/whenever they are. If the cloud services succeed it will make the entire past couple of decades worth of argument about rights and ownership seem as quaint - and as irrelevant to the masses - as a discussion of whether the fish fork or the salad fork should go on the outside. (Image nicked from homeworkshop.com - click through to see it in context.)
Comments (1) + TrackBacks (0) | Category: IP Markets and Monopolies
July 8, 2011
This one is just too good to pass up. Answer: they share a 'business model' - sue your customers.
The Palm Beach Post News reports that porn producers are mass-filing lawsuits against IP addresses. Does this sound familiar? Yeah, it's the same deal.
Allegedly, computers at those IP addresses - 1,300 in two Florida counties alone and the EFF estimates as many as 150,000 nationwide - downloaded porn films. The question of whether the computers' owners or the people named in the lawsuits did that, or even knew it was being done, is left as an exercise for the courtroom. Except most people won't get that far
As with the Cartel's jihad, the goal of this campaign is a simple shake-down - get people to pay up (USD 1500 per settlement) rather than fight. As with the Cartel's jihad there are the obviously wrong targets - the old granny, the providers of free wireless, etc. But that's not going to stop this jihad either.
The fact that you'd have to go into court and talk about your porn-viewing habits (or lack thereof) just adds a layer of delicious embarrassment to the whole deal. Corynne McSherry of the EFF gets a quote in the story, but it's up to another lawyer to call a spade a spade. Lory Lybeck calls it:
A perfectly designed extortion scheme
If that name seems a bit familiar to you, it may be because
she was in the news back in 2008
- yes, you guessed it - defending people victimized by the RIAA's campaign and proposing a class-action lawsuit against the Cartel.
Comments (0) + TrackBacks (0) | Category: IP Abuse