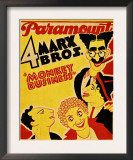 Having discovered
how the porn industry is like the Cartel
, we now visit the equally vital question of why a news organization would claim copyright in images taken by monkeys. No, I'm not making this up. I can't make up stuff this good.
The real participants in this affair are the blog Techdirt, the award-winning nature photographer David Slater, and Caters News which claims to be the authorized syndicator for Mr. Slater's photographic work. However, the work in question here is a set of pictures that were taken by monkeys, who happened upon a camera that Slater had accidentally left in their reach.
Techdirt initially asked the question of who might own copyright in these photographs, and published a couple of the images about a week ago. It's a cute and funny story, and nobody thinks much more of it apparently. That is, until the day before yesterday, when Techdirt receives (and publishes) a letter from Caters in which it claims to be the syndicator, claims that Techdirt is using photographs to which it doesn't hold copyright, and demands that they be taken down. But what about fair use, counters the blog?
It would seem - and the blog entry is pretty lengthy and extensive on this point - that Caters either has never heard of the concept or doesn't want to admit that it exists. Techdirt seems to be of the opinion that no copyright exists, which I think is wrong for reasons I'll explain in a moment, but they also have gone to a pretty decent length to check with lawyers and are on solid ground for using the images. In fact, a couple of the images can be seen with Caters' ghosting on it, so it's not like TD are claiming originality in these images. They're just pointing at them and saying "hey, here's an interesting story."
Now, the place where I disagree with them is whether or not a copyright exists and if so whose copyright is it. Let's start with an agreement that the monkeys that took the original photographs don't own any copyright, by virtue of copyright being granted to persons. I don't even want to touch on the question of what "moral rights" they might have in Europe - let's stick to US/Berne-style laws.
The problem is that the image presented on the Web isn't the image taken by the monkeys. It's a derivative work. As someone who spends way-too-many-goddamned-hours in Photoshop I can tell you that the process of turning a RAW into the PNG or whatever format gets published involves both mechanical and creative processes. Color correction, light balance, and image cropping are easy examples of places where a photographer applies creativity, skill, and knowledge to get a final output. I'm still no lawyer, but as I understand copyright if I take non-copyrighted source material and apply creative processes to get a new derivative work, I can own copyright in the result.
I don't think there's much debate about "West Side Story" being a retelling of "Romeo and Juliet", nor do I think there's a lot of debate about whether or not WSS is a copyrighted work. I think the exact same logic applies to these photos. Calling them "pictures taken by monkeys" makes for an amusing headline or two but it doesn't match up with reality.