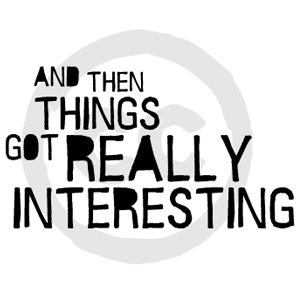 The theme for February seems to be retrospective analyses. I hope this isn't boring everyone; I'm finding it fascinating to see the Copyright Wars at last moving into a new phase. I am devouring analyses from everyone I can find, trying to figure things out for myself. Feel free to contribute your links and ideas, too!
Today I'd like to point at two more thought pieces, both of which take on the theme of "who". First, there was a piece on BBC Tech last week from Rory Cellan-Jones, asking "The internet is angry - is it winning?"
Cellan-Jones notes that the large-scale protest venue jumped from the US (anti-SOPA/PIPA) to Europe (anti-ACTA) and that if one is to judge by the size of the visible crowds, the impact isn't evenly distributed. London's visible protestors numbered in the hundreds where tens of thousands of Europeans took to the streets in each of many cities. Cellan-Jones's primary point seems to be that even though Western governments have changed in the face of Internet protests, more authoritarian and recalcitrant regimes haven't. Therefore we're not 'winning'.
Say what? Oppressive regimes don't change in the face of peaceful mass protests, nor in the face of armed rebellions. Just ask the thousands of Syrians... oh wait, you can't, their government murdered them. Seriously, now, what does Cellan-Jones (and similar nay-sayers) want to see?
On the positive side, we have techno-social optimist Jimmy Wales and Kat Walsh (of Wikipedia fame) writing in the Washington Post, "We Are The Media And So Are You".
Wales and Walsh hit hard on the theme of creators, something I noted yesterday. They say:
Wikipedia is not opposed to the rights of creators — we have the largest collection of creators in human history [...] providing unrestricted access to the world's knowledge. Protecting our rights as creators means ensuring that we can build our encyclopedias, photographs, videos, Web sites, charities and businesses without the fear that they all will be taken away from us without due process.
As creators, then, they claim what they see as their (and our) rightful place in the media industry. If laws are to be written that are for the benefit of the media industry (see once again
The Breyer Test
) then those laws must benefit... well, us. We who write for Wikipedia, who blog, who post to YouTube, Twitter, Flikr, or in other ways give our time and creative energy to enriching the mediasphere are equally as deserving of legal protection for our honest innovative creations as the Cartel.
What an interesting new idea.