« FMC Releases Musician Income Case Studies | Main | Posting Newspaper Excerpts Ruled Fair Use »
March 19, 2012
The Cartel Is the Law Now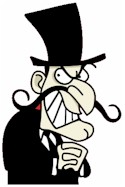 Two stories that show how far the Cartel has gone in capturing the mechanisms of law enforcement for its own ends.
First, Nate Anderson reported last week that a student from the north of the UK would be extradited to the US even though there's no case against him in the UK and even though he hasn't broken any laws there.
Back in January the first reports I read of this story had me wondering what the hell was going on. Anderson's current report makes clear that it has nothing to do with UK copyright laws and everything to do with the Cartel's ability to get law enforcement internationally to do its bidding. I truly feel sorry for Richard O'Dwyer - being treated like an international criminal mastermind because he posted a Web site full of links is beyond ludicrous.
But lest anyone think that the Cartel has no sense of proportionality, I remind you that these are the people who invented Copyright Math.
The second story was highlighted on Friday by Cory for Boingboing, under the long but sadly accurate headline "RIAA prez twirls mustache in anticipation of taking on his role of Internet Witchfinder General". The gist of the piece is that the Cartel has used their captive Department of Justice and cowed your ISP into becoming its enforcement arms. If you do things they don't like, they'll cut you off from the net, or maybe they'll just slow your download speeds or drop your connection now and then. "Nice network you got there... be a shame if something happened to it."
Seriously, how fucked up is this? I think it's important to realize that "cutting off peoples' Internet access" doesn't just mean you can't download files. My kid requires the net to do his homework, which is posted by his schoolteachers on a series of blogs. My landline phone goes over my cable wire and is provided by my ISP. I doubt I'm unique in these things; Doctorow lists several other activities that modern life assumes people will have Internet for, such as banking and participating in political life. Losing Internet means losing all these and more.
I am reminded of a long-ago conversation Bruce Sterling and I had about his novel "Islands in the Net." The gist of it was the central thesis that access to the network was about to become like electricity - it's just assumed and you only tend to notice it when it's not there. I suspect that when the Cartel starts getting its way a whole lot of people are going to find this sudden absence troubling. Maybe if a lot of them are in the US Congress then we'll see some course-correction. But I tend to doubt it.
Comments (1) + TrackBacks (0) | Category: Laws and Regulations
POST A COMMENT
RELATED ENTRIES