« Two Follow-ups on B&N/MSFT and Palmer | Main | UK Academics Move to Free Up Taxpayer-Funded Research »
May 2, 2012
May 4 is Coming Again - International Day Against DRM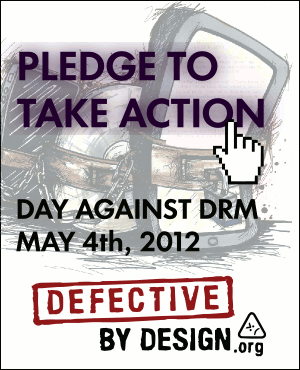 A couple of Copyfight readers pointed me to
Defective By Design's "Day Against DRM" scheduled for May 4th
, a subsidiary of the Free Software Foundation.
Last year the event attracted little media attention (see PCWorld's coverage from that day) and, sadly, it appears that little notice will be given again this year.
As the site notes, there has been slow progress on the de-DRM-ing fronts of the past. In particular, much more music is available for download unencumbered now than in the past. But the new fronts that have opened up - particularly ebooks and streaming music/video - remain badly broken and un-free for legal, private uses because of DRM.
DRM is bad business, and bad user experience. Let's get some attention on the need to make it part of the past.
Comments (0) + TrackBacks (0) | Category: Announcements
POST A COMMENT