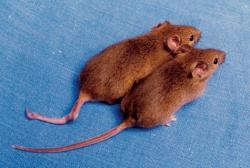 We've touched on intellectual property associated with gaming in the past; for example, recently in
the realm of 3D models
, and a couple years ago in
the realm of World of Warcraft game mods
. There's also
a big deal going on with first-sale and used games
. Most of those stories involved smaller companies, individuals, and not much at stake.
Today's Insertcoin column by Paul Tassi over on Forbes talks about a brewing struggle between two heavyweights in the gaming world: Electronic Arts (EA) and Zynga. EA has been in the gaming business forever and has slowly grown into a giant powerhouse by producing its own popular titles and by acquiring popular titles that already existed and often the gaming companies that produced them. Zynga by contrast is a relative newcomer, born in the age of mobile- and browser-based games, and rising to financial success along with Facebook, where it provides gaming to Facebook's millions. By contrast, EA is a much more traditional gaming publisher, placing its titles in retail stores, on download services like Steam, and only recently moving into mobile gaming.
Zynga has been dogged for years by claims that it has stolen (used, borrowed, copied) intellectual property from other games, both in terms of concept/topic and in specific terms such as characters, art style, and so on. People have accused Zynga not of being a game 'developer' but of being a game 'cloner'. But mostly the smaller players haven't had the resources to take their claims all the way; now, finally, someone with very deep pockets (EA and its Maxis studio) are going to court to try and prove it.
Tassi's column is mostly a set of side-by-side images, one taken from a game by a non-Zynga publisher and one from a game put out by Zynga that is accused of being a clone of the original. In an earlier column, Tassi showed side-by-side images of Zynga's recent "The Ville" with EA's "The Sims Social." EA has a lot of time and money invested in its Sims franchise and Sims Social is apparently quite profitable for them. To have that investment threatened by a Zynga clone is not something EA felt it could tolerate.
It will be interesting to watch as this case develops: game IP can include visual design elements, creative process elements such as gamer interactions or component behaviors, and arrangements of elements. These can be covered by trademarks, patents, and copyrights depending on the particular element to be protected. Tassi quotes David Marsh of game maker Nimblebit, which also felt that Zynga had ripped off one of their products:
[W]e were taken aback by [...] how thoroughly Zynga had copied the mechanics of our game, right down to small trivial details that had no effect on the functionality of the game, but got caught up in Zynga's blanket duplication process.
If EA feels that Zynga has similarly blanket-copied The Sims Social then this could be a very large and wide-reaching suit indeed.