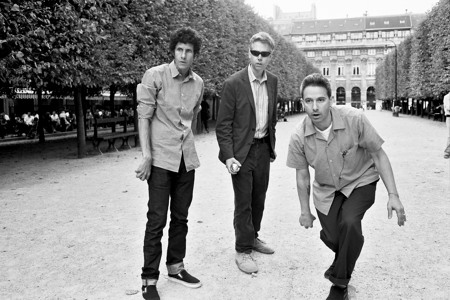 I'm sure by now most of my readers have seen or at least heard of the advertisement by toymaker Goldieblox which used a parody of the Beastie Boys' "Girls". I can't link you to the original video because Goldieblox have taken it down, replacing it with one that uses different music.
Their blog entry
claims this is out of respect for Adam Yauch (MCA)'s last wishes that his music not be used for advertising.
That's noble but I smell marketing B.S. Goldieblox appear to have overplayed their hand here - though they got a lot of publicity they also generated a fair bit of controversy and ill-will. As the company is looking for additional financing that whiff of scandal is dangerous as it may scare off risk-averse investors.
That's amusing, but this is Copyfight so let's look at the legal issues involved. I like the summary Andy Baio posted yesterday, trying to put together what a layperson might understand about fair use and what it tells us about the misinformation that's swirling around. As Baio points out, fair use isn't even reliably well-defined in law; instead, it's a subjective judgment made in a courtroom based on a number of factors. Usually four factors are involved:


The purpose and character of the use


The nature of the work


The amount and substantiality of the portion used in relation to the work as a whole


The effect of the use on the market or potential market for the original work


This best standing precedent on fair use is Campbell vs Acuff-Rose Music, sometimes called "the 2 Live Crew case" because it concerned a song called "Pretty Woman" by them that was accused of infringing on Roy Orbison's classic "Oh Pretty Woman". In deciding that case unanimously, Justice Souter wrote that "the use of a copyrighted work to advertise a product, even in a parody, will be entitled to less indulgence". Thus even though SCOTUS applied the conventional four-part test of fair use, it ruled that an advertisement doesn't have the latitude that other works do, within the four-part test.
The EFF weighed in saying that Goldieblox would "win on the merits". And then there's the small matter of the fact that the melody for "Girls" was itself lifted by the Beasties, as Cory Doctorow pointed out on Boingboing. If the Beasties can't show ownership of the work then any derivative work from it - whether parody or not - cannot be said to harm them. The Beasties originally wrote "Girls" as a parody of the misogynistic lyrics that dominated rap music at the time
Keep in mind, though, that the Beasties (or rather their lawyers) do not appear to have been claiming harm. Their letter appears to have been an inquiry, in the "yo, what are you doing there" vein, and Goldieblox's retaliatory filing asking for summary judgment appears to be part of a carefully calculated marketing plan, at least as Felix Salmon sees it.
Salmon calls this the "cult of disruption" and fairly sneers at it, saying that Goldieblox appears to be "...daring the Beasties to rise to the bait and enjoin the fight" for the start-up's marketing plans. He calls Goldieblox "an entitled and well-lawyered Silicon Valley startup" and this is where I think he's got it right and the real problems arise. Goldieblox might well have won on the merits should this have gone to court, and I strongly agree with Baio when he calls for clearer directions, "helping draw the lines for what artists can or can't do." But I don't think Goldieblox ever cared about that. Merits or not, getting dragged into court would've been a serious hindrance to the company's marketing, financing, and growth plans and so they needed to avoid that.