AUTHORS
About this weblog
Here we'll explore the nexus of legal rulings, Capitol Hill policy-making, technical standards development, and technological innovation that creates -- and will recreate -- the networked world as we know it. Among the topics we'll touch on: intellectual property conflicts, technical architecture and innovation, the evolution of copyright, private vs. public interests in Net policy-making, lobbying and the law, and more.
Disclaimer: the opinions expressed in this weblog are those of the authors and not of their respective institutions.

Category Archives
Announcements | Big Thoughts »
September 25, 2015
I was away, then Copyfight went away. I think we're back now.
Comments (0) + TrackBacks (0) | Category: Announcements
May 26, 2015
Due to a series of personal setbacks I've rather let blogging fall off my priority list. Sorry about that. I will try to pick it up more. I've been doing this a long time and I remain dismayed by the trench warfare that the Copyright Wars have been in. But there's still news and I'll find some things to say about it.
Comments (0) + TrackBacks (0) | Category: Announcements
October 15, 2014
(They rejected me last year but I figure I can give them some publicity anyway.)
The Berkman Center is once again offering a 12-week online course in copyright law and policy. Applications are open as of this posting and accepted through Dec 15. Here's the online application starter page.
The course itself will run Jan 26-April 25 with a final exam on April 30.
Comments (0) + TrackBacks (0) | Category: Announcements
March 13, 2014
At some point in trying to clear out the backlog of 22,000 or so spam comments it appears that over a year's worth of legitimate published comments vanished. I'm not sure if this was me screwing up, a site malfunction, or what. I also don't know if the comments can be recovered; I've sent a request to Corante administrators for help. If your comment was among the lost, I apologize.
Comments (0) + TrackBacks (0) | Category: Announcements
February 11, 2014
We're getting comment-bombed again. It's been going on for a couple days. I'm cleaning up as best I can, but we might have to turn off comments for a day or two 'till this passes.
Update: the automated filters are catching 99% of the spam. But we're getting 2-4/minute so some are going to slip through. Also, hitting the 'delete' button is not my paying job so please be patient.
Comments (0) + TrackBacks (0) | Category: Announcements
September 20, 2013
We are getting utterly bombed by comment spam lately. For some reason we've gotten onto lists of blogs-to-hit for Asian languages, Russian, and now French. WTF.
I'm cleaning up as I can and the auto-filters are catching most of it.
Comments (0) + TrackBacks (0) | Category: Announcements
May 6, 2013
The site got knocked offline by a barrage of spam comments. Thanks to Hylton and the Corante staff for cleaning up the mess and getting us moving again. There are two entries now published that were from May 3rd and I'll work on clearing the backlog tomorrow and the rest of this week.
Comments (0) + TrackBacks (0) | Category: Announcements
January 17, 2013
I'll be offline for Arisia from tomorrow through Monday. Don't burn down the house while I'm gone. There won't be any IP panels at the convention this year; their popularity has always been low. I'll be busy nonetheless.
If you're there and see me please stop me and say hi. If I don't already know you please let me know you read the blog; I like to meet readers. If not, I'll be back to writing here next week.
Comments (0) + TrackBacks (0) | Category: Announcements
December 3, 2012
Comments (0) + TrackBacks (0) | Category: Announcements
May 2, 2012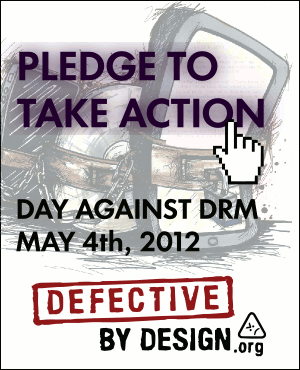 A couple of Copyfight readers pointed me to
Defective By Design's "Day Against DRM" scheduled for May 4th
, a subsidiary of the Free Software Foundation.
Last year the event attracted little media attention (see PCWorld's coverage from that day) and, sadly, it appears that little notice will be given again this year.
As the site notes, there has been slow progress on the de-DRM-ing fronts of the past. In particular, much more music is available for download unencumbered now than in the past. But the new fronts that have opened up - particularly ebooks and streaming music/video - remain badly broken and un-free for legal, private uses because of DRM.
DRM is bad business, and bad user experience. Let's get some attention on the need to make it part of the past.
Comments (0) + TrackBacks (0) | Category: Announcements
March 23, 2012
The Comic Book Legal Defense Fund (CBLDF) sent me a press release about
its latest online guides for international travelers
.
If you think that traveling with comics (or manga) isn't a big deal then you haven't been following the news these past few years. People have been stopped, denied entry, had their possessions searched and seized, and even been brought to trial over these kinds of materials. The rights you may have in your home country (particularly if you live in the US or Japan) may be very different from the rights you have on entering another country, even a democratic nation such as Canada or an EU member state.
The CBLDF page contains a set of links to guides on four specific topics, covering comic art, pornographic anime/manga, electronic devices, and US border privacy. Each is worth a read and as always if you have questions make sure you talk to a lawyer - these are advisory notices based on experience, not legal guidance.
Comments (0) + TrackBacks (0) | Category: Announcements
March 19, 2012
Casey Rae-Hunter of the Future of Music Coalition sent me an announcement of the FMC's case study publications.
For these studies, the FMC worked in depth with five people in the industry who make their living full-time with music. Using data provided by the professionals, the FMC then graphed and wrote up explanations of how money flowed in, from where, etc. As with any case study the results aren't necessarily broadly interpretable but it's nice to have some detailed data to go with the more general surveys we usually see.
Comments (0) + TrackBacks (0) | Category: Announcements
March 14, 2012
Copyfight reader Mike Schroeder sent me the press release for
Aereo's
official launch today (March 14). You may recall I mentioned
the impending lawsuits by broadcasters intended to shut down Aereo before it ever got going
. The suits don't seem to have stopped or dampened anything.
The live launch includes a "90 days free" enticement, but is limited to web-enabled iOS devices only. They promise Android support "coming soon". 20 channels, 40 hours of DVR storage, and the ability to use the service on up to 5 devices.
Contrary to my initial impression the customer doesn't buy an Aereo antenna - instead they connect to the company's antennas over the Web, with no new physical devices in or on the consumer's home. In addition, you don't have to install a new app - apparently you can connect using the built-in iOS media-viewing software. After the 90-free, the service costs USD 12/month and is geographically limited to New York television marketplace. It's not clear from the press release if that means the physical limits of the city or whether it'll be available to people outside the area who can receive New York City broadcast channels (about half of New Jersey and Connecticut I believe).
If anyone tries out the service please do leave a comment with your impressions.
Comments (0) + TrackBacks (0) | Category: Announcements
March 5, 2012
As I've noted in past blog entries, I work in my day job as an interaction designer. One of the respected younger voices in my field is
Jon Kolko
. He's a designer, a teacher, and someone who believes in the free exchange of ideas. Recently he announced
his latest book Wicked Problems Worth Solving, which is available for free as HTML, for pay-what-you-want in digital download format, and for USD 45 in hardcopy through CreateSpace
.
The entire contents of the book are available in DRM-free format under Creative Commons licensing that permits reuse and adaptation. I've been interested in wicked problems since listening to Horst Rittel describe them in a 1986 talk. These problems are particularly hard to solve, not least because they tend to be unique and because how you define a wicked problem already starts to change the problem. One of the things that makes Kolko interesting is that he doesn't shy away from the tough stuff. This book should be great reading.
Comments (0) + TrackBacks (0) | Category: Announcements
February 13, 2012
I've done something I rarely do: I've gone back and re-edited the entry from the 10th on "How Should We Enforce Patents?"
I realized the version that got posted was poorly edited to the point of near-incoherence. Hopefully this version is clearer. I have not changed the intent or links of the posting, just cleaned up the middle paragraph.
I apologize for the crap posting and will try to be better about self-editing.
Comments (0) + TrackBacks (0) | Category: Announcements
January 27, 2012



Copyfight spent a lot of time in 2010 talking about remix culture. But even though the remix has now thoroughly soaked into the social consciousness it still needs legal reforms and exemptions to support it.
Boingboing pointed me to "Rip. Mix. Make" an online petition to the US Copyright Office. The petition is organized by Kirby Ferguson, known for "Everything is a Remix", and the EFF. The petition is approaching 2000 public signatures as I write this, and needs more voices to be heard.
The target of the petition is the Copyright Office's existing (but about to expire) exemptions allowing creators to break DVD encryption in order to sample video clips, and also a forward-looking request asking the Office to approve a parallel set of exemptions for "Internet videos" which would include online vids, streamed content, and other content that just happens not to have been burned down to a specific plastic platter.
One item that is included in this petition but that hasn't been talked about much is the importance of this sort of remixing as political statement and for teaching. From the Arab Spring to #Occupy, a tremendous amount of political action and information has been released solely in Internet video form. Anyone who wants to assemble any sort of educational, critical, or political-statement material on these topics will inevitably have to rely on these videos. I think it's extremely important that these forms of education and action not be barred by copyright laws that are lagging the times. I hope you agree and will join me in signing.
Comments (0) + TrackBacks (0) | Category: Announcements
January 19, 2012
I have several things I've been holding off blogging. Between being away at Arisia, catching up afterward, and skipping posting yesterday in support of the anti-SOPA/PIPA protests (you did call your Congresscritters, right?). Also, we're getting spam-comment bombed lately, which is dragging on the servers. The auto-filters catch a lot of them, but not all. Apologies in advance - I will clean things up ASAP.
Comments (0) + TrackBacks (0) | Category: Announcements
August 8, 2011
As of yesterday my profile on Google+ has been suspended. No warning was given (contrary to their written policy). I was suspended because I was participating in the "I am Spartacus" support effort.
If you were one of the readers who followed me there, I'm sorry. This blog and its standard RSS feed should continue to function just as well as before.
My suspension and Google's fight against 'nymity are not really Copyfight-relevant so I won't spend any more cycles here on it, but I do recommend you read what danah boyd has to say on this topic. In my opinion hers is hands-down the best commentary on this, from someone who has spent her career in the social networking area:
"Designing for Social Norms (or How Not to Create Angry Mobs)"
and
"Real Names" Policies Are an Abuse of Power
Comments (1) + TrackBacks (0) | Category: Announcements
June 22, 2011
I have no affiliation with Exquisite Corpse, but I've been asked to pass on this announcement which sounds pretty cool, so:
Exquisite Corpse is seeking artists interested in collaborative works for a curated show in Chicago this fall. The application deadline is Wednesday, July 20 and you can find both the artist application and instructions over at the artistsonthelam blog.
Artists will work collaboratively in groups of 3 or so on pieces for the exhibition.
Comments (0) + TrackBacks (0) | Category: Announcements
April 28, 2011
Comments (0) + TrackBacks (0) | Category: Announcements
October 14, 2010
Comments (0) + TrackBacks (0) | Category: Announcements
Long-time Copyfight reader Eric Anderson has been working for years on the history of copyright within the U.S. with a particular focus on the 19th century. He recently sent me a note to let everyone know that he's put his book Pimps and Ferrets: Copyright and Culture in the United States, 1831-1891 up on archive.org under a Creative Commons license that makes it free for non-commercial use.
On a personal note, Eric mentioned that he's left academia and we wish him well in all his future endeavors.
Comments (0) + TrackBacks (0) | Category: Announcements
June 5, 2010
I have what I consider to be a very loose policy on what I'll accept for comments. Opinions are not censored and I certainly have no problem with people telling me I'm wrong. If you want to advertise your event or publication, please send me a mail and I'll look at it.
That said, if you are going to leave a comment it should be related to the subject matter of the post, or the issues raised by the post or of concern to the blog and its readers. I interpret intellectual property pretty liberally, and I'm often concerned with the related areas such as business policy and social implications.
Please don't use the comments area to promote your product, service, book, blog, all-singing, all-dancing whatever. Thank you.
Comments (0) + TrackBacks (0) | Category: Announcements
May 28, 2009
And by "free" we mean both "Creative Commons licensed for free use" and "free of Cartel propaganda." Nice combo. Here are some excerpts from
the press release they sent
:
Last week, the Copyright Alliance Education Foundation -- a nonprofit mouthpiece for the entertainment and software industries -- unveiled plans to spread its protectionist ideas to the nation's schools and libraries through the distribution of a curriculum titled "Think First, Copy Later." "Think First, Copy Later" and other intimidating educational materials were produced by the MPAA, RIAA, Business Software Alliance, and other content holders to scare students into believing that making copies is wrong.
Apparently "Just Say No" is still taken. Bummer.
[C]reators and innovators of tomorrow don't need more intimidation. What they need is solid, accurate information that will help them make smart choices about how to use new technologies. That's why EFF is launching the free, Creative Commons-licensed "Teaching Copyright" curriculum and website to help educators explore copyright issues in their classrooms. These materials encourage students to discover their legal rights and responsibilities — including how to make full and fair use of technology that is revolutionizing learning and the exchange of information.
Back when I wrote about teaching new design/art forms such as mash-ups,
a teacher named
Melanie McBride
replied, outlining some of the problems educators face today in conveying these rapidly changing ideas in a classroom setting, with all of its external constraints. I hope she and other educators will find and make use of these materials.
The debates over copyright and technology -- whether they take place in classrooms, pressrooms or courtrooms -- should be based on facts, not fear.
What a concept.
Comments (0) + TrackBacks (0) | Category: Announcements
January 8, 2008
Shared-world writing has been around a long time. Whether it's someone writing a Sherlock Holmes story long after Doyle's death, or a co-created world like Robert Asprin's Thieves World in which authors cooperate on characters and settings, it's been done. And, honestly it's probably been done on the 'Net before, though I couldn't find any professional examples in my quick search.
Now comes "Shadow Unit". Originally the brainchild of Emma Bull, the writing crew also includes Elizabeth Bear, Will Shetterly, and Sarah Monette. Bear explains the concept in her LJ posting as "...the website for a serial drama in internet form. Or possibly it's a fan site for a TV show that doesn't exist. "
What makes this interesting to me from a Copyfight point of view is the plan to include a variety of materials with a variety of revenue models. Some things will be free; some will be subscription. I imagine some things will be direct sales. it will be interesting to see how readers respond to this kind of experimentation and whether the model is picked up or expanded on. I'll probably blog updates now and then if significant things happen; bookmark the site itself if you want to see first-hand.
Comments (2) + TrackBacks (0) | Category: Announcements
November 15, 2007
Copyfight reader Eric Anderson wrote to tell me that he's put his dissertation online under a Creative Commons license. The topic is "Copyright and Culture in the United States, 1831-1891."
The work (which I confess I haven't read yet, at 231 pages) may some day appear as a book but is free to read online now. I'll let Eric speak for himself:
Although generally forgotten today, the nineteenth century US was absolutely rife with copyright-related controversy and excitement, including international squabbling, celebrity grandstanding, new technology, corporate exploitation, and ferocious arguments about piracy, reprinting, and the effects of copyright law.

Then, as now, copyright was very important to a small group of people (e.g. authors and publishers), and slightly important to larger groups (e.g. consumers and readers). However, these various larger groups did have definite ideas about copyright, its function, and its purpose. Many of these ideas are relevant today.
If other readers are doing scholastic work on copyfight-related issues please do send me info and links.
Comments (1) + TrackBacks (0) | Category: Announcements
March 16, 2006
The University of Michigan Press is looking for a few good tech-bytes -- to include in a book of the year's best technology writing. They've launched an open call for nominations, inviting suggestions for the best articles, essays, and blog posts of 2005. These are clueful publishers -- instead of suing Google, they're working to enhance the visibility of their authors on-line and off-.
Here's a chance to pull together the explanations of technology and its celebrations and criticisms; pieces that sparked an "Aha!" or a good laugh. Since it's planned for both print and online publication, it's also a chance to bring the blog-world to those who read only dead trees. I'll be helping to read the nominated pieces, so I hope you'll help by suggesting some good ones.
Taking a cue from the open-source movement, we're asking readers to nominate their favorite tech-oriented articles, essays, and blog posts from the previous year. The competition is open to any and every technology topic--biotech, information technology, gadgetry, tech policy, Silicon Valley, and software engineering are all fair game. But the pieces that have the best chances of inclusion in the anthology will conform to these three simple guidelines:

They'll be engagingly written for a mass audience; if the article requires a doctorate to appreciate, it's probably not up our alley. Preference will be given to narrative features and profiles, "Big Think" op-eds that make sense, investigative journalism, sharp art and design criticism, intelligent policy analysis, and heartfelt personal essays.
They'll be no longer than 5,000 words.
They'll explore how technological progress is reshaping our world.
If you have a favorite, head over to digitalculture.org to send your suggestions.
Comments (0) + TrackBacks (0) | Category: Announcements
March 15, 2006
Duke Law School's Center for the Study of the Public Domain has createded Bound by Law?, a comic book on copyright and creativity specifically as it applies to documentary film. It is being published today (March 15) under a Creative Commons License. The comic, by Keith Aoki, James Boyle and Jennifer Jenkins explores the benefits of copyright in a digital age, but also the threats to cultural history posed by a "permissions culture," and the erosion of fair use and the public domain. You can read or download the whole thing for free at http://www.law.duke.edu/cspd/comics/ and hard copies are on sale at Amazon
The book is non-profit, with any proceeds going towards recovering the costs of publication and funding more academic work in the field.
Comments (0) + TrackBacks (0) | Category: Announcements
January 29, 2006
It's nice when someone you're proud to know joins an organization you're proud to support. Derek Slater, whose excellent blog is among the top resources for commentary and analysis of digital copyright issues, has just joined the Electronic Frontier Foundation (EFF), where he'll continue to bring his prodigious energy and incisive, balanced perspective to the copyfight.
I've had the pleasure of working with Derek both at the Berkman Center for Internet & Society and at EFF, and I could not be more delighted to know even more people will be tuning in to hear what he has to say. Bravo to EFF, and congratulations, Derek!
Comments (0) + TrackBacks (0) | Category: Announcements
December 9, 2005
In response to a few kind inquiries from readers about my blog-trumping life transitions: I've been largely absent from Copyfight lately because I've just started a new temporary job: writing for Google. I'm there because Google is in the position to do tremendous good for the future of the networked world, and I want to help keep fair use alive and defend our ability to access, explore, and understand our shared culture and past. As a society, we're catching glimpses of a new era -- one where you won't need a verified, tuition-paid university ID to discover and search through the books that generations of librarians and scholars have collected for all of us. Google isn't alone; individuals, nonprofit organizations, and other companies are all working to realize various aspects of this collective dream. It's my hope that we won't have to stop at glimpses.
[Standard disclaimer, in case you missed it over there on the left: the opinions I express here are my own and not Google's; direct any responses to me.]
Comments (5) + TrackBacks (0) | Category: Announcements
November 28, 2005
Comments (1) + TrackBacks (0) | Category: Announcements
November 15, 2005
According to Edward Felten and Alex Halderman, it's dangerous:


Under at least some circumstances, running Sony's Web-based uninstaller opens a huge security hole on your computer. We have a working demonstration exploit.

We are working furiously to nail down the details and will report our results here as soon as we can.

Update:
According to USA Today
, Sony, which now says it "deeply regrets any inconvenience" people may have suffered, has decided to recall the infected CDs and will offer exchanges. Ed and Alex
hope
the plan includes doing what Sony
ought to have done long ago
: providing people with an easy-to-get clean-up tool that doesn't further damage their computers.
Update #2: EFF's open letter to Sony-BMG, which lists eight ways the company ought to make amends to its customers by Friday morning at 9:00 a.m. -- after which, presumably, the suggestions will become more than that.
Update #3: Security Fix: Researcher: Sony DRM on Half a Million Networks: "'It's funny, because the last time we saw these kinds of infection rates, they were because of bugs in [Microsoft] Windows that were later patched,' [security researcher Dan Kaminsky] said. 'But Sony's patch actually deploys new flaws.'"
Update #4: Wired: Sony Numbers Add Up to Trouble: "The results have surprised Kaminsky himself: 568,200 DNS servers knew about the Sony addresses. With no other reason for people to visit them, that points to one or more computers behind those DNS servers that are Sony-compromised. That's one in six DNS servers, across a statistical sampling of one third of the 9 million DNS servers Kaminsky estimates are on the net.
The damage spans 165 countries, with the top five countries being Spain, the Netherlands, Great Britain, the United States and Japan, which, with over 217,000 DNS servers reporting knowledge of Sony-related addresses, takes the top spot."
Update #5: Sony-BMG: "We currently are working on a new tool to uninstall First4Internet XCP software. In the meantime, we have temporarily suspended distribution of the existing uninstall tool for this software. We encourage you to return to this site over the next few days. Thank you for your patience and understanding."
Comments (2) + TrackBacks (0) | Category: Announcements
September 14, 2005
I can't be here this week, but I'll be back & blogging as usual starting Monday morning (Sept. 19th). In the meantime, check out the blogs to your left listed under "copyfighters" -- especially the following, which are consistently at the top of my list for copyfight-related news & analysis:

[Post script: Also terrific but more wide-ranging in terms of subject matter:
Sivacracy
and
BoingBoing
.]
Comments (0) + TrackBacks (0) | Category: Announcements
August 25, 2005
Want to kick legal butt for the open source/free software community? Check out this new position at the Software Freedom Law Center, run by FSF's Eben Moglan and PubPat's Dan Ravicher:
STAFF ATTORNEY - SOFTWARE AND CORPORATE LAW

The Software Freedom Law Center, a newly formed not-for-profit legal
services organization that provides legal representation and other law
related services to protect and advance Free and Open Source Software,
seeks an experienced and entrepreneurial Staff Attorney with a strong
background in software for its New York headquarters. For more
information about SFLC visit www.softwarefreedom.org.
Comments (2) + TrackBacks (0) | Category: Announcements
August 11, 2005
The winners of the EFF Blog-a-thon have now been announced -- congratulations, IO Error (Most Inspiring), clash (Most Humorous), and Laura Crossett (Best Overall)!
There were a quite a few excellent posts; if you check out the links embedded in the opening paragraph of the announcement, you'll find an extra handful of top contenders. Here's one of my personal favorites -- an entry that Copyfight readers will especially appreciate:


Mockingbirds Must Be Free to Sing: "For me, [the copyfight] means continuing to assert, even if none will listen, that the freedom to draw from shared fountain of musical and literary expression of the past -- known to lawyers as the public domain, or the works that are publici juris -- is a freedom that exists, and ought to exist as a matter of right, and that needs no justification. It is the monopoly restrictions that the law builds by taking away parts of this freedom from us--the so-called copyright laws--that need to justify themselves over and over again, and to be kept within reasonable limits by a watchful public."

Comments (4) + TrackBacks (0) | Category: Announcements
August 10, 2005
Derek Slater has the scoop on a new counter-propaganda campaign tailor-made for copyfighters:


Never afraid to reach new heights on the unintentional comedy scale, Microsoft UK debuted its Thought Thieves film competition in May. Microsoft called for original videos "about people stealing the ideas in your head" [PDF] and "intellectual property theft."

To counter this misleading campaign, a few good souls "stole" the idea and started the Thought Thieve$ film competition "about big companies stealing and profiting from the knowledge commons."

Think about it: how would you feel if you saw your cultural traditions, collective creativity, thousands-year-old seed strains, indigenous medicinal knowledge, or even your very genetic code being passed off as the property of some multinational corporation? What would you do?
More information on the competition is available
here
. As Derek says, feel free to "steal" the info and pass it along.
Update: previous Copyfight coverage: In the "Are You S***ting Me?" Category
Comments (2) + TrackBacks (0) | Category: Announcements
August 1, 2005
From the producers of "Grokster/BrandX" comes a MobBlog that will keep you hovering over your laptop from start to finish, never letting up on the tension until you decide that you, too, must join the discussion. Featuring Fred von Lohmann as a man who must come to grips with legal and technological forces beyond his control, "Measuring the DMCA Against the Darknet" opens Internet-wide on August 15.
Comments (0) + TrackBacks (0) | Category: Announcements
July 25, 2005
Excited to blog your click moment but can't get to it by Tuesday? Never fear, fair copyfighter, EFF has decided to extend the deadline for its Blog-a-thon by a week until August 2.

Blog-a-thon tag:
EFF15

Comments (0) + TrackBacks (0) | Category: Announcements
July 19, 2005
For the past 15 years, EFF has been fighting to preserve the constitutional right to freedom of expression on the Internet. Founded to protect publisher Steve Jackson Games when its servers were seized, EFF has grown as new technologies -- such as weblogs -- gave citizens their own First Amendment machines.
To celebrate its 15th anniversary this month, EFF is putting these distributed Gutenbergs front and center, holding a weeklong EFF15 Blog-a-thon where you're invited to blog about your personal experiences fighting for freedom online — a project that will celebrate new publishing tools, attract new EFF members, and mark the 15th all at once.
From EFF's Announcement: We want to hear about your "click moment" — the very first step you to took to stand up for your digital rights -- whether it was blogging about an issue you care about, participating in a demonstration, writing your representatives, or getting involved with EFF. As a thank you, we've enlisted an independent panel of judges to choose from among your posts for "Most Inspirational," "Most Humorous," and "Best Overall." At the end of the Blog-a-thon, we'll announce the names of the three bloggers with the best posts on our website and in our weekly newsletter, EFFector. We'll also publish the three best posts on our site and send the authors a blogging "kit" as an extra thank you: an EFF bloggers' rights T-shirt, special EFF-branded blogger pajama pants, a pound of coffee, and a pair of fuzzy slippers.
Tell us why you became a copyfighter! Visit EFF's blogathon for more info about participating in and following the posts.
Comments (0) + TrackBacks (0) | Category: Announcements
June 22, 2005
On Monday I noted that EFF was warning the public about Hollywood trying to sneak the Broadcast Flag through the Senate as part of an appropriations bill (Broadcast Flag to Sneak Through Senate Tomorrow?!?).
We now have an update from EFF: Flag Day
At the beginning of this week, we learned that a Broadcast Flag amendment might slip past the gates in an appropriations bill. It's easy to see how this could happen. Despite strong opposition to the flag in the Internet community, in many circles it's still considered "non-controversial."

But that was Monday evening.

Within the space of a few hours, the committee was Slashdotted, BoingBoinged and Instalanched.

By 6 p.m. on Tuesday, the 27 members of the Senate Appropriations Committee received more than 11,000 emails and faxes. That's nearly 500 faxes an hour. Dianne Feinstein alone received more than 2,600 messages in her inbox. Kay Hutchison, the senior senator for Texas, received 1,441 letters. [emphasis, links in original]
However, it ain't over til it's over. Read the whole thing ... and if you haven't already,
TAKE ACTION
.
Comments (0) + TrackBacks (0) | Category: Announcements
June 16, 2005
This is relatively old news, but we haven't shared it yet with Copyfight readers: the Berkman Center's Jonathan Zittrain is headed to Oxford to lead its Oxford Internet Institute (OII). I'm very proud and happy for him -- and it's very smart move (natch) on Oxford's part. Thankfully, the Berkman Center isn't losing him entirely:


He will coordinate a significant research and teaching relationship between the two centres, and become the Berkman Visiting Professor at Harvard. His recent research includes the study of Internet filtering by national governments, the role of intermediaries as points of control in Internet architecture, and the taxation of Internet commerce.

Bravo, Jonathan.
Comments (0) + TrackBacks (0) | Category: Announcements
June 6, 2005
Remember when Larry Lessig signed away his copyright in an article to a law review and vowed never to do it again (Never Again)? He has since been throwing his weight behind efforts to make legal scholarship open to all -- including a brand-new project that Science Commons announced today: the Open Access Law Program:


Professor Lessig is the first signatory on the Open Access Law Author Pledge, where law professors can agree to support open access principles. This support includes encouraging journals to become open access and promising to publish only in journals that are open access.

Through its Open Access Law Program, Science Commons will work with law schools, authors, libraries and journals to encourage open access to legal journals and articles, and plans to expand the Program into other areas of law publishing. Although the program's initial focus is on legal publishing in the United States, Science Commons is also supporting international efforts to make legal material freely available to all.

Much more about the new program and its goals,
here
. (Thanks,
John
!)
Update: Ernie Miller responds: "[Why] not simply have the journals that do sign publish the works directly, if the authors have similarly signed, into an Open Access Repository at the end of the limited exclusive license, rather than leave it up to the authors? And why no call on OAL Journals to proselytize Creative Commons to its authors?"
Comments (2) + TrackBacks (0) | Category: Announcements
We're very excited to welcome veteran journalist, author, and consultant JD Lasica to Copyfight as part of his virtual book tour for Darknet: Hollywood's War Against the Digital Generation. The book has just been released by John Wiley & Sons, and JD has been featuring tasty bits over at the Darknet blog -- including a previously embargoed 2003 interview with former ReplayTV CTO Andy Wolfe, who tells us what Hollywood was really after in the legal battle that killed the company:


[The Hollywood studios] essentially wanted to control what anyone could record on TV. They wanted sole discretion over how long you could keep a show after you recorded it. They wanted to limit how many episodes of the same show you could record. They wanted to ban thirty-second skip buttons and to prevent fast forward from reaching a certain speed.

(The continued push for the Broadcast Flag, on the other hand, is about...stopping copyright infringment and, uhm, "speeding" the DTV transition -- never mind that Congressman Joe Barton
doesn't want it
slowing down
his DTV transition bill.)
In addition to writing Darknet, JD has been hard at work co-founding and sheparding the ambitious OurMedia project; check out the IT Conversations interview for an in-depth look.
Suffice it to say that JD has been doing a lot of thinking (and doing) about the issues we address here every day, and we're honored to have him as a guest author through Wednesday of this week (June 8th). Welcome aboard, JD!
Comments (0) + TrackBacks (0) | Category: Announcements
May 2, 2005
What else could you say to the news that NTK's razor-sharp Danny O' Brien has joined EFF and will be helming miniLinks?
Comments (1) + TrackBacks (0) | Category: Announcements
April 12, 2005
Seen first in Susie Bright's blog and today there's a nice AP obit (here on WIRED). Copyfighters may remember her best as the woman who tried (and lost) a case to prevent Hustler from using her name in association with sexually explicit caricatures. I didn't agree with her, or her writings, but I was made to be more thoughtful by having to argue against her attempts to legislate her views. I'll let this quote from Gloria Steinem stand in closing: "In every century, there are a handful of writers who help the human race to evolve. Andrea is one of them."
Comments (0) + TrackBacks (0) | Category: Announcements
April 7, 2005
EFF (hyperlinks, mine): "This year's winners, nominated by the public and selected by a panel of independent judges, are entrepreneur and EFF co-founder Mitch Kapor, Princeton University computer science professor Edward Felten, and human rights activist Patrick Ball."
Update:Although they are called EFF Pioneer Awards, EFF does not pick the Pioneer Award winners; they are, as we noted in the press release, nominated by the public and chosen by an independent panel of judges. Everyone except for the current EFF staff and the board is eligible -- meaning that if some day, you want to nominate Robin Gross of IP Justice, you are free to do so -- even if she once worked for EFF. This explains why Mitch Kapor won a very well-deserved EFF Pioneer Award this year. The public nominated him and the independent panel voted for him -- and we couldn't be more proud.
Comments (1) + TrackBacks (0) | Category: Announcements
April 6, 2005
Comments (2) + TrackBacks (0) | Category: Announcements
April 2, 2005
True cause for celebration: Walt Crawford of the consistently excellent Cites & Insights has joined the blogosphere.
For a taste of Crawford in action, here he is analyzing the FCC's reply brief in ALA v. FCC -- that is, the legal challenge to the broadcast flag technology mandate:


I've gone through the 45-page FCC response (also available from the EFF site). All I see is a series of "Did not!" responses. The brief includes demonstrably false statements, assumes that the bluff issued by Viacom and others is legitimate and the basis for dramatically overstepping the FCC's bounds, and nonsensically claims that the broadcast flag "protect[s] the integrity of broadcast digital transmissions" although it has nothing to do with broadcast quality or integrity. The brief is as breathtaking in its assertion of boundless FCC power as it is dulling in its lack of legitimate evidence or serious counter-argument.

Very exciting.
In other bloggy news, three developments I wanted to blog about this past week but couldn't (Grokster + EFFector + extremely silly EFFector in one week = no time):



In case you were wondering, Between Lawyers is really fun -- not much of a surprise, especially considering that we have the witty, intelligent Denise and Marty combining (what else but) wit and intelligence.

As previously noted, the Induce Act Blog is covering much more than the Induce Act (which shall return in a form we can't now predict), and doing so beautifully. It can only get better with the smart addition of EEJD's Brandon Rash.

Comments (4) + TrackBacks (0) | Category: Announcements
March 22, 2005
Lauren Gelman sends word of "Cyberlaw in the Supreme Court," an Grokster-night event that nicely frames what's at stake in the Grokster and "Brand X" cases, both of which will be heard before the Court only one week from today:


On March 29, 2005, the US Supreme Court will hear arguments in two cases that together will greatly determine how government can and will regulate the Internet in the future, and the impact that the public interest will have on the development of cyberlaw over the next decade.

In MGM v. Grokster, the Court will decide whether copyright holders can veto consumer electronics and computing innovations that upset the content industries' prevailing business models, even where the technology's non-infringing uses provide substantial benefits to consumers. The question is whether consumer demand for new and better products will drive technological development, or copyright owners' demand for control will retard it.

In Brand X v. FCC, the Court will decide whether the FCC should retain the option to regulate cable modem services to promote open access to broadband lines, universal service and network neutrality, as it did in the early days of the Internet when most people connected over common-carrier telephone lines. The question is whether tomorrow's communications services will be defined by citizen choices or by the business interests of a handful of cable broadband companies.

Bonus: Michael Madison's
On Grokster and Brand X
.
Comments (0) + TrackBacks (0) | Category: Announcements
March 10, 2005
To help gear up for the MGM v. Grokster oral argument happening on March 29 in D.C., EFF is throwing a "send off" party for the legal team involved in the case, along with many of our friends who filed in support of our arguments or helped out in other ways. It's a public party and a time to celebrate, so if you'll be in the SF area on March 24th, please come and celebrate with us.
MGM v. Grokster Send-Off Party
1751 Social Club (1751 Fulton Street, SF, CA 94117)
Thursday, March 24 @ 8pm
Driving Directions
Comments (0) + TrackBacks (0) | Category: Announcements
March 7, 2005
Here. This has been a service of the copyfight blogging network.
Comments (0) + TrackBacks (0) | Category: Announcements
March 4, 2005
Lawyers:
Ever dreamed of battling the Broadcast Flag, defending P2P, busting bad patents, or fighting for fair use on the Web?
Here's your chance. EFF has an opening for an intellectual property attorney on our legal team. You'd get to work on cutting-edge cases dealing with public-interest technology issues and help shape national and international IP policy. We're looking for someone mid-level or higher, who can take a good idea and turn it into a lawsuit or an educational campaign and then run with it. The person will need to either live in the San Francisco Bay Area or be willing to relocate. For more details, check out the formal announcement below:


--------
Staff Intellectual Property Attorney

EFF is seeking an intellectual property staff attorney for its legal team. Responsibilities will include litigation, public speaking, media outreach, plus legislative and regulatory advocacy, all in connection with a variety of intellectual property and high technology matters.

Qualified candidates should have roughly three years of experience with litigation in at least one substantive area of IP law (patent, copyright, trademark, or trade secret) and a solid knowledge of the litigation process. Candidates should also have significant experience managing cases, both in terms of overall case strategy as well as day-to-day projects and deadlines. Candidates should have good communication skills and interest in working with a team of highly motivated lawyers and activists in a hard-working nonprofit environment. Strong writing and analytical skills as well as the ability to be self-motivated and focused are essential. Tech savviness and familiarity with Internet civil liberties and high tech public interest issues preferred.

Interested applicants should submit a resume, writing sample, and references to ipjob--at--eff(dot)org.

Comments (2) + TrackBacks (0) | Category: Announcements
February 18, 2005
Here [PDF] are some very bright ideas that you can download to your desktop. Also available for purchase in bright, shiny new hardcover:


(Via Larry Lessig.)
Comments (1) + TrackBacks (0) | Category: Announcements
February 15, 2005
Local gadgethounds who've been following the conversation about endangered gizmos are hereby invited to come hang out with Copyfight's Wendy Seltzer and others at the next BayFF event on Tuesday, February 22nd in downtown San Francisco:



Comments (0) + TrackBacks (0) | Category: Announcements
January 26, 2005
Today we are very excited to welcome Alan Wexelblat to Copyfight. Some of you may know Alan as "Dr. Wex" from Blogbook IP -- where he's a frequent, incisive critic of the copyright cartel -- but he's been a commentator on the copyright wars since 1998. In his day job, Alan works as a Senior Staff Human Factors Engineer for EMC-Legato and runs HOVIR, an independent consultancy that provides usability, human factors, and project management services. He is a member of Usability Professionals Association (UPA) and Vice President of Operations for ACM SIGCHI (Special Interest Group on Human-Computer Interaction). Alan's background includes a PhD from the MIT Media Lab and 20 years of work in the computer industry.
Welcome aboard, Alan!
Comments (0) + TrackBacks (0) | Category: Announcements
David Bollier sends word about (another) conference on creativity and originality -- specifically, the fashion industry's embrace of sampling, appropriation, and borrowed inspiration:


I thought you might be interested in "Ready to Share," a conference about the ownership of creativity in fashion, to be held this Saturday at the Norman Lear Center at the USC Annenberg School for Communication. The one-day event will explore how most of the creative output in fashion cannot be owned and, indeed, how creative appropriation and derivation is the norm. Yet fashion still serves up plenty of originality and is a creatively robust, competitive global industry. A webcast will be available. Details and other contact information can be found...at www.readytoshare.org.

Comments (0) + TrackBacks (0) | Category: Announcements
January 14, 2005
Comments (1) + TrackBacks (0) | Category: Announcements
December 20, 2004
Have a safe and peaceful holiday, everyone.
Comments (1) + TrackBacks (0) | Category: Announcements
August 4, 2004
Comments (2) + TrackBacks (0) | Category: Announcements
July 22, 2004
Comments (0) + TrackBacks (0) | Category: Announcements
May 4, 2004
Copyfight has noted the proposed Broadcast Flag Treaty before (Broadcast Flag, Supersized), which would not only internationalize the broadcast flag, but create a whole passel of new "rights" for broadcasters that come at the expensive of citizens and the public domain. See my short analysis here: The Broadcast Flag Treaty - Draft Available.
Now, the Union for the Public Domain has stepped up to challenge the treaty internationally. Right now, they are calling for volunteers to perform an international survey of government support for the proposed draft treaty (WIPO Broadcasting Treaty National Survey):
The free exchange of knowledge and information enabled by the public domain is being threatened by proposals in many international forums, including the World Intellectual Property Organization (WIPO). One of the major difficulties of protecting the public domain against these threats is that the positions of national representatives in these international forums are unknown, even to citizens of the country they represent. We want to change that.
This questionnaire is being used by volunteers to collect information about national positions on the proposed WIPO Broadcasting Treaty. The results you collect will be posted on the Web so that citizens in your country and around the world can act appropriately to protect the public domain.
The questionnaire makes it quite easy for volunteers to send mail or email queries to their governments, or even conduct an interview over the phone. Go to it!
Comments (0) + TrackBacks (0) | Category: Announcements
April 2, 2004
EFF, home to 3 of Copyfight's bloggers, has launched two new blogs: EFF Deep Links and EFF Mini Links. Deep Links is described as:
... a group weblog featuring pointers to news articles and weblog posts that spark the interest of EFF staff members. We aim to provide a bit of on-the-fly commentary to help contextualize issues, as well as links to useful background resources.
The topics we'll be exploring include intellectual property, privacy, free speech on the Net, technology and Internet architecture. The central questions driving these explorations: How does a particular development affect our rights? And how will it impact our future?
Mini Links is "a byte-sized companion to Deep Links."
Both have RSS feeds, of course, and there is already some quite good content on the sites, including this bit of history from Fred von Lohmann, The Wicked Player Piano, pointing out John Philip Sousa's misguided support for a copyright bill that would have given copyright owners monopoly power over player pianos and anything that reproduced sound.
Comments (0) + TrackBacks (0) | Category: Announcements
March 29, 2004
Can anyone become a mobile radio station?
The answer, according to tunA is an enthusiastic "yes"! I apparently missed the news of this fascinating new software application when it first became public late last year, but I really think this is an innovative and cool idea. According to the project's home, Media Lab Europe, tunA,
is a mobile wireless application that allows users to share their music locally through handheld devices. Users can "tune in" to other nearby tunA music players and listen to what someone else is listening to. Developed on iPaqs and connected via 802.11b in ad-hoc mode, the application displays a list of people using tunA that are in range, gives access to their profile and playlist information, and enables synchronized peer-to-peer audio streaming.
Social sharing of music with strangers without disturbing people around you. How cool is that? It could certainly make the morning commute more interesting or add some spice to cubicle life. People complain that walkmans isolate people from their environment. Now walkmans can help people connect to others.
The next step: using e-ink digital readers to virtually read over other commuter's shoulders.
Other coverage:
WIRED (TunA Lets Users Fish for Music)
Slashdot (TunA and Socializing via MP3 Player)
via Gizmodo
Comments (0) | Category: Announcements
March 26, 2004
Apex Digital, makers of famously inexpensive DVD players ($30!), has just announced the final specs for its soon-to-come, potentially revolutionary new PC Game Console/DVD player/PVR (Apex Digital Finalizes Spec for DVD Player/PC Game Console). This will be the first major consumer device that really pushes convergence to the current, practical limits and, at a suggested retail price of $499, it seems pretty well-priced. It may not get everything right (first generation devices usually don't), but who knows? See the product home page (which hasn't been updated with PVR information): ApeXtreme - PC Game Unit / DVD Player.
What might make this device especially cool for copyfighters is that APEX devices have also been famously hackable (Apex/Hiteker DVD Hacking Pages). How hard will it be and how long will it take for hackers to figure out a way to do all sorts of cool things with the capabilities this device has? How long til someone gets the device running Linux or ports MythTV? I know I'll be eagerly waiting.
via PVRblog
Comments (3) + TrackBacks (0) | Category: Announcements
Jeff Jarvis had a very interesting announcement on his blog yesterday, he is hoping to start a "Center for Citizens' Media" at a university, possibly NYU (The Center for Citizens' Media). The basic idea is to create an institution where bloggers and traditional journalists can share ideas and educate each other:

Citizen journalists can benefit from education in some of the tricks of the trade (e.g., how to avoid libel, how to file freedom of information requests, how to write a killer lede). I'm not saying that bloggers need to be like big-media journalists but I am saying that media must to embrace this new wave of journalists.
Journalism students can, for the first time in history, think and act like entrepreneurs (see Gawker, Gizmodo, Engadget). They can use weblogs to create a body of work that will get them hired. They must learn how to interact with their publics in new ways.
Big media needs to learn how to interact with and serve and, most importantly, listen to the citizens formerly known as their audience.
News sources -- in politics, government, business -- need to learn how to relate to citizens who can now, finally, speak to them.
This is a great idea ... and I'm not just saying that because I hope the Center keeps me in mind when they start hiring (IP/Free Speech Knight Foundation Blogger-in-Residence, yeah, that's the ticket). Seriously, the four constituencies Jeff identifies are important ones and would certainly benefit from institutional support. For many reasons I think the last two may require more formalized, academic-style support than the first two. All those institutions concerned about the future of US media should seriously consider Jeff's proposal.
Comments (0) + TrackBacks (0) | Category: Announcements
Apparently there has been some grousing that the free, downloadable version of Larry Lessig's new book, Free Culture is in a proprietary format, namely PDF. Larry responds to the criticism here: Free Culture Followups. He makes the obvious point that the book has been released in one of the most free of the Creative Commons licenses, attribution, non-commercial, which means that anyone can port the PDF to another format as long as they leave Larry's name on it and aren't selling it.
Well, someone has already taken advantage of the license. Blackmask, an excellent source of free, online books (I dig their pulp fiction collection - the genre, not the movie), has ported Free Culture into other formats.
Seven of them:
Ms-Reader † Acrobat † Rocket eBook † Zipped format † iSilo † Mobipocket † EasyRead
via Teleread
Comments (1) + TrackBacks (0) | Category: Announcements
March 25, 2004
Comments (0) + TrackBacks (0) | Category: Announcements
March 24, 2004
Yesterday, Creative Commons made two major announcements regarding their forays into the world of science via their weblog.
The first bit of news is that BioMed Central has adopted CC's attribution license for their submissions (Biomed Central using Creative Commons). See their licensing page: BioMed Central copyright and license agreement. BioMed Central rocks. They publish over 100 peer-reviewed scientific journals with a philosophy of "open access":

All the original research articles in journals published by BioMed Central are immediately and permanently available online without charge or any other barriers to access. This commitment is based on the view that open access to research is central to rapid and efficient progress in science and that subscription-based access to research is hindering rather than helping scientific communication.
Read their "about" page:
What is BioMed Central?
. Read their page on the open access debate:
Open Access Now
.
The more important news is that Creative Commons is launching what may eventually be a sister organization that will focus on the sciences (Science Commons). Work will not be limited to copyright, but "will delve into both legal areas (patents, data) and subject matter (biomedicine) outside the scope of our current organization." All I can say is, "wicked cool." If you have talent and experience in these areas ... they're hiring: Job Announcement: Science Commons Executive Director.
Comments (0) + TrackBacks (0) | Category: Announcements
March 23, 2004
Comments (5) + TrackBacks (0) | Category: Announcements
March 22, 2004
Greetings, all, from the brand new Copyfight--now a group-authored weblog featuring the cites & insights of an extraordinarily talented crew. Joining me here are:
Elizabeth Rader
Ernest Miller
Jason Schultz
Aaron Swartz, and
Wendy Seltzer
For many of you, these folks need no introduction. They're the people doing the real-world work in the battle to restore traditional balance to intellectual property law--at the front lines of what I've been calling "the copyfight."
Elizabeth and Jason work on cutting-edge legal issues in pursuing litigation @ EFF and Stanford's CIS. Both have been part of the legal challenges to the Sonny Bono Copyright Term Extension Act, which extended the term of copyright by 20 years.
Jason is now working on a number of cases at EFF, including engaging the ongoing fight against DirecTV--the satellite TV giant seeking to establish an unfortunate "guilt-by-purchase" theory in its campaign against people who buy smart-card technology.
Elizabeth has most recently been working on Golan v. Ashcroft and representing Open Source Yoga Unity, a group of yoga instructors challenging the claims of Yogi Bikram Choudhury that he can copyright a yoga routine and sue other yoga instructors for teaching it.
Increasingly well-known in the blogosphere and author of his own Corante weblog, "Importance Of...," Ernest is a fellow at Yale's ISP and former Editor-in-Chief of its must-read blawg, LawMeme. Last year, he testified before the U.S. Copyright Office for an exemption to the controversial Digital Millennium Copyright Act (DMCA).
Aaron, a co-author of the RSS 1.0 specification, is Metadata Advisor to Creative Commons--that is, he helps make its innovative licenses work. As a Semantic Web developer, he's a member of the W3C's RDF Core Working Group.
Wendy, an IP attorney @ EFF, was key in getting Openlaw--an experimental project that helped the Internet community contribute substantively to the Eldred challenge--off the ground. A longtime Berkman Fellow, Wendy is founder of the innovative Chilling Effects Clearinghouse, which exposes the ways that intellectual property law is abused to silence legitimate speech.
Needless to say, I'm extremely pleased--and honored--to have this group aboard here at Copyfight. It will be exciting to see what discussions this mix will yield. I invite you to tune in, and, if you're so inspired, to use our comments feature to join the conversation.
Comments (0) + TrackBacks (0) | Category: Announcements